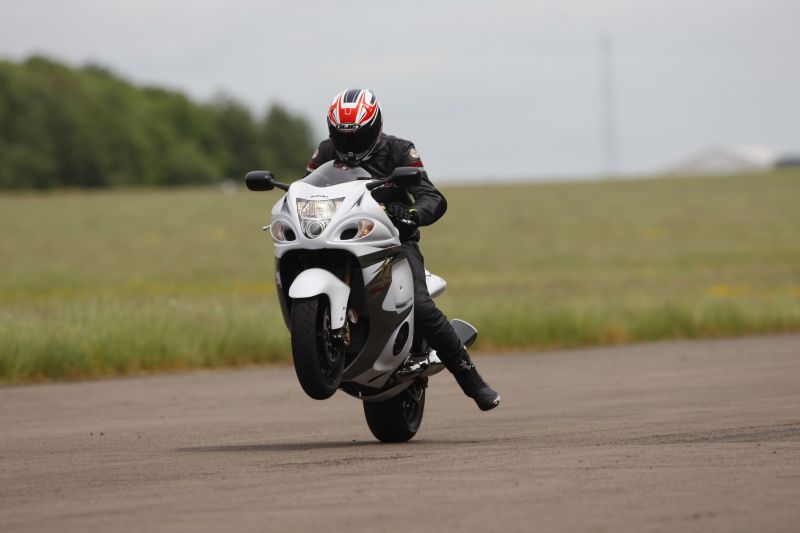 The Suzuki Hayabusa underwent a revamp in 2008, when, among other things, its capacity was increased from 1,299 to 1,340 cc. It has received a few minor tweaks this year. We rode it on an old airfield runway in the English Midlands recently It's a curiously familiar feeling to be careering down an old airfield runway in the English Midlands with my head wedged behind the screen of a Hayabusa whose speedometer is indicating a steady 300 km/h. Although I'm vaguely aware of wind tugging my shoulders and the scenery rushing past, the runway is so wide that even travelling at that speed doesn't feel particularly fast or exciting.
What it does feel is eerily reminiscent of doing exactly the same thing way back in 1999, on the launch of the original Hayabusa — whose top speed of just over 300 km/h, a good 10 km/h up on Honda's Super Blackbird, made it unquestionably the World's Fastest Motorcycle.
Much has changed since then, in the motorcycle world as much as anywhere else, but the Hayabusa has been a constant presence. Its uniquely beaked shape, as familiar now as it seemed weird back then, was barely altered when Suzuki treated the model to its one significant update. That was the 2008 revamp that saw capacity increase from 1,299 to 1,340 cc, peak power rise from 175 to 197 PS and the chassis uprated with new swing-arm, suspension and brakes.
Now the Hayabusa is tweaked again and this time there's even less to shout about. The one change for 2013 is that the bike gets upgraded brakes: a new pair of Brembo Monobloc front callipers, plumbed with the model's first ABS system. According to Suzuki, anti-lock stoppers were the one thing that existing Hayabusa owners felt they were missing out on.
You can't really discuss the Hayabusa without mentioning those looks. Whether you love the curvaceous Suzuki or hate it — and like many I've come to like it a lot more over the years —it's surely one of the most striking and distinctive bikes ever built. This model also comes in a new yellow paint option, known as Limited Edition in some markets, and being produced in much smaller numbers than the familiar white and black alternatives.