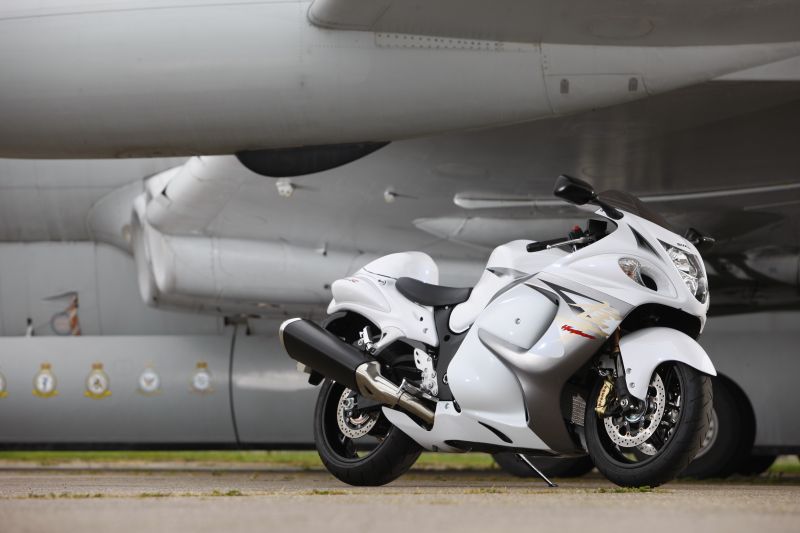 There's no reason why handling should have changed at all from the previous model, which is fine, because the Hayabusa was always solid at speed and went round corners pretty well. Its multi-adjustable KYB suspension felt taut despite giving good ride quality. And the bike was reasonably agile even though, with a wheelbase of 1,480 mm and a kerb weight of over 260 kg, it's 75 mm longer and roughly 60 kg heavier than Suzuki's own GSX-R1000.
Then, of course, there's braking ability, the one aspect of its performance to be changed. Most of the time I found the system excellent, with the four-piston Brembo Monobloc callipers, which replace the previous Tokicos, giving very sharp bite yet being very controllable. The ABS worked well, too, cutting in earlier than the best systems (such as those of BMW's S1000RR and Ducati's Panigale), but allowing hard, risk-free stopping on the road and at Bruntingthorpe proving ground, the former airfield with its slightly gritty runway.
Then I did another launch from one end of the runway, ran the Hayabusa through the gears to its electronically limited 300 km/h top speed, rolled off to about 160 km/h at the end of the straight and squeezed the front brake lever — only to hear the front Bridgestone chirp and feel the bars snap sideways. Fortunately, I released the lever quickly enough to avoid crashing.