The Suzuki GIXXER SF is our companion as we try to achieve an ideal balance among life, work, and fun.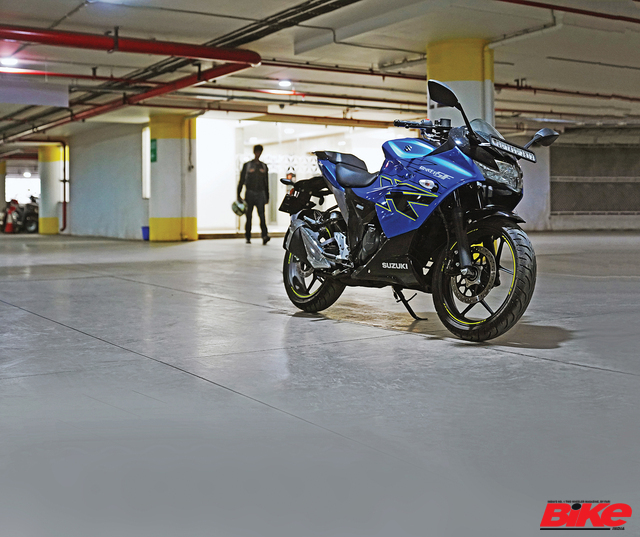 What do a Swiss knife, the late Irfan Khan, and potatoes have in common? Versatility. They are equally good at doing many things without compromising on anything. That is a difficult quality to come by these days. When I tried to find an equivalent in the world of motorcycles, the Suzuki GIXXER SF came to mind. Suzuki were MotoGP world champions. The legendary Hayabusa and GSX range are motorcycles from their stables. So, if they wanted to make a pure and sporty motorcycle in the 150-cc segment, they could have easily done so. Instead, they chose to make one that would seamlessly fit into the fabric of an Indian motorcyclist's everyday routine.
Like most people, my day also begins with a ride to work and, just like most people who live in Pune, it is not something I look forward to. Filtering through the rush-hour traffic with the summer at its peak is not something anyone would classify as enjoyable but that is where the GIXXER SF makes a strong case for itself as a city motorcycle. Its 155-cc, air-cooled, single-cylinder engine develops a healthy 13.6 hp and a peak torque of 13.8 Nm. Smooth fuelling and a healthy mid-range along with nicely spaced gear ratios allow the GIXXER SF to perform well in town. There is enough torque on demand to execute quick overtakes. Thankfully, that does not come at the cost of refinement. With barely any vibrations filtering through—even at the top end of the rev-band—this GIXXER SF is among the most refined motorcycles in the market. At 148 kilograms, it is not too heavy when one considers that it is now compliant with the latest regulations, including OBD2.
Some people shy away from a fully faired motorcycle for everyday use because of its committed riding position but Suzuki changed that mindset with the GIXXER SF. Riding along my daily route to work, the motorcycle responded quickly to steering input and it was easy to move past slower vehicles. In retrospect, I think it was that much fun simply because I was comfortable while doing it. In spite of being a sporty offering, Suzuki have been sensible with the riding position, which holds true both for the rider and the pillion. Which makes a lot of sense because it does not hinder my social life either. Pillion riders have found the rear seat both roomy and comfortable, complete with chunky grab-handles to hold on to.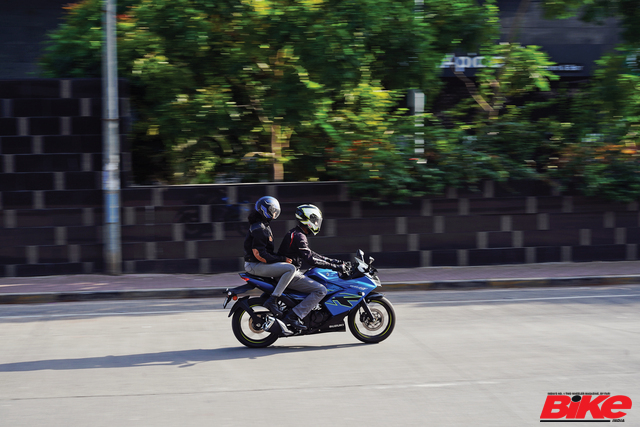 Due to traffic and congestion, I usually make plans when I leave directly from the office and the GIXXER SF's flexibility makes life rather easy. The Suzuki Ride Connect features allows smartphone connectivity via Bluetooth and the console displays useful notifications, including call alerts, unread messages, and navigation. With so many telemarketers calling at all times of the day to sell loans and other rubbish I don't need, I usually ignore calls when astride the motorcycle. Of course, sometimes I have missed important calls as well. That was no longer a concern because the screen displays the name of the person calling. That is certainly a useful feature to have but it comes in at second because the navigation feature is the best thing about Suzuki Ride Connect, especially if you are riding to a new place. The instructions appear on the screen in a crisp and clear format, completely eliminating the need to stop and check maps on the phone all the time. It saved a significant amount of time for me on such occasions.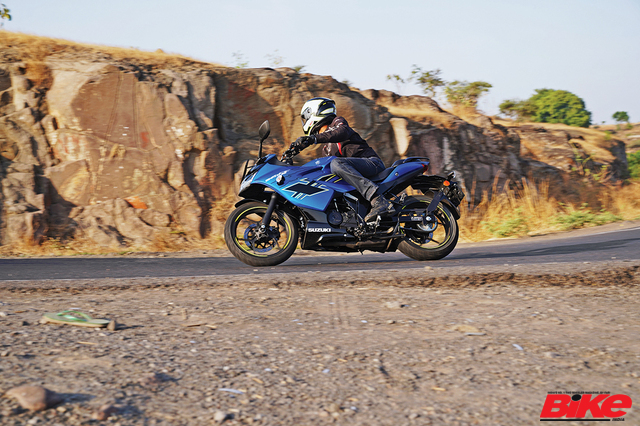 As lovable as it is in town, at the end of the day, it is still a Suzuki and, like any GIXXER, it is built along the same brand philosophy: run, turn, and stop. To fully explore the extent of that philosophy one needs a quiet twisty road and that was my weekend agenda. The "run" part was evident on the highway ride to my favourite hill road because the GIXXER SF was never out of breath and maintained pace at triple-digit speeds without any fuss at all. "Turn" is brought to life by a lightweight chassis and well-damped suspension. On the switchbacks, its prowess was evident whenever the motorcycle needed to make quick changes of direction and carry speed through a corner. Speaking of which, to carry good pace through a curve, the confidence in a motorcycle's brakes have to be absolute and that is where "stop" comes in. Suzuki have equipped the GIXXER SF with brakes that not only return positive feedback at the lever with predictable levels of bite but are also supplemented with the safety of dual-channel ABS.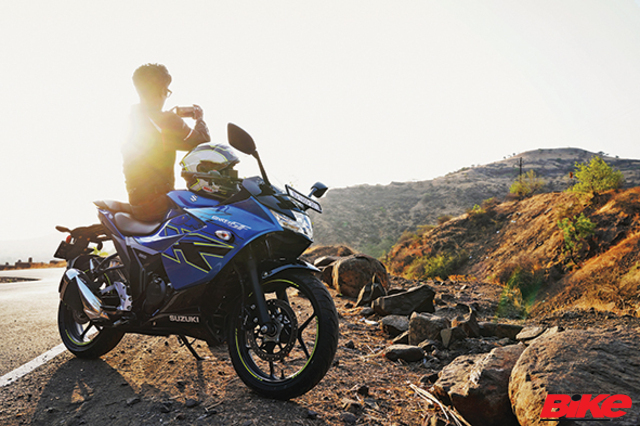 As I said earlier, versatility is good but it can be great when there are no compromises. In spite of its sporty handling and good performance, the GIXXER SF is also an efficient motorcycle and most of that is due to the Suzuki Eco Performance technology. Honestly, I was expecting this motorcycle to fit into my lifestyle easily because it is tailor-made for our conditions but I was pleasantly surprised by how it also brought its own element of fun to the mix.
Also Read: Hero Xtreme 160R 4V First Ride