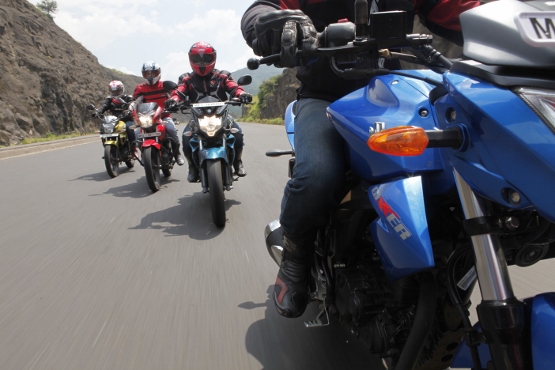 The 150-cc segment has just become hotter having recently received a brand-new entrant in the form of the Suzuki Gixxer. We pit it against its rivals to see if it can win the battle for the crown in this segment
Story: Aninda Sardar
Photography: Sanjay Raikar
It all started with a motorcycle called the CBZ over a decade ago. With its cutting-edge styling, offer of a sporty riding experience and a powerful engine it kick-started the 150-cc sporty commuter segment in India, quite literally, back then. Much water has passed under the 150-cc bridge since then and today customers can choose from a whole range of motorcycles in that segment. Recently, Suzuki Motorcycles dialled the competition up a notch when they launched the much-anticipated Gixxer. We were thoroughly impressed with the motorcycle when we rode it, but just how well does it stack up against the competition? To find out, we have brought together the popular Yamaha FZ-16 S but this time with fuel-injection in avatar V2.0, the very capable Honda CB Trigger and the Hero Xtreme (which still benefits from its CBZ associations). To win, the Gixxer will not only have to offer the sportiest experience, but also the best value for money, which is something every commuter looks for.
Parked next to each other, the Gixxer and the FZ look similar enough to be related. They both feature sculpted lines and muscular tanks and a bikini fairing that is reminiscent of bigger naked bikes. In the case of the Yamaha the company has done some work in refreshing the FZ's visual appeal with a split seat, grab-rails along with an LED tail-lamp and a redesigned (easier to read) instrument console. The Gixxer, however, comes across as the fresher design and is meatier, which makes it look better. The Honda isn't a bad-looking bike either, but its tank is less sculpted and that CB 1000 R-like face feels a tad dated next to the more contemporary Suzuki and Yamaha. The fact that it gets the most upright seating position with high handlebars also ruins things a bit since it takes away from the bike's sportiness, visually speaking that is. In the design department the Xtreme, with its slim tank and wide trunk, despite Hero's best intentions, no longer cuts it. To the company's credit, the Xtreme has been given a nip and a tuck at the rear where it now sports an all-LED tail-lamp. Frankly, it does make things a little better but not enough to put it at par with the other three here. At least as far as looks go.
Get astride each and the riding position on each bike seems to mirror their looks. The Suzuki and the Yamaha offer the sportiest of riding postures with their low, wide handlebars and the slightly rear-set foot-rests. The Honda is by far the most upright and therefore commuter-like, but feels instantly comfortable. The Xtreme's riding position is somewhere between that offered by the Trigger and the Gixxer-FZ combination. It's neither particularly sporty, nor is it commuter-like.