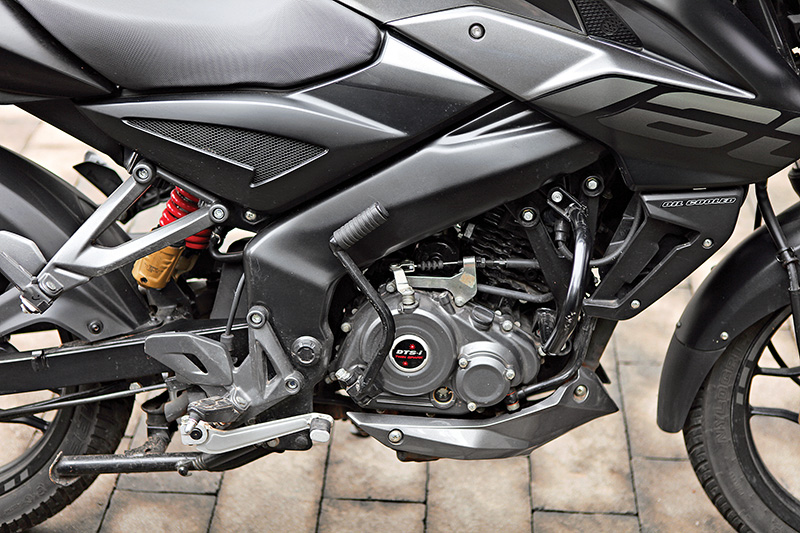 Let's move on to the mechanicals, then. Both the bikes are powered by 160-cc, single-cylinder engines but with an interesting twist. The Bajaj engine boasts of an oil-cooler and DTSi technology that uses two spark-plugs for better combustion, whereas the Honda's unit doesn't come with any additional cooling aids and uses only a single plug for combustion. Moreover, the NS' 160.3-cc motor features SOHC valvegear with four valves and the Honda only gets SOHC with two valves. Both feature slick five-speed transmissions. This stark contrast is levelled out when output figures are taken into consideration. Both the bikes develop almost identical power and torque. The NS' motor churns out 15.50 PS and 14.6 Nm, whereas the Hornet's engine is good for 15.25 PS and 14.76 Nm. Both the engines produce peak power and torque at exactly the same rpm: 8,500 and 6,500 respectively.
With just 0.25 PS more, the Pulsar NS160 is technically the more powerful of the two, but the Hornet has slightly more torque, making it the torquiest bike here. The power and torque output might be similar, but there is difference in terms of delivery, refinement, and smoothness. Both the bikes have good refinement in the lower rpm range, but the difference becomes apparent when you really open the throttle. The Pulsar's engine revs nicely towards its red-line but it also gives rise to vibrations past 6,500 rpm. The Honda, however, doesn't rev as quickly as the Pulsar but is comparatively less prone to vibrations once past 6,500 rpm. This shows that when it comes to refinement the Hornet has an upper hand.
The five-speed gearbox of the Pulsar NS160 has short ratios, whereas those of the Hornet are taller. The advantage of the shorter ratio box is that the bike can get to the top gear, even in the city, with ease and stay there for longer. The Hornet's taller ratios, on the other hand, allow riding the bike in, say, third gear in the city without shifting up or down frequently. This gives the Hornet better rideability.
As for power and torque delivery, both have good bottom and mid-range delivery with linear acceleration and quick throttle response. The Hornet's power comes in smoothly and in a linear manner that allows you to cruise at low speeds without the need to frequently shift up and down, which makes it much easier to ride in the city. The Pulsar's engine also delivers power smoothly but to keep the bike in the right power-band, you have to shift up and down frequently to keep the engine away from the red-line.