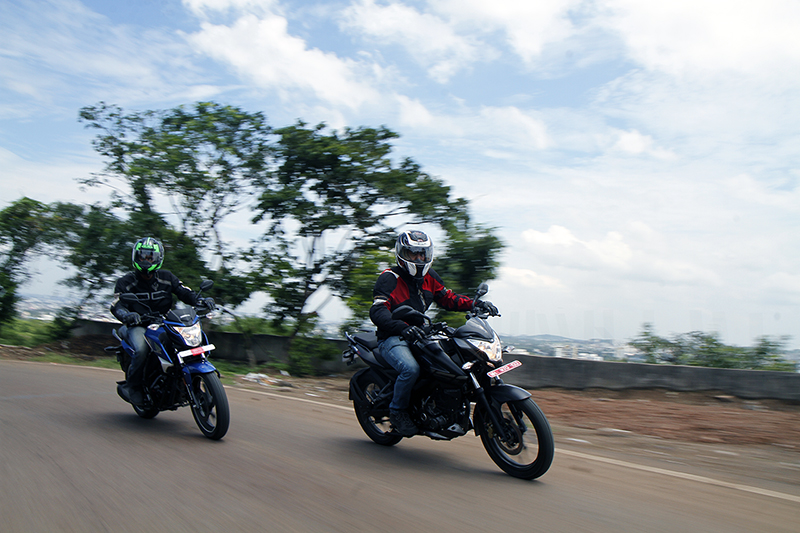 Bajaj's aggressive little Pulsar NS160 takes the battle to Honda's style guru, the CB Hornet 160R
The battle between the small-capacity premium commuters remains an ongoing phenomenon for there is always something new and interesting that catches our fancy. This time around it is Bajaj Auto's latest, the Pulsar NS160, and Bajaj claim it to be the most powerful in its segment. Well, technically, the NS does have 0.25 PS more than its closest rival, the Honda CB Hornet 160R. Therefore, we decided to bring it in and pit it against the Bajaj to see if the most powerful motorcycle in the 160-cc segment changes the game in any way. The results were quite interesting.
To begin with, both the bikes are styled to evoke multiple emotions. Now, it's rare for a commuter to do so but these two do manage to turn heads in awe. At first, the Hornet looks more striking, and the credit for that goes to its flowing design, angular body-panels, funky graphics, short and stubby exhaust, petal disc, and sleek-looking wheels. It induces excitement, boosting your self-confidence, taking your style game to another level, while still being an affordable option.
The Pulsar NS160's styling also induces excitement but it's quite different from the Hornet. The NS reminds you of its elder, more powerful, and aggressive sibling, the NS200; instantly giving the impression of a more powerful motorcycle. Besides, since the Pulsar name is 17 years old, there's some heritage right there. In terms of pure styling, however, the NS is a mix of old and new. Its body-panels look sleek and carry a suggestion of aggression and boldness. Like the Hornet, the NS' body panels, too, are angular, albeit with a dose of curves in the right places. It's the perimeter frame that adds more substance to the NS' design, which gives the bike an extra cookie point. But I will be a little diplomatic here and say that both the bikes are quirky looking and have their positives and negatives when it comes to design. So, in terms of styling, it's a draw.
What about the features, then? Well, commuter bikes don't really get that many features, but, since we have raised the point, here are a few mentionable ones. The Pulsar NS160's biggest features are the oil-cooler and the perimeter frame, whereas the Hornet's biggest feature is the full-digital instrument console. Apart from these, both bikes get 17-inch alloy wheels, petal disc brakes, and monoshock suspension. So, with more technically advanced features, the Pulsar NS160 lunges ahead.