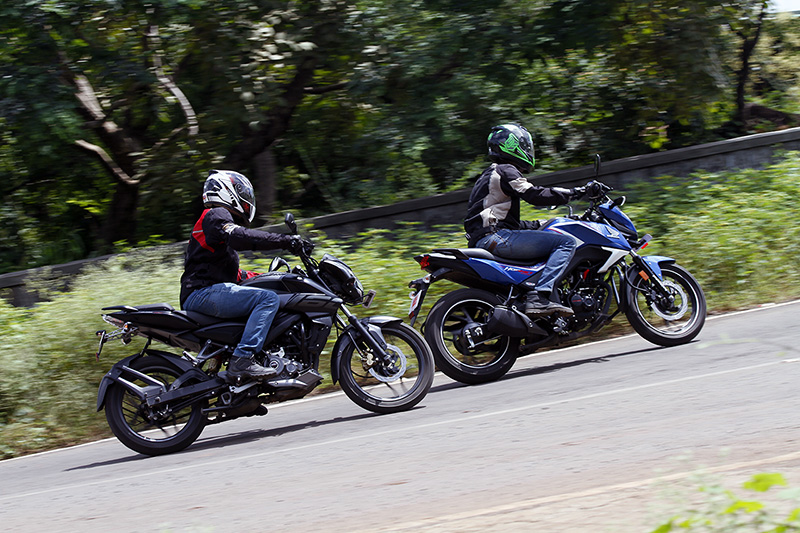 Being almost identical in terms of power and torque output, the performance of the two bikes is also similar. Both post sub-six second 0–60 km/h times, with the Pulsar being ahead by just 0.27 seconds. Quarter mile timing also has a marginal difference; however, the Hornet takes the top-speed cake with a true top speed of 114.26 km/h, whereas the Pulsar only managed 108.15 km/h. The roll-on times of the Pulsar are better than the Hornet's mainly because of the shorter ratio gearbox.
The similarities between the two bikes are more than what I initially thought, for they are on a par even in respect of fuel efficiency. The Hornet delivers an overall efficiency of 55 km/l whereas the Bajaj is just a km/l behind at 54.
Talking about the ride quality and handling, I can say that the two bikes are quite different. Both feature monoshock suspension but the Honda's setup is softer than the Bajaj's. This setup, coupled with a capable frame, gives the Honda good ride quality. It can gobble up undulations with ease without the need to avoid even the smaller obstacles. The Pulsar's slightly stiffer setup is also capable of handling road irregularities with gusto, giving it comparably good ride quality. However, when it comes to handling, the true differences are revealed. What works wonders for the Pulsar is that perimeter frame, which is borrowed from the bigger NS200. It lends the NS160 extra rigidity and reduced chassis flex, which the Hornet lacks since it features a more conventional diamond frame. The Pulsar can take corners like a pro, boosting your confidence with each passing bend. It changes direction with precision and the stability through a corner is probably the best in the segment. The Pulsar is a more corner-friendly bike than the Hornet, which handles well but not quite like the Pulsar. Braking-wise, both the bikes are on a par as they have similar braking distances and times.
In sum, I would say that the two bikes here are similar yet different. The price difference between the two is just Rs 3,495, with Pulsar costing Rs 78,368 (ex-Delhi) and the Hornet Rs 81,863 (ex-Delhi). While the Honda wins when it comes to engine refinement, ride quality, and top speed, the Pulsar zips past the Hornet in terms of handling. Overall, both the bikes are quite good for the urban commuter as they fulfil the most important criterion: commuting in style. The Pulsar is for the discerning ones who want the best handling bike in the segment, whereas the Hornet is for people who are looking for an overall product to fulfil their needs. So, make up your mind and ride on.