For 50-year-old Sangeetha Jairam, yoga instructor and motorcyclist, life's lessons have always been through motorcycle metaphors.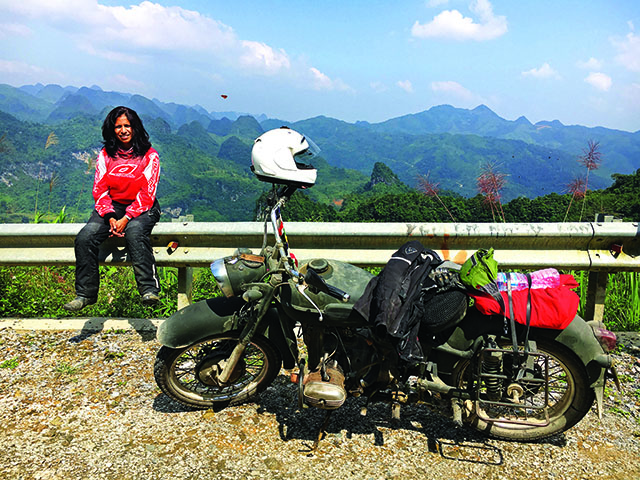 No wonder then that she found her mojo in biking across the length and breadth of the country and around the world. In this personal interview, she speaks to us about her adventurous biking trips and helps us decode her infectious energy
Sangeetha Jairam isn't your selfie-obsessed Biking Barbie but a passionate biker who's been riding motorcycles and exploring the most exotic locations across the world. She got her adventure streak while growing up in the hills of Kodagu (formerly Coorg) and the motorcycle bug from her motorcyclist father, who, by the way, rode his BMW R25 all the way from Munich to India in the 1960s. Following in his footsteps, she learned to ride on the classic bike while she was still in her teens. Buzzing with positive energy, this motorcycle enthusiast takes us through a journey any adventure junkie would envy…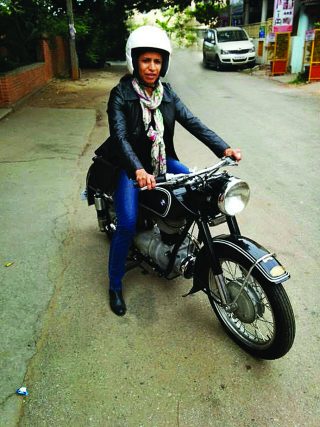 'I believe travel brings out the best in people. When we are stuck in our routine daily lives, we have a tendency to get bored. And I do believe that it is important to move, to flow like a river that changes every instant, for it helps us change and to be changed by the spirit of others whom we meet on the road,' says the 50-year-old yoga instructor reflecting on how her life has shaped up. She adds, 'Life, from our earliest days, has a way of preparing us for who we are going to become. I am beginning to understand this as time progresses on me. This year as I celebrated my 50th birthday and, when I look back, I see that my life began around motorcycles and has remained so throughout.'
So, when and how did motorcycles take centre stage in her life? 'Motorcycles have been a part of my family. I grew up on a healthy dose of motorcycle stories that always left me fascinated. My siblings and I had metaphors of motorcycles as our lessons in life while assisting our dad as he worked on his motorcycle to make sure it was fit and running well.'

(Also Read: Noraly Schoenmaker – Dutch Damsel on a Mission)
Back in 1964, her father, after completing his college education in the USA, planned to backpack across Europe before heading to India. But it was in Munich that a rather ambitious and adventurous idea struck him. Why not finish the rest of the journey home on a motorcycle? So, with whatever savings he had, Jairam bought a second-hand BMW R25 and rode every single day till he rolled into his garage in Kodagu. Sounds impossible, but that's what most motorcyclists are made of.
Reminiscing about her childhood, Sangeetha says, 'The stories we heard growing up were all about adventure and magical moments that dotted road journeys. And dad was more often the central figure in those stories.'
With genes like that, it was only obvious that she took to motorcycling as a fish takes to water. While growing up, she rode her father's BMW for hundreds of kilometres regularly. Soon riding solo and trekking across the globe became second nature to her. 'Being a full-time, stay-at-home mother was the most rewarding experience of my life. And I needed some time off my routine to travel — either trekking or motorcycling.'
Sangeetha lives in Udhagamandalam (formerly Ooty) and teaches yoga to young children at The Lawrence School, Lovedale, the same school she went to. It's here that she learned the most valuable lessons of life, especially about the wonder of nature and to have the courage to live up to the school's motto: "never give in". In fact, the biking enthusiast is also seen practising yoga asanas (postures) in all the exotic locales that she has been to. Often spotted doing headstands on the motorcycle as well.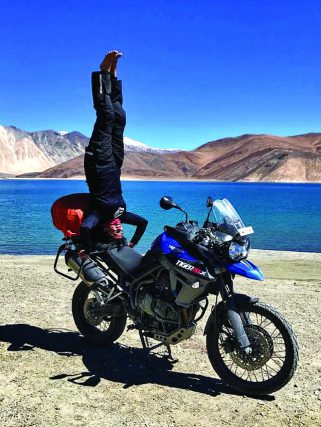 One of her first major road trips was to the beautiful hills of Bhutan in 2007, with the Bajaj Pulsar 180 as her companion. A road trip not many ladies from India had attempted before, let alone on a motorcycle. 'My first long-distance motorcycle trip will be memorable for more reasons than one. When my son turned 13, I decided to go on a month-long road trip — from Phuntshoeling to Samdrup Jhonkar. It was filled with discoveries of wonderful people that is Bhutan, with the amazing natural beauty of the lesser Himalayas and a very unique culture.
There were no mobile phones in Bhutan, no credit-cards and we could not use currency notes of a value higher than a Rs-100 note. "Riding gear" was unknown to us, there were no Google Maps and the Lonely Planet book was the only guide to rely on.'
There's been no looking back since then. Sangeetha has been on dozens of road trips to spectacular locations like Cambodia on a Honda Degree 250 dirt bike, exploring Sri Lanka on a Yamaha Serow 250, to visit the Masai Mara in Africa, and treading the old Silk Route in Central Asia… The list is practically never-ending, not to mention the annual sojourn to the Himalayas. 'My first tryst with the great Himalayas was in the year 2000 when I was on a trek to Kailash-Mansarovar. It was the first time I was in the Himalayas and I was awestruck by the sheer size and grandeur of the Himalayas. Since then, I have done several treks in the Himalayas and, in 2010, I had my first experience of Ladakh on a motorcycle. It was spectacular and awe-inspiring. The draw of the Himalayas has taken me back every year to discover more. I could say the same thing about the North-East,' she says, adding, 'Many trips and many adventures are what we all experience in the mighty Himalayas. But there is something much bigger that I learned: humility.'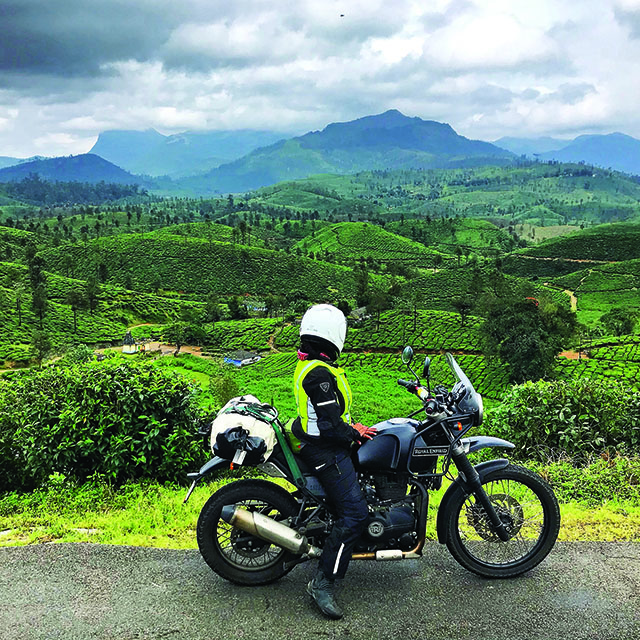 Sangeetha stresses the importance of learning to ride the right way under the supervision of experts… and that it's never too late to learn. 'I heard about the "Track School" in Coimbatore and I signed up to improve my motorcycling skills. It wasn't about speed but techniques which enable us to ride safer and enjoy riding. I am glad I took that course. Gives me so much more confidence in riding bigger and more powerful machines.'
On being asked about some of the most unforgettable travel moments, she recalled her trip to Tajikistan, which is as huge as it is remote. 'We crossed over the border of Tajikistan into Kyrgyzstan at what seemed like the most remote corner of the world. The customs official pulled out his phone and played
Raj Kapoor's awaara hoon because he was an older person, but the younger guards played disco dancer.' Nothing like imagining Mithun da gyrating in the mountains of Kyrgyzstan. Revealing the anti-climax, Sangeetha said, 'When we were crossing over into Kazakhstan, my friend and I had our passport taken away. It was a harrowing two-hour wait before we got them back. Apparently, there was some doubt regarding the visa which took some enquiring!' Now, that's sure an unforgettable experience.
But her most unique experience was when she got the opportunity to be a Track Marshall for the Phillip Island (Melbourne) MotoGP in 2015. A couple of her friends from the WIMA (Women's International Motorcycling Association) invited her to MotoGP Australia. Through the WIMA, Sangeetha applied to the MotoGP Australia Corp and her application was accepted. 'It was truly the most humbling experience to meet the stars of the motorcycling world — Valentino Rossi, Marc Marquez, and Lorenzo — all in person. Tough superstars of the MotoGP world, but so down to earth.'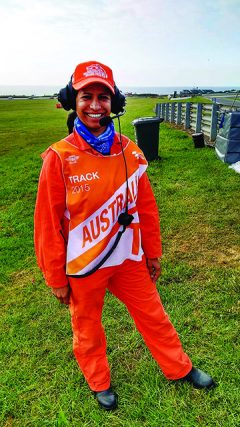 Last year, the land's end of Europe beckoned to her and off she went riding through Finland and Norway on a Kawasaki ER6n. 'I was in Helsinki, Finland, and the ride was through the most beautiful and scenic routes to Nordkapp in Norway. As June is summer there, it was the most unique experience to be waking up at 2.00 am and seeing the sun blaze overhead — the land of the midnight sun was unbelievable. To witness the Arctic Ocean and the Arctic gales that often lifted the motorcycle off the road was a scary experience. But that was a new feeling and a new skill to be learned. To visit the "office" of Santa Claus at the Arctic circle and to enjoy the saunas that Finland is famous for was a unique experience indeed.'
However, it's not just exotic international locations that the avid biker has travelled to. She has been to practically every nook and corner of our vast peninsular, riding either her Royal Enfield Himalayan or the Hero Impulse 150. Talking about the unexplored North-East, Sangeetha says, 'The region is as unique and diverse as all of India itself. Every state has its own unique culture and adventure to offer. From the waterfalls of Meghalaya to the high-altitude villages of Arunachal Pradesh to the tribes of Nagaland, each state has diversity in nature, food, culture, and natural beauty.' She rightly points out, 'One can never get all of India, however many times we have been to a place. Each time we visit a place and re-visit the same place, we discover something new. Which finally reveals to us that we are multifaceted in our character. Showing us that we are ever-changing and always unravelling the depth of who we really are.'
Looking back, she sums up, 'There are many wonderful people who came into my life, all thanks to the motorcycle. I have had life-changing experiences, learned lessons, broken a few bones, and made friends around the world. I would not trade a day in my life on a bike for anything else.'