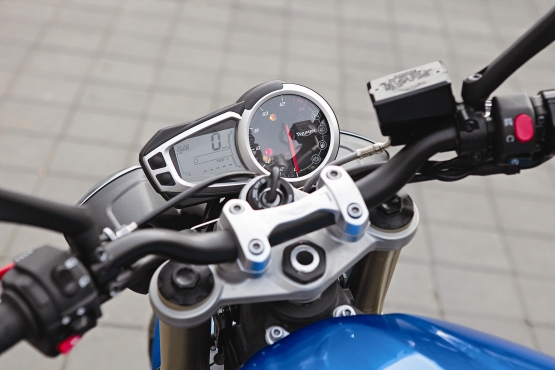 The new Street Triple may be lighter, but it still packs the goodies equipment-wise. You get a coded immobiliser, Kayaba upside-down front forks and a rear monoshock adjustable for preload and even a bit of under-seat storage. Right, it's got handlebars, foot-pegs, a nice seat and big engine. That's kind of all the real equipment you need to get going. Swing a leg over, turn the key, pull the clutch and thumb the starter. The Triple vrooms to life with a sort of bark and settles into a steady idle. The digital console is easy to read and the blue LED rev lamps are a nice touch. The clutch is incredibly light and a joy to use in the city, unlike many a big bike which can get quite cumbersome after prolonged use in city traffic.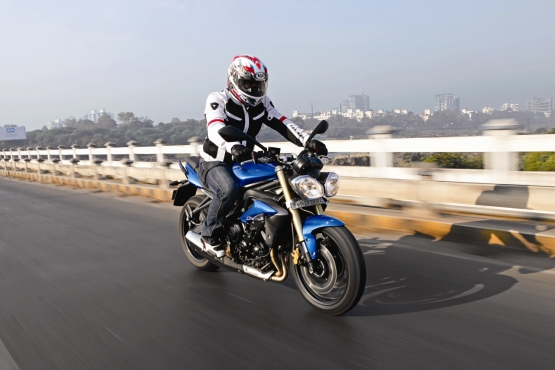 Shift into first and the Street is quick off the mark. Find some space and 100 km/h comes up before you know it, while you're busy soaking up that howl from the happy triple. Taking fast curves is a fun thing to do as the fat 180-section rear grips the road well and does a good job of transferring that power, giving that added confidence which is much needed with a large bike in chaotic traffic. The headlamps, which always stay on, will invariably invite gestures from some passers-by, but you learn to live with it.
The Street flows into corners very well and you don't really have to throw it in. At one point I found myself going into a corner with a smidge too much speed, but a slight dab on the brakes and a barely voluntary input on the bars and the standard ABS did a good job of not posting me on the wall. The grip from the front is also more than good enough and confidence-inspiring. One can get comfortable, maybe even too comfortable, with this bike in a hurry. Spend a day with it and it's easy to find out that it is a lot of fun to ride and very easy to manoeuvre. Remember, this equates three Hero Karizmas in displacement, with over four times the power, yet, at 168 kg dry, it weighs just a little over only one of those.
The three-cylinder in-line motor displaces 675cc and, in the UK, produces 106 PS at a heady 11,850 RPM. Tune things down to account for fuel quality and 79 PS at a shave over 11,000 RPM is not bad at all. Running lower quality fuel on an original-spec bike would lead to far worse outputs and utterly compromised performance in the first place. So much for that then. The torque too, is a meaty 57 Nm at 8,375 RPM. More or less 50 Nm is available between 3,000 and 12,000 RPM, so rideability is good across the rev-range. The 6-speed gearbox does a fine job of letting you make the best of those horses.