So, too, is the one-piece handlebar, which is almost flat but gives a relaxed, upright riding position because it's bolted to risers. That seat is just 780 mm off the ground, which helped give the Guzzi a manageable feel, as did its respectably low weight of just over 200 kg with fuel. This might be a mean-looking bike with a hint of aggression, and a time-honoured Guzzi shake to the right when you blip the throttle at standstill; but you've only got to let out the light clutch and accelerate away, with the V-twin pulling sweetly and fairly smoothly from low revs, to realise that it's just as docile and rider-friendly as the V7 models.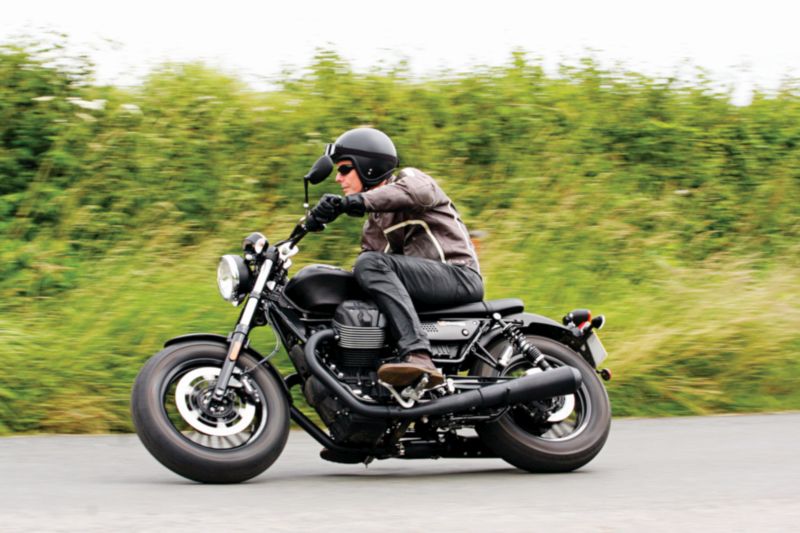 The bigger engine does have a slightly stronger punch, but straight-line performance is pleasant rather than exciting. The Guzzi rumbled up to a bit more than 100 km/h rapidly enough, heading for a top speed of about 160 km/h, and occasionally setting off a warning light in the speedo when I revved it hard rather than short-shifting through the six-speed 'box, which changed very cleanly.
That sixth cog helped give a nicely long-legged feel but couldn't prevent the mirrors getting a bit blurry at higher revs. I'm not sure at what revs exactly because the white-faced analogue speedo isn't matched by a rev-counter, and its digital display can show fuel consumption but not engine speed. (You can, however, adjust the shift light to come on at any revs you choose.)
So the Bobber was quick enough to be fun, and its chassis showed a similar ability to provide enjoyable riding with a fairly laid-back feel. Inevitably, those fat tyres gave a slightly vague steering feel, but the wide handlebar provided plenty of leverage with which to tip the Guzzi into a turn, despite its relatively lazy steering geometry.
The tubular brace linking the fork sliders doubtless helped keep the front end pointing the right way. Those shocks felt pretty crude and under-damped on bumpy roads but never threatened to let things get out of control. The Conti Milestones had a respectable amount of grip, too; enough to get the Bobber scraping occasionally in turns, though cornering clearance was adequate for a bike like this.
The V9 duo have a simple, wheel-speed controlled traction control similar to the V7 II system, with the addition of a second mode for slippery roads. That might be useful in the rain. The Bobber's ABS-equipped brakes got the job done, too, though the V7-style front combo of 320-mm disc and four-piston Brembo calliper required a firm squeeze of the lever for serious slowing.
What wasn't so good was that the forward-set foot-rests and upright riding position put most of my weight through the thinly padded seat, which combined with the short-travel shocks to give a ride that was tough on the spine. Those chubby tyres must add a bit of cushioning but big bumps gave a painful jarring.
The Bobber is certainly no long-distance machine, not that many prospective owners are likely to mistake it for one. Its respectably fuel-efficient engine (most riders will average about 5.0 litres/100 km) would give a range of over 250 km despite the compact, 15-litre tank, but I can't see many Bobber riders covering that distance in one hit very often.
This is a bike for short hops and round-town riding, aimed at the new breed of relatively young, urban riders who will be more impressed by its USB port's phone-charging ability than by speed or comfort. Some of them will doubtless pay extra for the accessory MG-MP, the Moto Guzzi Media Platform, which connects smartphone to the bike to give an on-board computer function. Along with recording trip data, this allows an Eco Ride function (just in case you don't know you're riding slowly) and can record and even warn about how far you're leaning the Bobber in bends.
There's also a long list of other accessories, including a few practical items such as a bikini fairing and luggage rack, but mostly cosmetic stuff, including billet aluminium levers, mirrors, foot-rest covers and locking fuel-cap. Whether all that will be enough to help the Bobber capture some of the sales that have made Harley's Street Bob and Fat Bob such long-running hits remains to be seen. But if you fancy a laid-back V-twin with an Italian slant, a tough look and a contrastingly rider-friendly character, you won't go far wrong with the Bobber.