And you're certainly likely to ride hard on the Duke R, at least on a road with any bends in it. It might not be quite as skinny as the SMC R and Enduro R, but by most street bike standards it's outrageously light — and also superbly taut, agile and sweet steering. And that single radial Monobloc calliper delivers heaps of controllable, ABS-assisted stopping power, too, in conjunction with a grippy Michelin Pilot Power tyre. As with the other R-models, the ABS can be set to front wheel only via a dongle.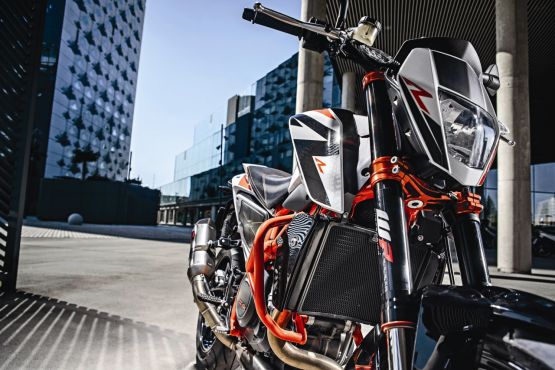 The Duke R was fun to throw around the twisty and traffic-free roads inland from Barcelona, feeling sportier and slightly more refined than the standard model. Ride quality and suspension control were excellent, though you'd have to be on a racetrack to get the full benefit. KTM certainly have plenty of faith, claiming it's "impossible to over-extend the chassis even with extreme cornering speeds of racetrack use on slicks".
Whether that would justify the considerable extra price — typically just over 25 per cent higher — over the standard Duke is another matter. Upgrading the standard bike with the rear-sets and silencer, plus maybe a suspension upgrade or goodies from KTM's well-stocked Power Parts catalogue, would arguably result in a similarly exciting and capable bike for less money. But if you want the world's quickest, trickiest single-pot roadster straight out of the crate, the 690 Duke R is surely exactly that.