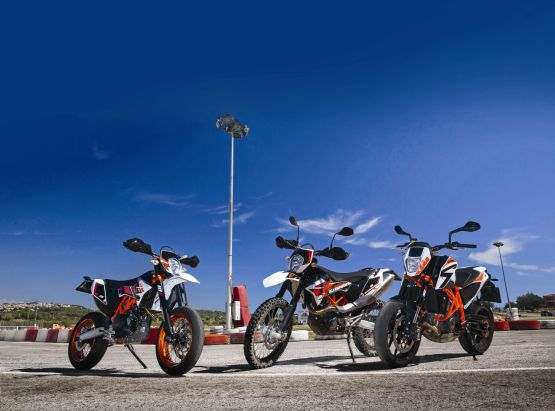 KTM have revamped their LC4 range this year, with the 690 SMC R supermoto and the dual-purpose 690 Enduro R both getting updated chassis and the dual-spark, ride-by-wire engine that powered the Duke R
last year. To show them off, KTM laid on a "triathlon" near Barcelona
Story: Roland Brown
If any firm knows how to build sporty, light, single-cylinder bikes, it's surely KTM. The Austrian company was Europe's biggest bike manufacturer last year (with over 1,23,000 sales, up 15.6 per cent); and its total number of world champions — most on singles — is fast approaching 250, the dominance stretching from Moto3 to the Dakar Rally (KTM singles have won the last 11), via enduro, motocross and supercross.
Street-legal singles powered by the LC4 engine have been an important part of the picture ever since KTM began their road-going range 20 years ago with the original 620 Duke. This year the LC4 range is revamped, with the 690 SMC R supermoto and the dual-purpose 690 Enduro R both getting updated chassis and the dual-spark, ride-by-wire engine that powered the Duke R last year. To show them off, KTM laid on a "triathlon" near Barcelona, comprising road riding on all three models plus kart-track laps on the SMC R and an off-road trek on the Enduro.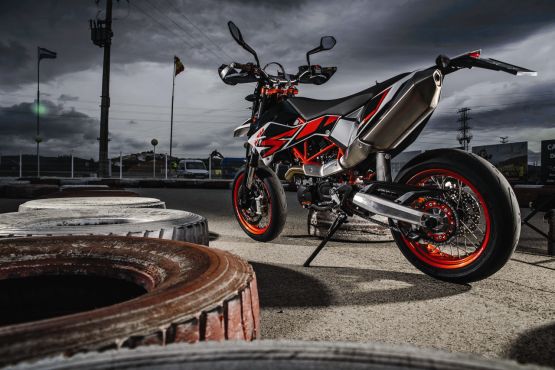 690 SMC R
Supermoto street singles are hardcore, polarising motorcycles. Most motorcyclists either love the way they provide maximum thrills at relatively sane speeds, or dismiss them for being useless except for tall people riding short distances. The 690 SMC R was already arguably the best of the bunch because it maximises the advantages and minimises the inescapable drawbacks pretty well. With this latest update it does both of those things better than ever.
It's a classy looking bike, its many neat touches, including the orange-finished chrome molybdenum steel frame tubes, and matching anodised parts, including the fork yokes and wheel rims. The new 690-cc, SOHC liquid-cooled engine is borrowed straight from the Duke, its maximum output of 68 PS at 7,500 revolutions per minute reduced by a single horsepower due to a smaller airbox. The SMC is also updated with new WP suspension at front and rear, and with an ABS brake system that's fine-tuned for supermoto use, and has an anti-stoppie function as standard.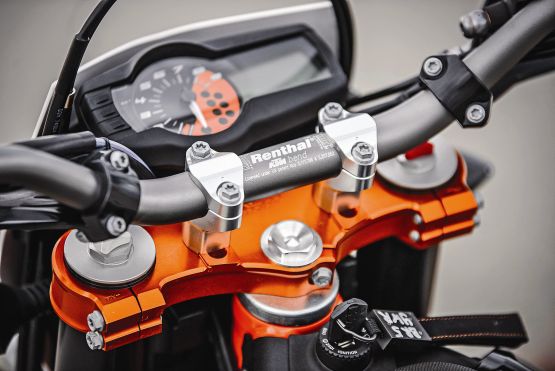 The SMC R isn't a pure race bike like KTM's 450 SMR, but it's a very focused machine with plenty of competition breeding — and it feels pretty serious when you get astride a long, thin and not very comfortable single seat that's a dizzying 890 mm off the ground. At least the long-travel suspension — there's 215 mm up front and 250 mm at the rear — compresses enough to allow average height riders to get a foot down. And at just 144 kg wet (without fuel) the KTM is light enough to be manageable as soon as you pull away.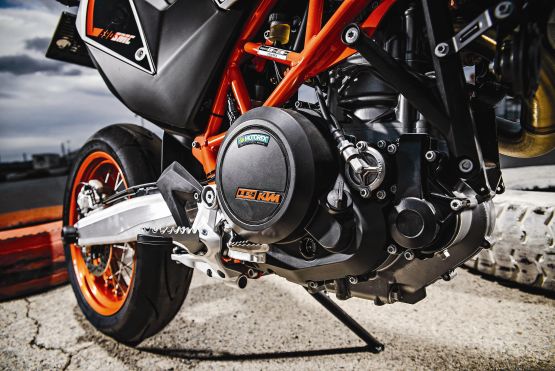 It's also entertainingly quick, helped by that lack of weight plus the punchy engine. That lost single horsepower is more than compensated for by the SMC's shorter gearing, due to two extra teeth on the rear sprocket. There wasn't much doing below 3,000 RPM but cracking the ride-by-wire throttle open with five grand showing on the analogue tacho sent the bike leaping forward, its front wheel in the air if given the slightest encouragement with a dip of the clutch lever or front suspension.