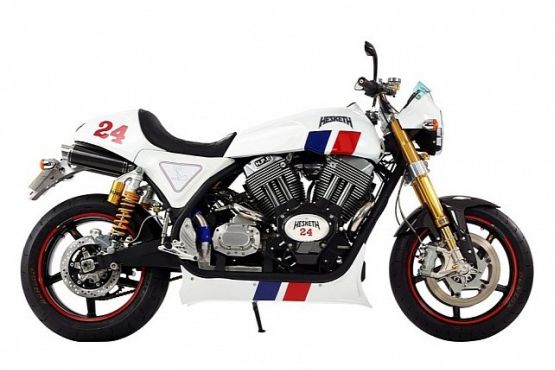 After a three decade exile from the world of active motorcycle manufacturers, it's Hesketh's time in the limelight with their new limited edition bike, '24'.
The 24 was announced recently, with a formal launch at the Goodwood Festival of Speed. As the name indicates, only 24 of these beauties will be manufactured.
The Hesketh 24 will be powered by a 56-degree, air-cooled 1,950cc X-wedge V-twin mill that will be sourced from S&S Cycles and will be tuned by the British firm, PSE. The tuned version will have an output of 125 PS and a staggering 190 Nm of torque, with the unit red-lining at 6,500 RPM. The engine will be coupled with a 5-speed 'box sourced from Baker, with the fifth gear being an overdrive gear for effortless riding. Hesketh wanted to maintain the sporty looks of the 24 and thus opted for a chain drive rather than a belt, which would have given the 24 an unwanted cruiser flair.
The 24 has a bespoke frame from Racing Innovations, and has Öhlins suspension at both ends. It makes use of BST carbon-fibre wheels and the brakes are provided by Beringer Hardware. The solo diamond patterned seat sits about 820 mm off the ground.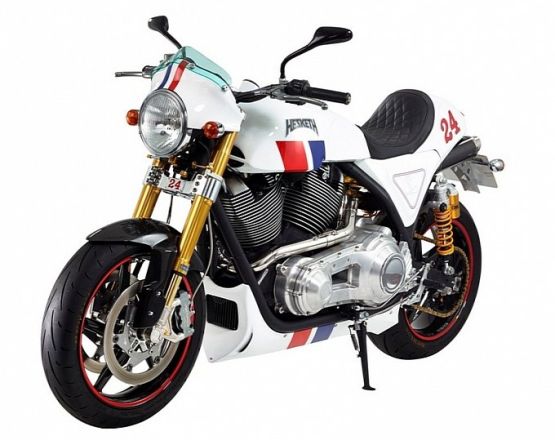 Hesketh have not announced any dealers yet and have indicated that they will handle the sales as well as maintenance of the 24 on their own. The bike will be priced at £35,000 (approx Rs 35 lakh). Hesketh have indicated that 11 customers have shown interest with three already having put down a deposit for the 24.
Story: Pranjal Bhatnagar
Images: Hesketh