KTM India recently invited us to Kolad in adjoining Raigad district where we got to experience two new variants of the KTM 390 Adventure.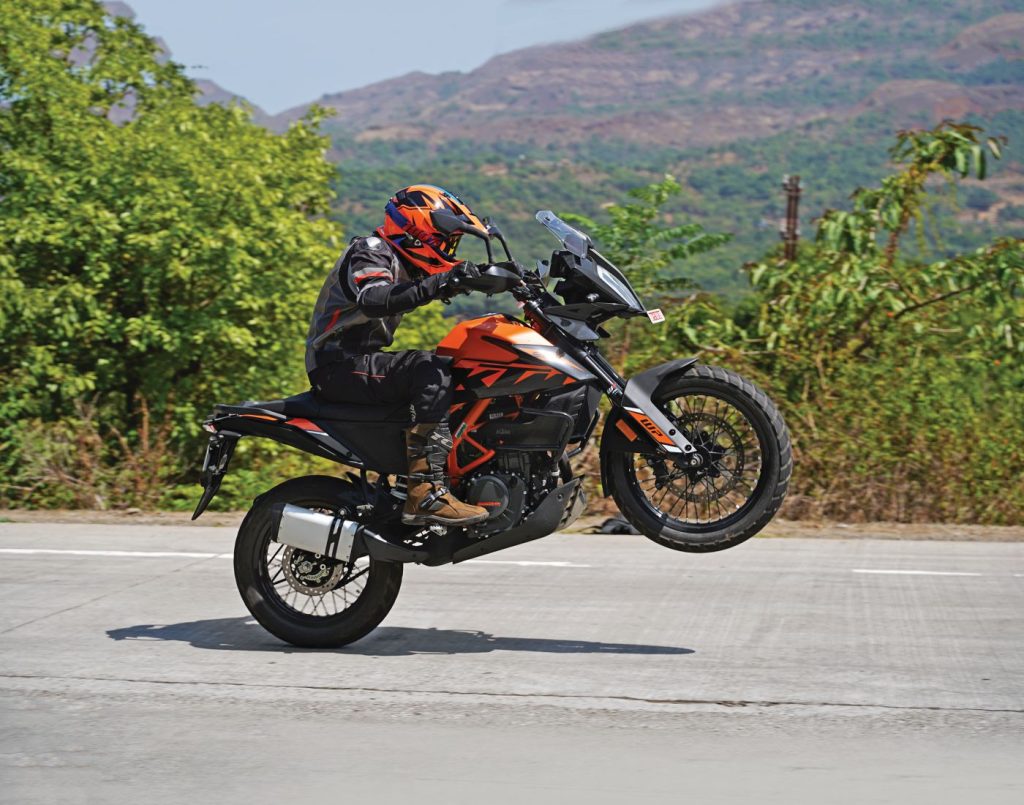 Story: Azaman Chothia
Photography: Apurva Ambep
With ADV motorcycles becoming extremely popular in our market, most riders are on the lookout for one of these desirable machines. KTM have been sensitive to the needs of their customers and this has led to the 390 Adventure range now consisting of four variants. Over our two-day ride experience, we got to swing a leg over the entry-level X variant on the first day, followed by a scenic ride to Pro Dirt Adventure the next day where we had some fun off road astride the top-spec SW variant. The standard variant is sold in two options, one of which gets a lower seat height. Currently, this low-seat variant will be built only to order.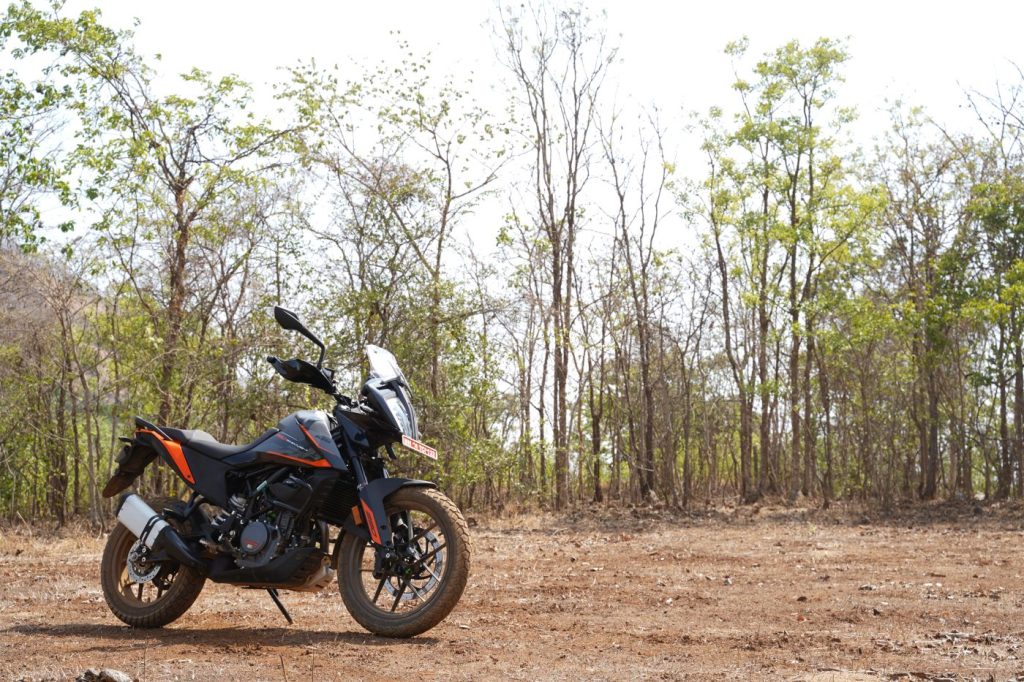 Back when KTM entered the Indian market, it was the only brand to offer high-performance motorcycles at a very competitive price point. With a slew of electronic rider aids and features having been added to the motorcycles, they have currently become fairly expensive to own. The X variant was recently launched to bridge this gap and enable people on a budget to own a KTM 390 Adventure.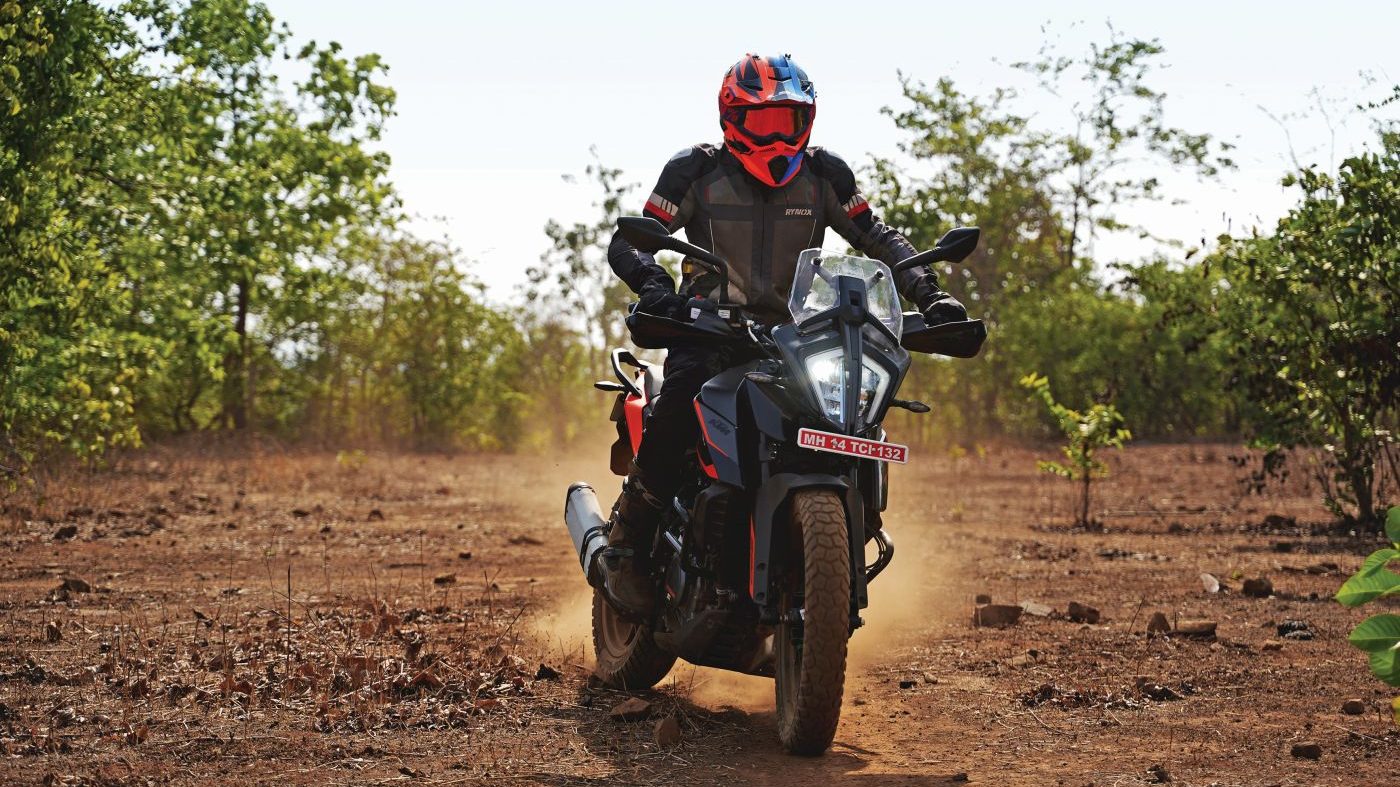 This variant gets an LCD dash that has been borrowed from the 250 Adventure. This LCD unit is simple and easy to operate; the two ABS modes can be switched but this variant misses out on Ride Modes, a quick-shifter, traction control, cornering ABS, and Bluetooth connectivity. The X variant gets the MRF Mogrip Meteor rubber and Big Piston WP Apex front forks, which are among the other components we see on the 250 Adventure. Compared to the standard 390 Adventure, this one too offers 170 millimetres of suspension travel at the front.
I was quite impressed by the bike on and off the road after a couple of hours astride it. The MRF tyres do a good job and, considering that the BS6 373-cc motor delivers power in a more linear way, I didn't even really feel the need for any of the missing rider assists. The best part about this X variant is the price, Rs 2.81 lakh (ex-showroom), which makes it almost Rs 58,000 cheaper than the standard variant. This is a great deal for a rider on a budget who is already familiar with the KTM brand and looking to upgrade from something like an older-generation 390 Duke.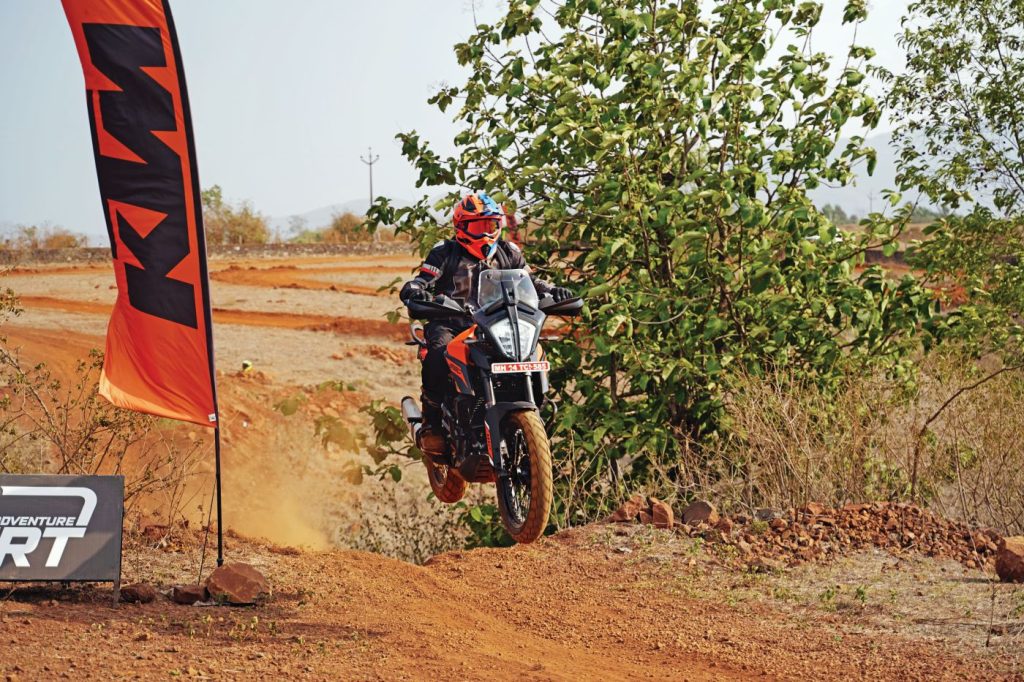 The 373-cc single-cylinder motor in all the variants is in the same state of tune and churns out 43.5 hp at 9,000 rpm and a peak torque of 37 Nm at 7,000 rpm. The power delivery is linear with a slight surge being felt at around 6,000 rpm. A few vibrations are felt when the bike is being revved to the red-line, but it is not something that affects the overall ride experience. The two ride modes (Road and Off-Road) have slightly different tunes; Off-road gives the bike a little more power in the low-range rpm. This motor is not the most tractable, so a rider will have to engage the right gear to extract all that the bike has in store. The quick-shifter system works properly only when the shifts are made between 4,000 and 5,000 rpm. This system is not the best as it sometimes cuts power abruptly, which is why I ended up switching it off and using the clutch instead.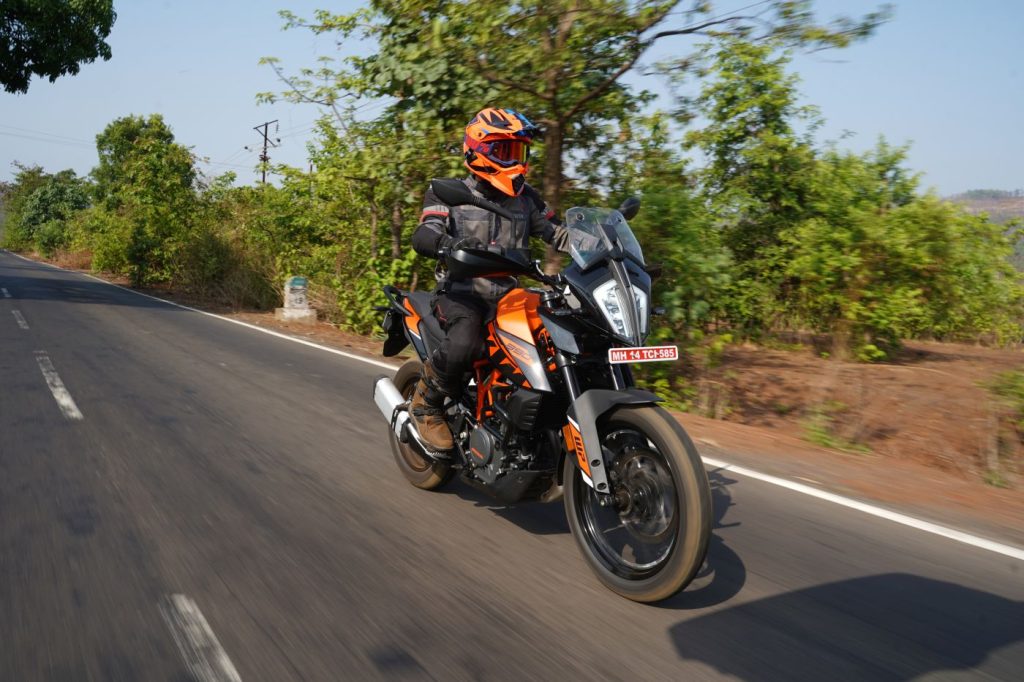 The main updates in the top-spec SW variant are spoked wheels and an adjustable suspension set-up. The open-cartridge WP Apex USD front forks are adjustable for 30 clicks of compression and 30 clicks of rebound damping. On the other hand, the rear monoshock is 10-step preload adjustable and has 20 clicks for rebound damping. To really get to experience this adjustable suspension, it was suggested that we set up the front forks with 15 clicks of compression and rebound for the road. I was able to dial it in and play around with the settings to get it to my liking. After making it stiffer, it was a hoot to tackle the fast-flowing corners of Tamhini Ghat.
Spoked wheels are known to be better for off-roading as they can bend and flex to a certain degree, thus letting you tackle the rougher terrain. The SW variant gets a 19-inch front spoked wheel and the rear gets a 17-inch spoked one. These are shod with the same Metzeler Tourance tyres that we see on the standard variant. However, these spoked rims do not support tubeless tyres, so the Metzeler rubber is being used with a tube inside.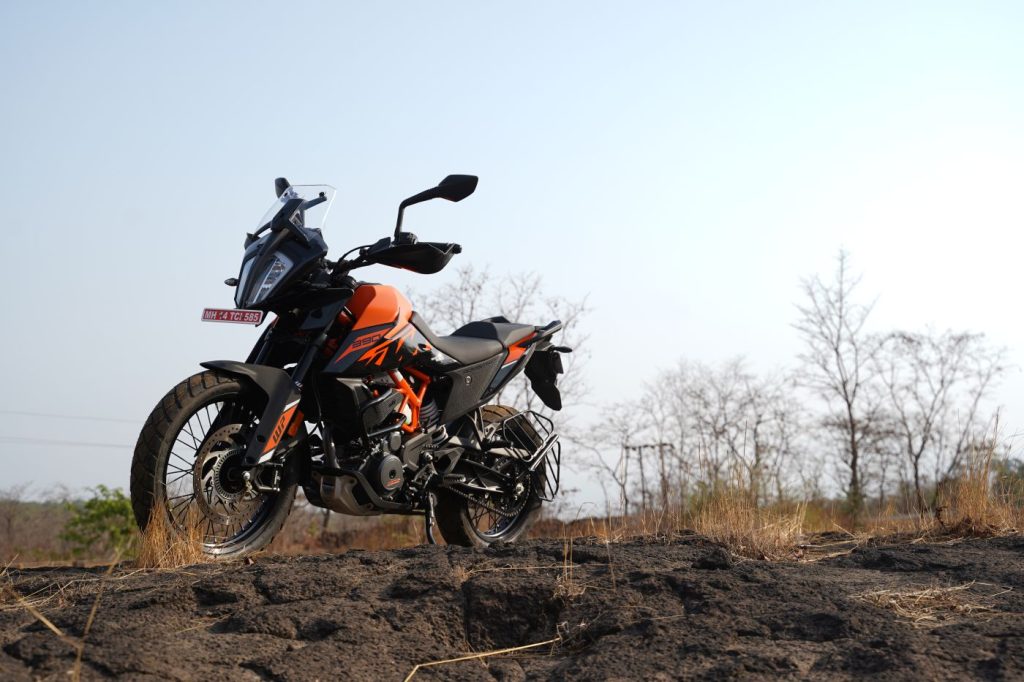 After reducing the tyre pressures to around 22 psi and dialling in the suspension for off-road use, I did get to properly experience these wheels by attempting big jumps, tackling the technical trails and rocky water crossing at Pro Dirt Adventure. The bike handled it all really well and, by the end of it, I was feeling much more confident with my off-road riding skills. Usually I do not get to play around with a suspension set-up, so it was nice to see the difference it can make if tuned properly. Every rider will be comfortable with a different setting, depending on his/her weight, so it is advisable to play around and find that sweet spot.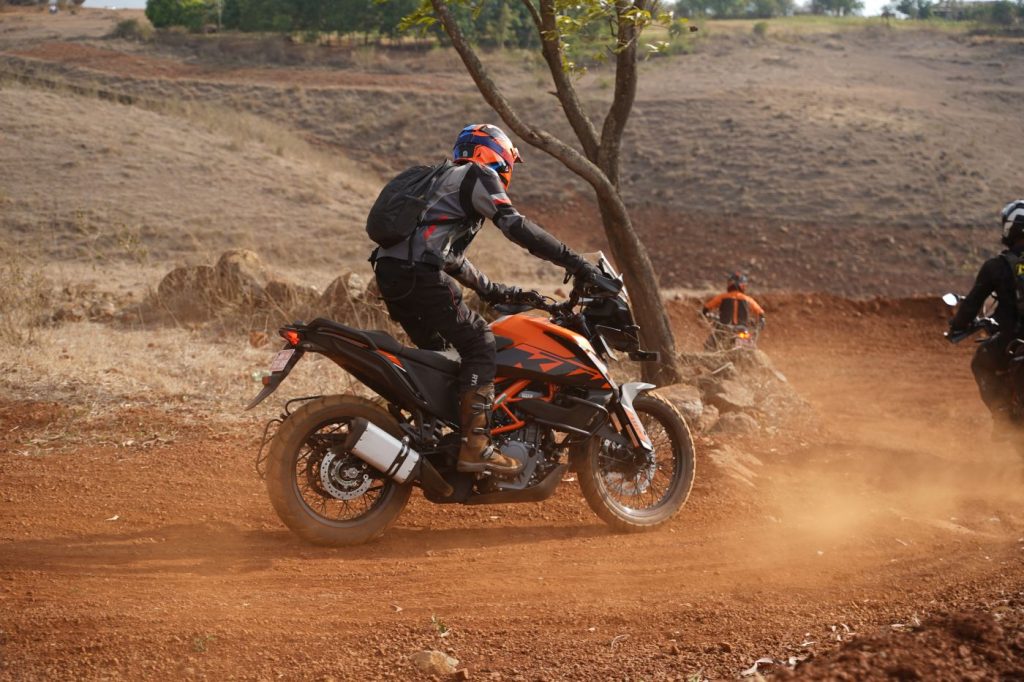 With four variants on offer, the 390 Adventure is now more accessible to customers on a budget as well as those who wanted a more hardcore off-road tool. It is nice to see that KTM India have been listening to the needs of their customers and have finally given them what they desire.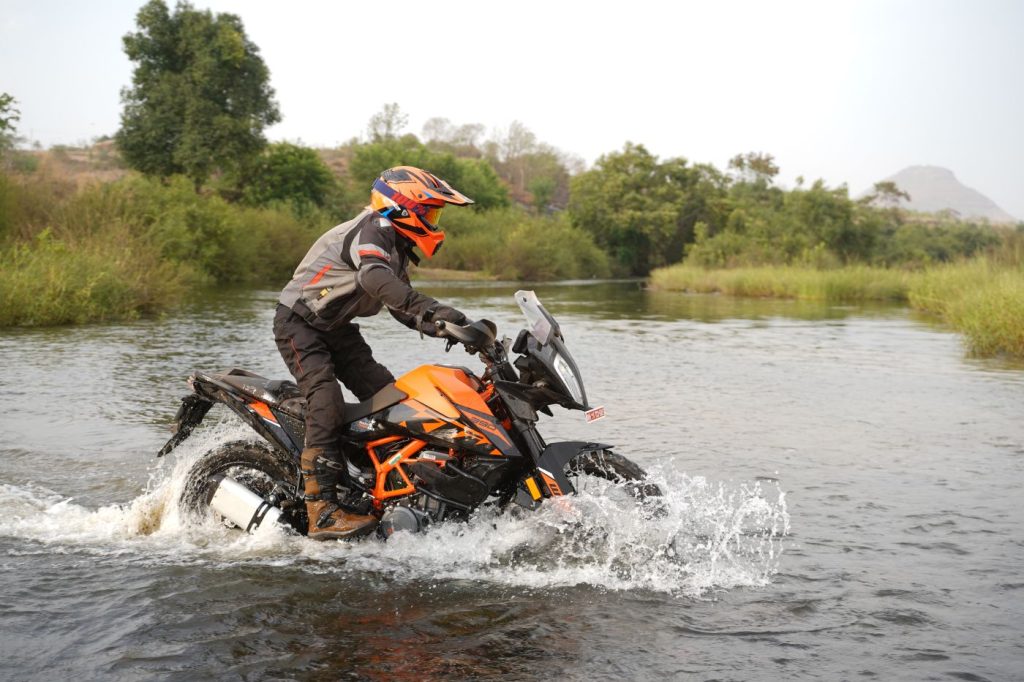 In my opinion, the X variant makes the most sense because of the aggressive pricing and how it proves to be a great motorcycle for touring long distances as well as handling light off-road trails. I still feel that the electronics are not really necessary on the SW variant because of the glitchy quick-shifter and when you go off road, you are going to be switching off MTC, but a lot of new riders seem to appreciate having these rider assists. The SW variant can be bought for Rs 3.61 lakh (ex-showroom), making it Rs 80,000 more expensive than the X variant and Rs 22,000 more expensive than the standard variant. Maybe, now KTM should slap on a 17-inch alloy wheel at the front with sticky road tyres and call it the 390 SMT?