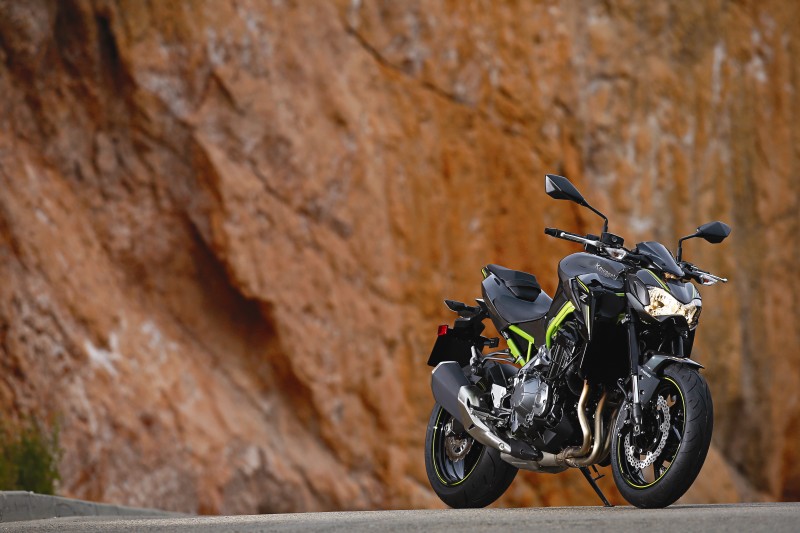 The first ride of the Kawasaki Z900 was held in the Sierra Nevada national park in southern Spain. Here is our first impression of the motorcycle.
Story: Roland Brown
Photography: Double Red & Felix Romero
It's lunchtime at a restaurant at a village called Alba in the Sierra Nevada national park in southern Spain, and I'm wondering why our six-strong group of riders is not jabbering excitedly about how good the Z900 is. After all, we've just had a brilliant ride over the mountains, following Kawasaki's lead rider at a brisk pace up and down a gloriously smooth-surfaced, sun-warmed and traffic-free ribbon of tarmac called the AL-3404.
Kawasaki's new four with the old name has obviously played a star role in that, impressing with its smooth, rev-happy but respectably flexible power delivery, taut handling and decent brakes and tyres. But as we pour the water and butter the bread, the talk switches from what's on the menu to the weather back home. The Zeds lined up outside are seemingly forgotten although their Dunlops must still be almost too hot to touch.
Perhaps, part of the reason is that for all the Z900's considerable attributes it's essentially a grown-up middleweight, rather than a super-naked that offers a new level of performance or technology. Maybe, as a typically refined modern four-cylinder machine, it worked well but not exceptionally so, lacking either the flaws or strong character to capture the imagination.
Either way, the Z900 is an important bike for Kawasaki. As the replacement for the Z800, it is taking over from a model that was not just one of the firm's most successful, but has been the most popular big bike in some European markets. No pressure, then, on a comprehensively redesigned machine whose name, as well as its aggressively naked styling, is close to that of the well-established Z1000.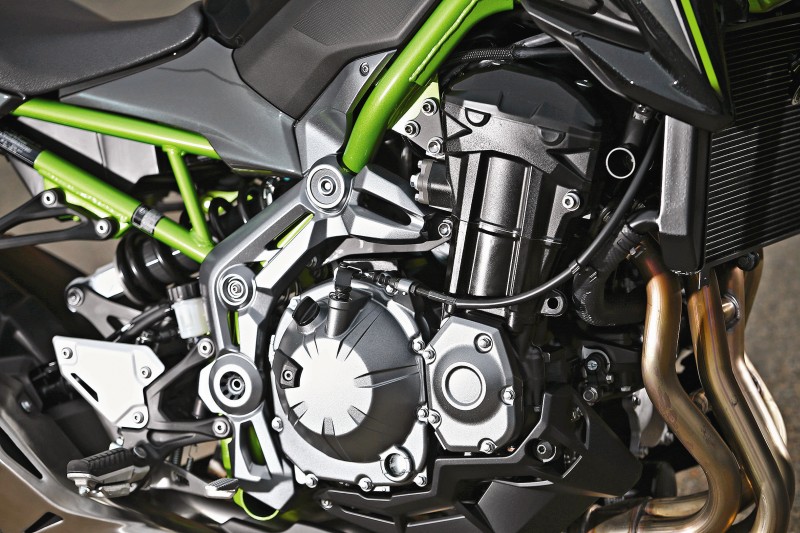 So too, rather curiously, is its capacity of 948 cc — within 100 cc of the Z1000's 1,043 cc total. The new motor is actually a smaller-bore version of the Zed Thou's unit (sharing its 56-mm stroke with a piston diameter of 73.4 mm instead of 77 mm), rather than enlarged from the Z800 lump. New intake and four-into-one exhaust systems contribute to a maximum output of 125 PS at 8,000 revolutions per minute, 17 PS down on the bigger unit.
The Z900's frame is all its own: not made from aluminium like the Z1000's or thick steel tubes like the Z800's, but a slender tubular steel trellis, attractively finished in light green like that of the Ninja H2. The frame uses the engine as a stressed member and weighs just 13.5 kilograms. The aluminium swingarm is also light, at 3.9 kg, and is worked by a near-horizontal shock complete with rising-rate mechanism.
Styling is also reminiscent of the Z1000's, though the twin-headlight front end has a slightly less radical Sugomi look. (Does Sugomi actually appeal to anyone outside Kawasaki?) But I got a slight surprise on throwing a leg over the fairly low seat. Up ahead was a small, neat single instrument console, and a pair of slightly raised handlebars whose switchgear had buttons for… precisely nothing, apart from the basics, including starter, lights, and horn.
That made getting under way pleasingly simple — just press the starter button and go. I didn't miss the lack of riding modes as I pulled smoothly away with assistance from the Kawasaki's light slip-assist clutch. And the controllable feel was enhanced by the Z900's lack of weight. At 210 kg without fuel it's not exactly a featherweight, but is a handy 11 kilos lighter than the Z1000 and 21 kg down on its lardy predecessor, the Z800.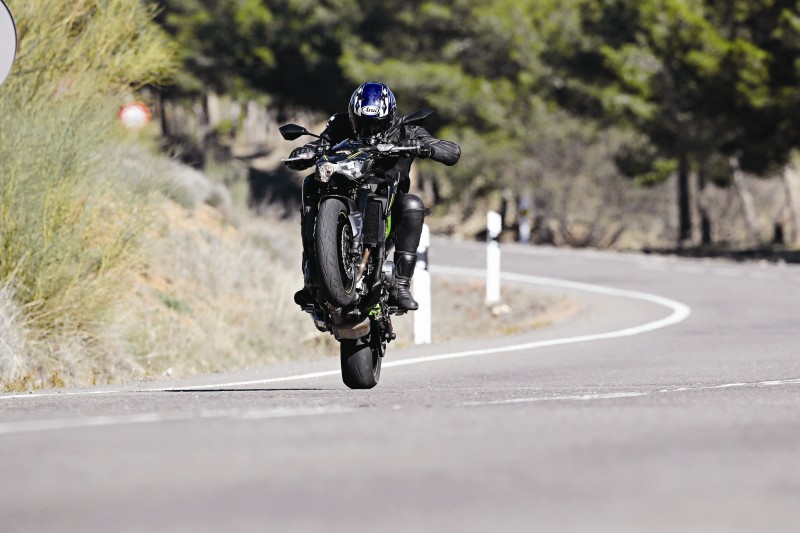 More on page 2 >