I didn't miss the lack of opportunity to fine-tune throttle response, especially as the Z900 immediately showed that its one engine mode provided an impressively crisp and glitch-free delivery, in contrast to recent naked rivals such as Suzuki's GSX-S1000 and Yamaha's original MT-09. There was no jerkiness; just a usefully strong, flexible power surge that let the Kawasaki pull cleanly from below 3,000 rpm in the lower gears, gaining strength as the revs rose until it was charging forward with the tachometer needle approaching the 11,000-rpm red-line.
Inevitably, there wasn't quite the low-rev stomp that the Z1000 dishes out, but the Nine never felt remotely lacking, and revved with a smoothness that encouraged plenty of throttle abuse, and frequent use of a sweet-shifting six-speed box. On the relatively straight road that began the route, it also sat at a steady indicated 125 km/h, feeling respectably relaxed, ready to take off towards its 220 km/h-plus maximum at the tweak of the throttle. Being tall, I was pleasantly surprised that the low fly-screen generated very little turbulence (albeit not providing any wind protection either), although one shorter rider thought differently.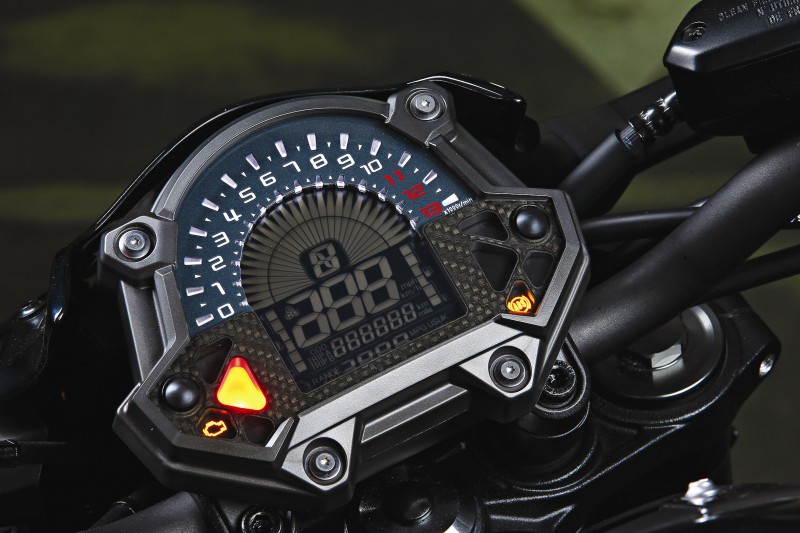 Talking of noise, if any aspect of the Zed's engine performance disappointed, it was, perhaps, the sound, given Kawasaki's claim that the intake system's "carefully crafted auditory note is a key component of the Z900's street riding exhilaration". There was an intake sound that rose and fell with revs, but it never struck me as sufficiently loud to be described as a roar or howl.
Handling was enjoyably responsive at modest speeds, when the bike's accurate steering impressed on twisty roads, and its blend of low seat and generous steering lock helped make it manoeuvrable. Stability at speed seemed fine, at least through a couple of highway sweepers. Even when the pace became hectic on that thrash towards the lunch stop, the Zed remained admirably composed.
Its suspension is not particularly sophisticated, offering adjustable preload and rebound damping at both ends, but was respectably compliant on the gentler sections. And it proved well up to the job as the Kawasaki was run hard into turns on its powerful front brake (comprising four-piston Nissin front callipers and 300-mm discs), then fired out again with sufficient force to make the rear Dunlop D21 Sportmax work for its living — which it did, finding grip on the mostly well-surfaced but sometimes dusty or polished roads.
That was just as well, given the lack of traction control that is surprising in an all-new model, especially as rivals, including Suzuki's new GSX-S750, Triumph's revamped Street Triple and Yamaha's improved MT-09, have systems (the Yam has a quick-shifter too). Kawasaki's official line is that they wanted to concentrate on the pure riding experience, which doesn't really wash these days when a good traction control system stays in the background until needed.
In reality, several factors possibly influenced the decision; one being cost and another the need to help differentiate the Z900 from the Z1000, and create incentive to buy the more expensive bike. For anyone set on a naked Kawasaki four, the smaller sibling is sufficiently quick and sweet-handling to be both fast and fun, posted respectable fuel economy and range (6.7 litres/100 km and close to 240 km), and delivers most of what the bigger model does for a roughly 20 per cent lower price. In some markets there's a Z900 Performance Edition priced between the two, featuring fly-screen, tank pad, pillion seat-cover and Akrapovic silencer.
The Z900 wins the fraternal fight for me, but the more important question is whether it has the character to shine in an increasingly competitive class against the GSX-S750, Street Triple and MT-09. All have their merits, but what's for sure is that when that discussion starts, the pleasingly quick, sweet-handling and capable Kawasaki should not be forgotten.
The Kawasaki Z900 have been launched on Indian roads priced at Rs 9 lakh (ex-showroom, Pune, with accessories).