Kawasaki India launched three new motorcycles at their Off-road Carnival event held in Pune and we got a chance to experience them in their natural habitat at Pro Dirt Adventure.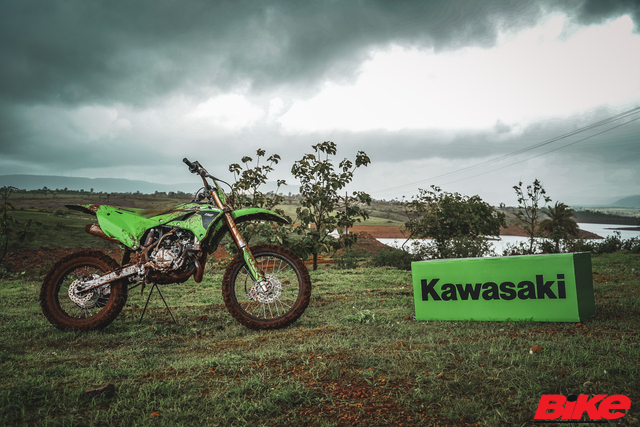 Story: Joshua Varghese
Photography: Apurva Ambep and Vaishnav Nair
Kawasaki is one of the few manufacturers in India who offer pure off-road motorcycles straight out of the dealership. Their KX and KLX range have been around for years but they have always remained rather out of reach. We were invited to the Kawasaki Off-road Carnival in Pune to experience some of these motorcycles and also the latest additions to the range: the KX65, the KX112, and the KLX 230R S.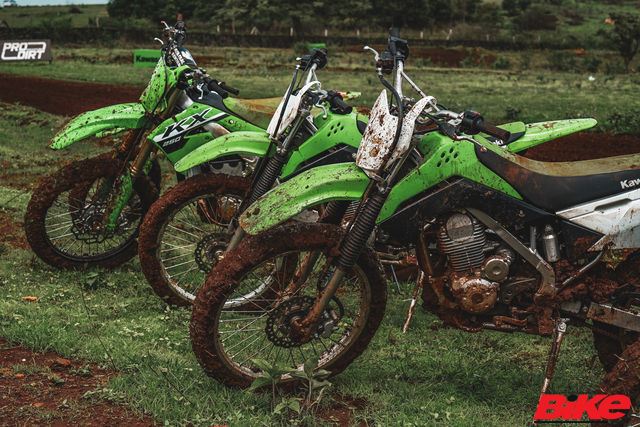 The KX65 is now the first step into the Kawasaki off-road family. It is a small training motorcycle for young racers which uses a 64-cc, liquid-cooled, two-stroke, single-cylinder engine that is fed by a Mikuni carburettor. With a 14-inch wheel at the front and a 12-inch one at the rear, the bike is diminutive. That was the only reason that discouraged me from having a go on it because it looked like proper fun in the hands of some talented young racers. The build quality is impressive and consistent with what one may expect of Kawasaki.
At Rs 3.12 lakh (ex-showroom), the KX65 is rather expensive for a small motorcycle but it is more than that. If put it to good use under the supervision of a watchful instructor, it could be an invaluable tool for young racers to hone their skills.
The KX100 used to be the entry-level motorcycle in the KX family but Kawasaki have done one better by launching the KX112. Essentially, it is a motorcycle that offers all the madness of a two-stroke machine in a larger package. This one is also powered by a liquid-cooled, two-stroke, single-cylinder engine but it displaces 112 cc and is fed by a Keihin carburettor. The engine was developed based on the KX100 but now it has a 5.8 millimetre longer stroke and the length of the connecting rod has been increased by seven millimetres. Since it is equipped with 19- and 16-inch wheels at the front and rear respectively, along with long-travel suspension at either end, the KX112 was better suited to my size. Furthermore, adjustable components always allow one to find the ideal riding position.
Sure, it is still a small motorcycle, but it is remarkably fun to ride and the thrill begins when one kick-starts the engine to life. The raspy two-stroke exhaust note will bring a smile to any petrol head's face and it will only grow wider as one opens the throttle. To say it is fun would be an understatement. The power valve system allows a broad powerband that gives this two-stroke good performance both in the mid-range and at the top end. On the track, that means it is as rapid powering out of a corner as it is when belting down the straight sections. The best part is that it weighs a meagre 77 kilograms. So, whenever I made a mistake, it was easy to bring it back into line. The USD fork at the front and the monoshock unit at the rear are long-travel units that offer adjustability, so an ideal set-up is not too difficult to find.
We rode this motorcycle in the monsoon on a track that had soft dirt and it just packed itself into the gaps in the Dunlop knobbies, robbing it off its ability to find traction. So, unleashing full power was rather difficult but we look forward to riding it in dry conditions, too, because the engine and chassis promise a lot of potential.
The KX112 is a motorcycle that bridges the gap between the KX65 and the KX250. It was launched at Rs 4.88 lakh (ex-showroom), which is the same price as that of the KX100. Kawasaki India have done well to upgrade that motorcycle and give us a new one at the same price.
Unlike the two KX motorcycles, the KLX 230R S uses an air-cooled, fuel-injected, four-stroke engine which displaces 233 cc. After coming off the KX112, this felt like a more manageable machine. It was more confidence-inspiring and just easier to ride fast. Although its suspension does not offer as much adjustability as the KX's, the KLX felt quite good on the track and that shows just how adaptable it is as a trail motorcycle. It develops 20 hp at 8,000 rpm and a peak torque of 20.6 Nm at 6,000 rpm. It weighs 115 kg and uses 21- and 18-inch wheels at the front and rear respectively. If one can live with the 900-mm seat height, it has everything that is expected of a basic trail motorcycle. Furthermore, it offers usable levels of power and handling. However, as fun as it is, at Rs 5.21 lakh (ex-showroom), it is still rather expensive.
Along with us journalists, Kawasaki India had also invited many existing and potential customers to experience their new range, which goes to show how serious they are about their commitment to the off-road line-up in the country. Given how riding within city limits is more of a nightmare than ever, riding off-road could be just what we need to reconnect with the joy of motorcycling. Even the top racers in the world ride off-road motorcycles as part of their training regimen.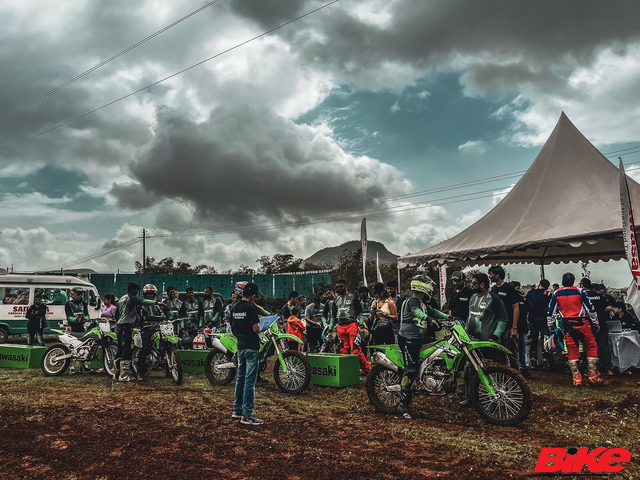 Following my rather brief yet enjoyable experience with these motorcycles, I have arrived at a conclusion. Currently, like most enthusiasts in India, even if I had the money to buy these motorcycles, I lack the means to transport them. You see, none of them is street-legal. However, if there is a facility that will allow me to rent these motorcycles or even store my machines, then I would sign up right away. That is how fun they are to ride. One would argue that dual-purpose motorcycles could be ridden to the location and then belted around the track or trail without spending as much money. However, those motorcycles will never be as much fun off-road as one of these purpose-built machines.
Also Read: BMW Motorrad Days Celebrate 100th Anniversary of BMW Motorrad