Design & Style
Not much has changed here; this is still the same old Ninja 300 that we know and love, albeit with all new graphics and two colour options. Although the design has been around for a while, that assertive front end still looks gorgeous, the sharp lines and aggressive, forward-slanting nose reminding me of a bird of prey. The carefully sculpted tail section is marred by an unsightly grab rail to adhere to Indian legislation, however this is secured on four bolts, is easy to remove, and will probably be thrown in the trash the moment a new owner gets the bike home. The 785-mm seat height is not in the least bit intimidating for newer riders, and the riding position is a nice compromise between relaxed and sporty.
Build Quality
Several people were concerned that assembling the bike here, with severally locally-sourced parts, might adversely affect the baby Ninja's build quality. I am happy to report that this is not the case, and the Ninja 300 that we reviewed felt solidly built, with no rattles or oddly-fitting panels. Major structural components like the powerplant, chassis and a lot more have been directly imported, while locally-sourced parts include tyres, brake components, battery, wiring and some of the plastics, and the bike seems none the worse for it.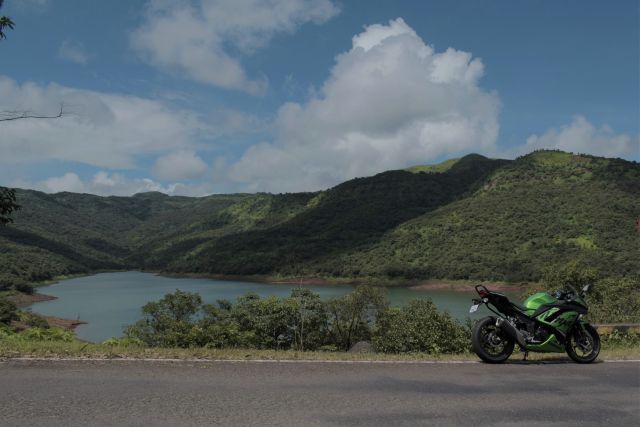 Powerplant
The eight-valve, 296-cc, liquid-cooled parallel twin is unchanged since 2012, and is a high-revving gem of an engine that will keep beginner as well as experienced riders thoroughly entertained. It makes 27 Nm of torque at 10,000 rpm, 39 PS at 11,000 rpm and revs strongly up to a lofty 13,500 rpm rev limiter. The engine feels relaxed and smooth at lower revs, and you can easily putter around town at under 4,000 rpm, without the slightest vibrations or knocking, although rolling on the throttle at these low revs won't get you much in the way of acceleration. The party starts above 7,000 rpm, where you begin to access this little twin's true character, accompanied by a smile inducing exhaust note as the tacho needle rushes towards the red line. Acceleration is brisk in these upper reaches of the rev range and gear shifts are accompanied by a satisfying click; working to keep the engine in its sweet spot gear after gear is supremely engaging and rewarding. Triple-digit speeds come up surprisingly quick and, although some vibrations do filter through at higher revs, you will probably not notice them given the amount of fun you are having.