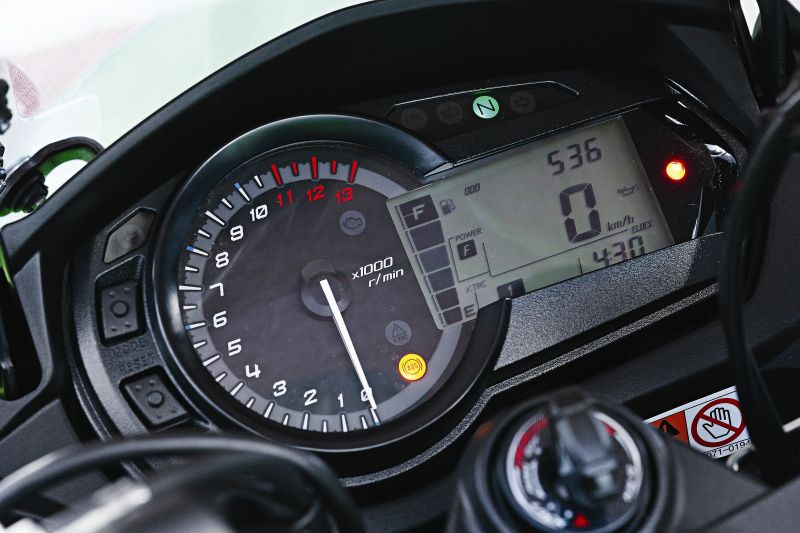 Not everyone's a fan of the SX's swoopy styling, but it looks fine to me, combining plenty of attitude with a roomy, reasonably upright riding position. Kawasaki have made a big effort to clear up the rear end's look with panniers removed. Shame the only colour alternatives to corporate green are grey or black.
The unchanged screen is three-way adjustable, after pressing a button in front of the instrument panel. It's neat and simple enough to use, although the operation really requires both hands so you're not advised to attempt it on the move, as you can with the systems on the latest Multistrada and R1200GS.
There's enough range to be useful for riders of all sizes and despite being tall I didn't suffer much turbulence, even with the screen in its tallest, near-vertical position. But there's no hand protection, a big drawback in the cold or wet. (At least, the accessory list includes heated grips, along with smoked screen, crash bungs and top-box.)
The seat gets extra padding and should be more comfortable than that of its predecessor, but I was starting to feel it slightly after a couple of hours' riding. The pillion seat isn't exactly luxurious either; at least, the passenger gets solid grab-handles. Elsewhere there are some thoughtful revisions. Mirrors are wider and usefully clear, the digital dash gains fuel consumption info and can be toggled from the mode button on the left bar.
Kawasaki missed this opportunity to enlarge the 19-litre tank, but apparently have at least made the fuel-gauge more accurate. The SX isn't notably fuel-efficient, drinking slightly more than 7.0 litres/100 km on the launch, though you could increase that by making more effort to trigger the dashboard's new eco riding light. Realistic range is about 250 km, so less than generous for a sports-tourer.
The new panniers are a big improvement, though: not only much more stylish and aerodynamic, but considerably narrower despite each being large enough to hold a full-face helmet. They're likely to add about 10 per cent to the price or to come as part of a higher specification Touring model in some markets.
It all adds up to a usefully, if not dramatically, updated bike that improves both sporting and touring aspects of an already very decent sports-tourer. Further good news is that the basic price is set to remain at almost the same level. All of which should ensure that the SX's unexpected but deserved success story continues for a while yet.
Story: Roland Brown
Images: Double Red, David Reygondeau