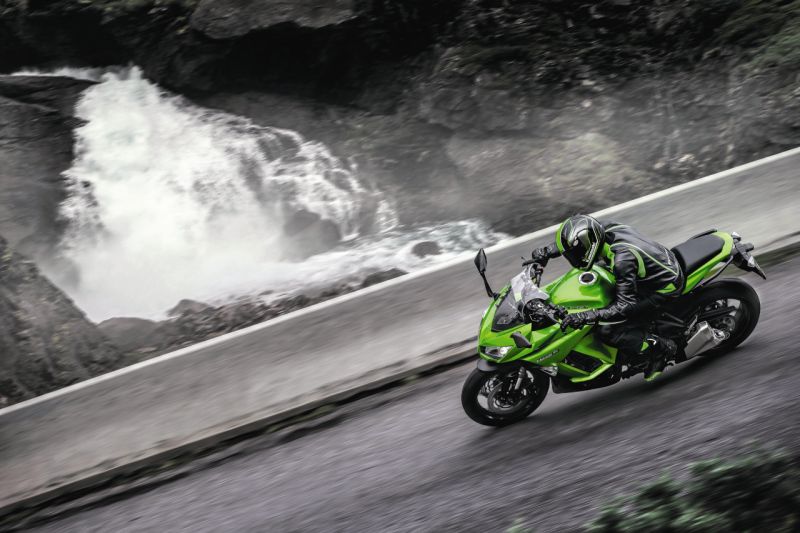 We savour the revamped Kawasaki Z1000SX (Ninja 1000 in India) in the Alpine foothills of southern Austria.
Like many successful formats, the Z1000SX's seems obvious with hindsight. Of course, not all the riders abandoning sports bikes would defect to adventure bikes. Plenty were bound to prefer a sharp looking, sporty, 240 km/h fully-faired four with a more upright riding position, some all-round ability and a sensible price.
A bike, in other words, like the SX — although even Kawasaki didn't expect the relatively simple Z1000-With-A-Fairing to be one of their top-selling models in many markets for the last three years (their absolute best-seller in the UK), as well as one of the most popular sports-tourers of any make.
That's what has happened, though, and even before that third year is out they've revamped the SX to make it sharper, more responsive and better equipped. This makes plenty of sense as I throw the updated green bike down a spectacularly twisty road in the Alpine foothills of southern Austria.
Its 142-PS motor is hurling the bike forward at an entertainingly rapid rate with a fruity howl from the re-tuned airbox. The screen is keeping the wind and most of the fat late-summer bugs off my chest. The tweaked and firmed-up suspension is giving a reasonably comfortable yet impressively taut and well-controlled ride — even under severe provocation from the powerful new Tokico monobloc front callipers. And the sleek new panniers are keeping my waterproofs and other junk neatly out of mind.
In short, the revamped Z1000SX is proving a blast to ride. And equally importantly, it's giving every indication of being well up to the job if I had to strap on a bit more luggage and ride it 1,000 kilometres home rather than back to the relatively nearby launch hotel.
That's hardly surprising because the original SX was a good place to start and this update is fairly thorough. The 1,043cc, 16-valve engine gets new cams with shorter duration and revised air intake trumpets of the same length. (Different length intakes are so last year…) Kawasaki claim an extra 4 PS, with that 142 PS maximum arriving at 10,000 RPM and say the motor has more low-rev and mid-range performance.