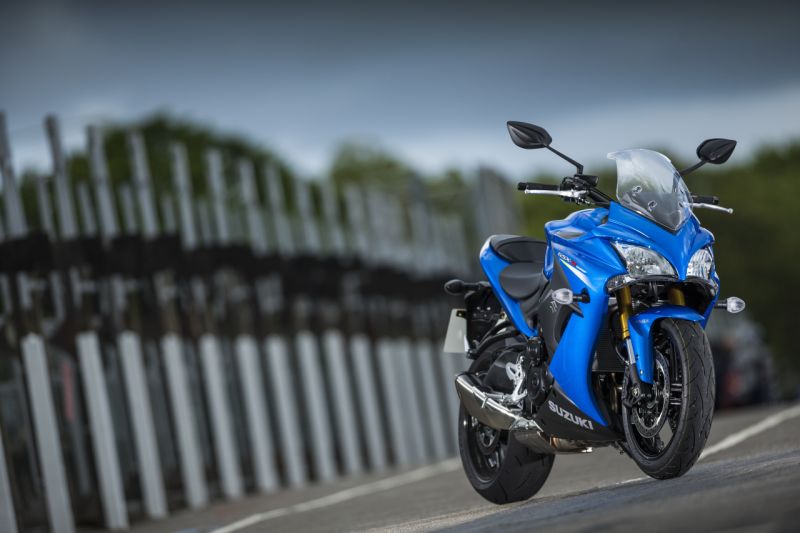 The Brembo radial four-pot front callipers meant there was plenty of braking power, backed up by an efficient Bosch ABS system. And the suspension did a decent job, too; especially the multi-adjustable USD forks, which worked fine for both fast and more gentle riding. The rear shock, which is adjustable for preload and rebound but not compression damping, occasionally felt a bit crude and choppy, especially on the notoriously bumpy Sulby straight. I'd never have mistaken the Kayaba for a top-quality unit but it was perfectly adequate, if not quite up to the rest of the chassis.
It also combined with the fairly thin seat to make the GSX-S reasonably comfortable, though one or two riders were shifting around a bit by the end, and a pillion doesn't get much either to sit on or to hold. But as Suzuki insist, this bike isn't intended to be a sports-tourer. Its 17-litre tank is good for a realistic 225 km at a typical average of 7.0 litres/100 km, though hard riding brought that down to 8.0 litres/100 km and the range to about 200 km.
If you want more range, comfort and luggage-carrying ability you'll have to wait for the genuine sports-tourer of Suzuki's new GSX-S family. That bike will need a bigger fairing, screen, tank and seat, plus a stronger rear sub-frame for the extra load, and a longer wheelbase to retain stability. It will require significant extra development time and expense, but is presumably under development, and might even be ready for next year. Meanwhile, this bike's luggage is limited to a tank-bag and tail-pack, while other accessories include colour-matched FatBar and front brake callipers, plus a choice of cool-looking Yoshimura mufflers.
So the GSX-S is no sports-tourer, but it is a simpler and seriously appealing alternative. At first the idea of a naked bike with a fairing seems contrary. But with super-sports bikes getting ever more racetrack-focused, yet most riders still spending the vast majority of their time on the road, a sports bike that blends flexible power and sweet handling with useful wind protection and an upright riding position suddenly seems like a great idea. Priced between the naked GSX-S and the GSX-R1000, the GSX-S1000F looks like decent value too. It's arguably this year's most surprising star.