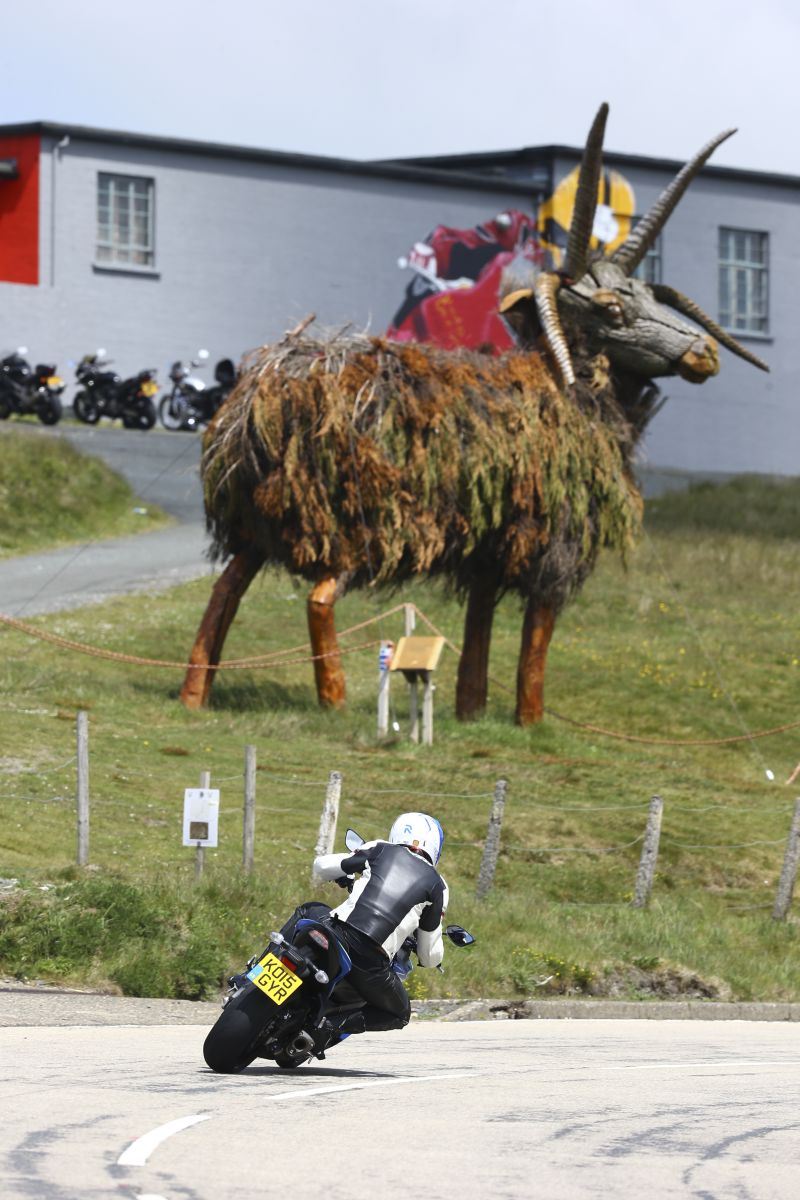 That shared 16-valve engine, a de-tuned version of the long-stroke unit from the 2005-model GSX-R1000 K5 (unchanged when powering the K8 three years later), always looked like a promising start. For GSX-S use it was revised with softer cams, lighter pistons giving reduced 12.2:1 compression ratio, reshaped airbox and modified injection system plus a new exhaust system with a single, stubby silencer. With an unchanged claimed maximum of 145 PS at 10,000 revolutions per minute it makes about 40 PS less than the GSX-R unit but a few horses more than the Z1000 SX.
Like the naked GSX-S the F-bike has a twin-spar aluminium frame that is lighter than the GSX-R equivalent, according to Suzuki, and which holds a twin-sided aluminium swing-arm from the current GSX-R1000. This bike's Kayaba suspension at both ends is mechanically unchanged from the naked GSX-S, though delivered as standard with very slightly stiffer settings thanks to a small amount of additional fork oil plus an extra turn of rear shock preload.
The new fairing and screen are fairly sharp-looking and aggressive, and add only five kilos in weight to leave the ABS-equipped GSX-S1000F respectably light, at 214 kg (so just nine kg heavier than the GSX-R1000). It certainly felt light and sporty, as I threw a leg over the seat which, at 810 mm, is the same height as those of both the GSX-R and naked GSX-S, and low enough to make the bike manageable for most riders. But the upright, wide-barred riding position, identical to the naked model's, gave the 1000F a completely different feel from a super-sports bike's.
The F-bike's black-anodised Renthal FatBar is a substantial 165 mm higher and 72 mm wider than a GSX-R's clip-ons, while the foot-rests are 24 mm lower and 32 mm further forward. If you were flashing over the start line in a TT race and howling down Bray Hill at 250 km/h-plus, you'd doubtless be glad of a super-sports bike's sleeker aerodynamics. While waiting for the lights to change at the St Ninian's crossroads and then following Milky down the Hill at the 30 mph (48 km/h) limit, on the other hand, I was happy to be sitting bolt upright with no weight on my wrists.
The 16-valve engine was also doing its bit to make life easy, although as with the naked model it's not quite perfectly sorted. On that first GSX-S launch in Spain I'd been surprised to find a very noticeable jerkiness in the throttle response, which was slightly awkward on the twisty, mostly slow-speed route. This was still there on the GSX-S1000FA but was less noticeable, mainly I think because the TT course is either urban, with revs and speeds very low, or more open and fast, where the bike was revving harder or in a higher gear.