The standout feature of this three-cylinder engine is the wide spread of torque; peak torque is 79 Nm at 8,050 rpm, and over 85 per cent of this is available from as low as 2,500 rpm, while peak power is 95 PS at 9,500 rpm. What this translates into is usable power in any gear all across the rev range, and speed can be piled on with a simple twist of the wrist, without the need to downshift; ideal characteristics when covering long distances.
The engine isn't built for blistering performance at high revs and, consequently, feels somewhat strained approaching 9,000 rpm; it is happiest between 4,000 and 6,000 rpm, although it has the punch to spin up all the way to the redline without hesitation if you get greedy with the throttle. The ride-by-wire throttle is light, smooth and works extremely well with the immaculate fuelling to ensure that rider inputs are transmitted to the rear wheel in a smooth and linear manner. Even in Sport mode, with its aggressive throttle map, on-off transitions are jerk-free and seamless, and the only way to elicit a harsh response is by getting really ham-fisted with the go-grip.
The Tiger is definitely a quick motorcycle and, with that free-revving engine, you can pull hard through the gears and be at seriously illegal speeds in no time but, with the composed chassis and suspension, and the rider shielded behind that tall screen, the bike never feels brutally fast or scary; it is only after a  glance at the speedometer do you think that, maybe, it's time to slow down.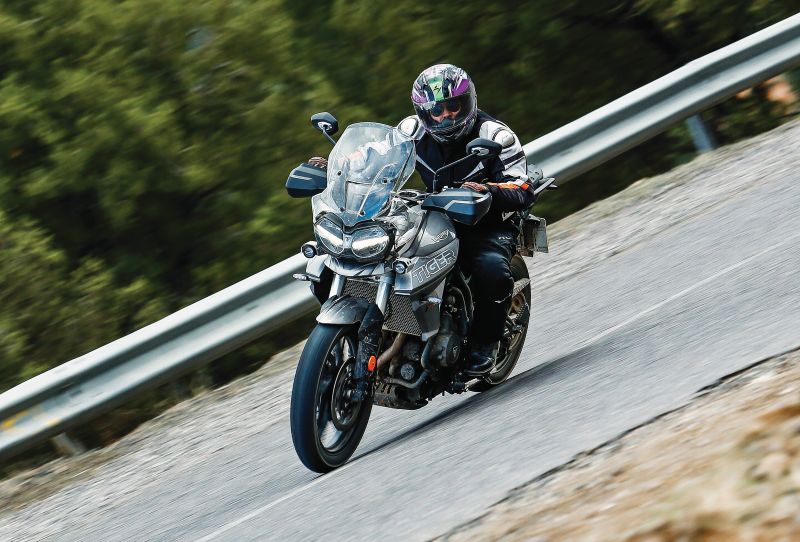 The Tiger XRt handles curves with poise, and I soon got comfortable with throwing it into corner after corner, the low foot-peg feelers occasionally grazing the tarmac. Of course, it doesn't turn in with the quickness and certainty of a sportier motorcycle, but the neutral-handling chassis is helped along by the adjustable Showa suspension at both ends, while the Metzeler Tourance tyres provide loads of grip and confidence, even at full lean, and seem like an ideal compromise between durability and performance for a touring-inclined rider. The 43-mm upside-down Showa fork retains the same 180-mm travel as the old bike, is now adjustable for compression and rebound damping, and is no doubt responsible for the minimal fork dive when the new Brembo front anchors are engaged. The rear is endowed with the same Showa shock as before, with adjustments for preload and rebound damping, and 170 mm of travel; needless to say, the motorcycle glides over bad roads, potholes and speed-breakers without losing any composure. Even when I spotted a bump just ahead of me at triple-digit speeds, all I had to do was lift my rear off the seat by a few inches, and the superb suspension took care of the rest without losing composure.