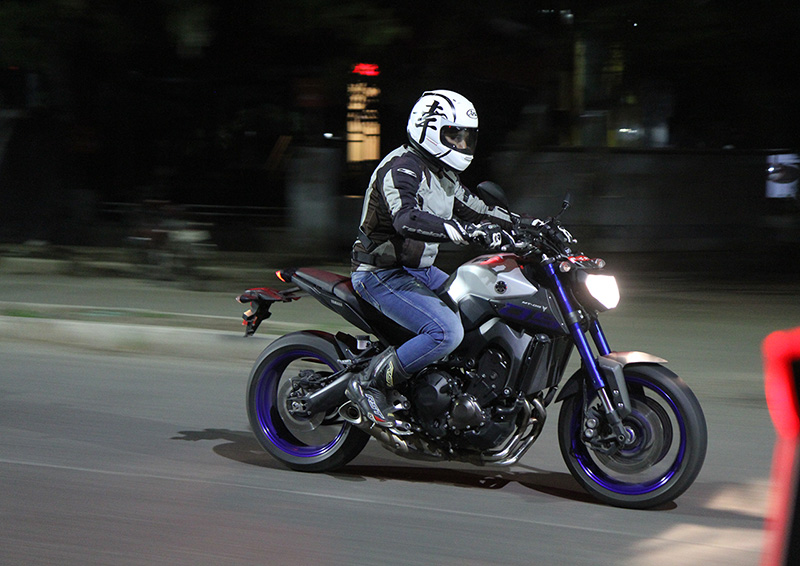 We had an exhilarating spin astride the MT-09, Yamaha's dark side, and it does have the ammo to spook the rider.
Among all the various types, my favourite bikes need to possess the following three basic attributes: one, every-day practically; two, compact proportions and agility; and, three, most importantly, it should be thrilling to ride. Throw these in a blender and it'll churn out a roadster smoothie which an enthusiast can't resist. Since I'm not alone in this line of thought, the middle-weight naked street bike segment has witnessed a sudden boom in India of late.
One such début in this busy segment is that of the Yamaha MT-09. Unlike the clean and sporty image of the company, this street-fighter displays the Japanese brand's 'dark side'. After riding the bike all night long, my red-eyed friends from the neighbourhood will vouch that it's wicked enough to justify the title. And it has to be sinfully good, because the Yamaha is taking the fight to the segment's heavyweights like the Ducati Monster, Triumph Street Triple, and the recently launched Kawasaki Z900.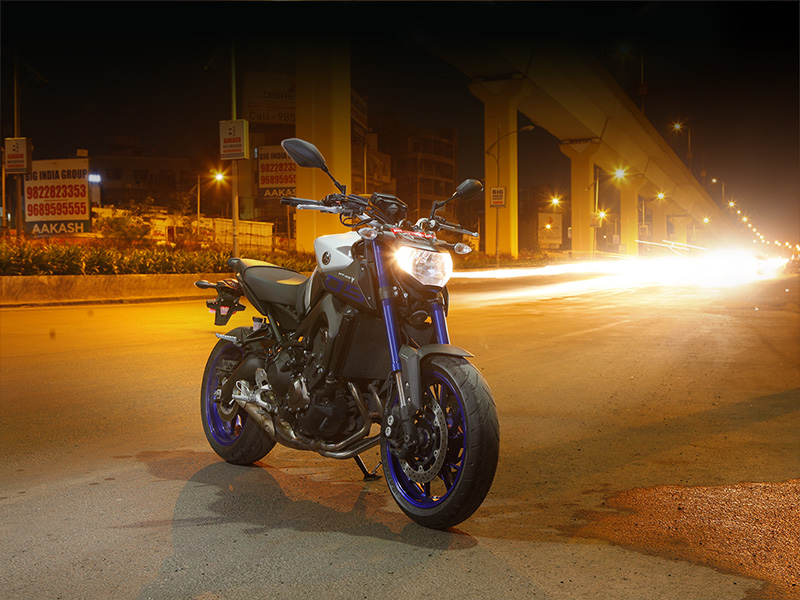 Just look at this Yamaha. It seems as if it has just returned from a battlefield, with the front fairing hacked off in some gruesome duel. The sharp headlight with daytime running lights (DRL) is a departure from the usual flowy Japanese cues. Bare wiring harness and an off-set digital instrument cluster add to the character. The cluster gives out variegated info such as speed, revolutions per minute, odometer, fuel-gauge, ambient temperature, clock, gear indicator, and distance to empty. Completing the aggressive front are alloy wheels and front forks finished in a racy blue shade, and prominent tank scoops with 'MT-09' graphics.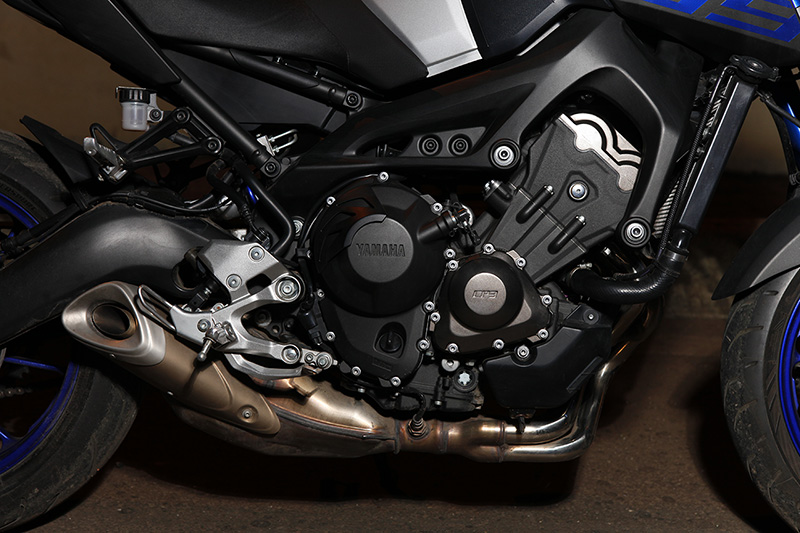 There are hardly any body-panels, just the essentials and nothing else, proudly displaying the all-black die-cast aluminium frame and the newly developed 847-cc triple-cylinder engine. Another design highlight is the stocky exhaust, with all three pipes twirling and finishing into a single unit. The minimalist tail section gradually tapers off, keeping true to the mass-forward design. The overall design is off-beat and, maybe, a little crazy, too; but remains antithetical and seems appealing to me.
Being a Yamaha, the fit-and-finish and overall quality are top-class. The grips feel comfy and soft, the switches have the desired sturdiness, and the cycle parts feel to have been built to last. I like the mirrors which have multiple joints and are easy to adjust. I just feel that the all-important (in India) horn button is too tiny and on the extreme edge, making it a stretch to reach. Barring that, the rest of the ergonomics are pretty good.