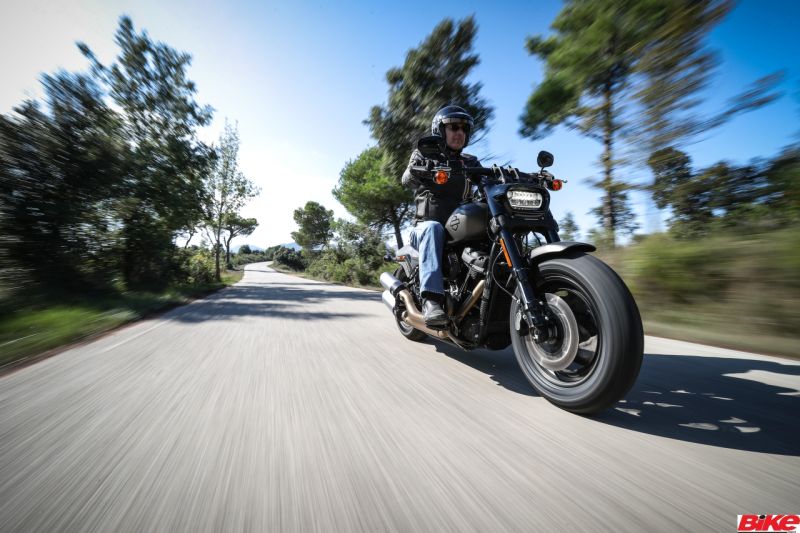 Straight-line performance is certainly up on the outgoing model. Harley claim an advantage of a couple of bike lengths in 0-100 km/h time, and in top-gear acceleration from there to 130 km/h, with a similar gain between 107 and 114 ci powerplants. Even the bigger-engined Fat Bob is no V-Max but it stormed forward with enjoyably strong force almost whatever the revs (I never thought to check), and was impressively docile to boot.
Harley's engineers put much effort into giving the solidly mounted Milwaukee-Eight engine the right amount of vibration, partly by incorporating an extra balancer shaft to the Touring family unit, and they've done a good job. Despite its restrictive exhaust, the Fat Bob had enough character to be entertaining. And although there's some vibration up towards the 5,500-rpm limit, the engine's low-rev grunt means you rarely need to go there, and I didn't once find myself troubled by unpleasant vibes.
Chassis performance was also improbably good; a notable step up from the previous model thanks mainly to the blend of stiffer frame, more refined suspension and additional ground clearance. Harley say the new frame is 65 per cent stiffer, which gives a 34 per cent increase in overall chassis rigidity. It also has half as many parts and 22 per cent fewer welds.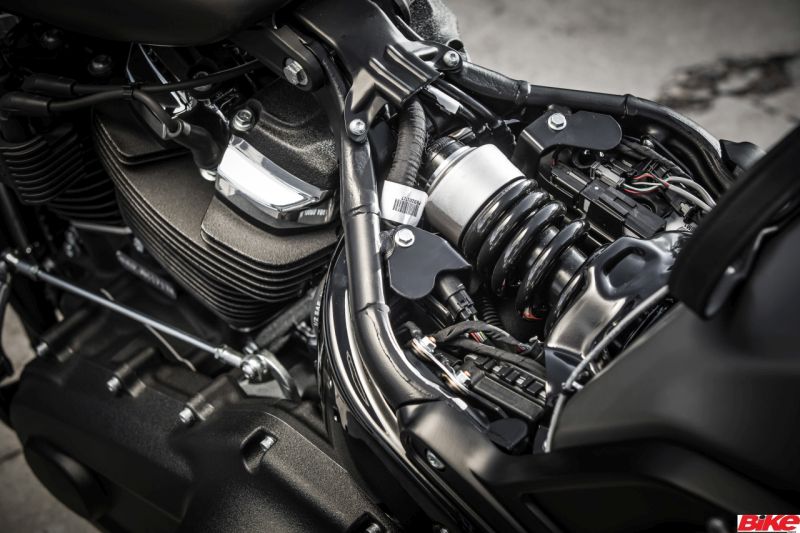 In the Fat Bob's case a big part of the improvement was down to the uprated suspension, which did a very decent job of delivering a comfortable ride — in conjunction with the supportive seat — and keeping control. That fat front tyre still meant the bike required fairly firm counter-steering to change direction and a bit of pressure to hold a line in bends. But when ridden forcefully, the Harley could be cranked through twisty sections at a very entertaining pace.
It even demonstrated improbably generous amounts of ground clearance when its chunky-patterned Dunlop D429s were being made to work hard, at least after I'd wound shock preload towards its maximum using the handy remote adjuster below the seat. Those twin front discs meant it stopped impressively hard, too, rarely requiring a stamp on the rear disc's pedal to help.
In that respect it had a notable advantage over the other Softails, and was a bike that, when ridden hard, felt almost less like a Harley and more like a low-revving, flat-barred naked superbike. Or, maybe, like the old XR1200 — one wearing jacket and jeans instead of flat-track leathers.
This big-engined brute is also notably more sophisticated than its predecessor. Like all the new Softails it comes with keyless ignition, uprated charging systems (with over double the output at tickover) and a USB socket under the steering head. The 13.6-litre tank should give a typical range of about 200 km; first impressions suggest the seat is more than capable of keeping up, though the pillion's section is small.
That distinctive, sometimes provocative zombie apocalypse styling might be its most obvious feature, but this update is about much more than that. The Fat Bob is a comprehensively upgraded bike with more muscle, less flab and as much bad-boy V-twin attitude as ever.
Although we don't have the Fat Bob 114 in India yet, the Fat Bob 107 could be yours for Rs 13.99 lakh (ex-showroom, India). Check out our launch report on the 2018 Harley-Davidson Softail Line.