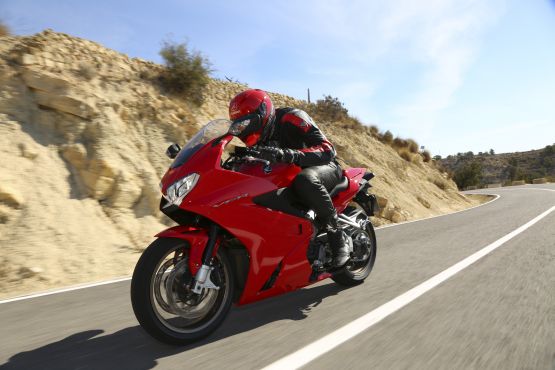 The Honda's handling and road-holding also impressed, despite that elderly frame and the fact that there's no sign of the electronically adjustable or semi-active suspension that BMW or Ducati would surely have offered. Instead the VFR gets 43-mm upside-down forks with preload and rebound damping (but no compression) adjustment, and a Pro-Link shock with similar adjustability, including a remote knob for the preload. It's neither fancy nor high-tech, but it works well enough, combining with unchanged and well chosen geometry to make the VFR both stable and respectably agile, even on roads where it was constantly changing direction. It also stopped pretty hard, aided by new radial four-pot Tokico callipers and a revamped ABS system, though surprisingly no longer by a system linking front and rear discs.
Would the VFR have been even better if I could have pressed a button on the bars to firm up or soften its suspension, perhaps while switching to a sportier or more relaxed throttle response at the same time? Almost certainly, yes. But the Honda gave a good example of what relatively simple but good-quality kit can do, backed up by capable Dunlop Sportmax tyres and adequate ground clearance. Some details are well-thought-out, too, including the useful mirrors, self-cancelling indicators, heated grips and centre-stand — all standard equipment and very welcome. The 21.5-litre tank will be good for a respectable range of close to 300 km, even if consumption averages 7 litres/100 km, as my bike's did, rather than Honda's optimistic claim of 5.1 litres/100 km. Honda's accessory panniers fit without requiring ugly brackets. The new instrument panel with its centrally placed tacho looks neat, and its information includes fuel consumption and gear position.
But that info can't be toggled from the handlebar; the button to disable the traction control looks like an afterthought; and there's no cruise control, let alone the integrated satnav, iPod compatibility or fairing pocket that would lift the VFR's touring ability further above that of a simple sports bike. Same goes for the low screen, which, unlike those of most adventure bikes (and the 1988-model VFR750F that I once owned), can't be adjusted, and generated a fair bit of wind roar. Surely, the lack of such benefits helps explain why so many riders have abandoned old style sports-tourers? So in some respects the VFR frustrates as much as it delights, but overall I couldn't help liking it a lot. And at least Honda's cautious development has enabled them to keep the price competitive. This VFR800F isn't the cutting-edge sports-tourer that it could have been if they'd pulled out all the stops, but it's quick and versatile and blast to ride, and it's every last millimetre a VFR.