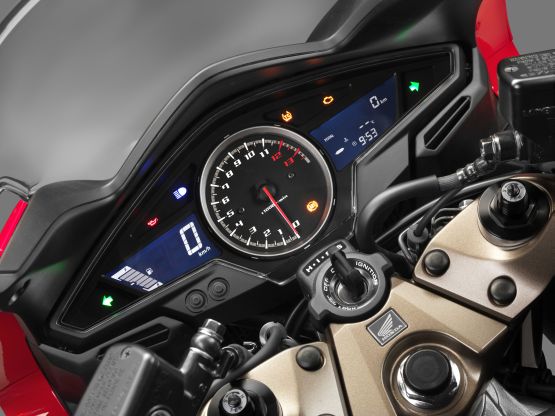 The motor remains a 16-valve, 90-degree V4 and is re-tuned for more low-rev performance, with new cams, revised fuel-injection and longer inlet trumpets. A new ECU modifies the VTEC system to operate more smoothly as it stops one inlet and one exhaust valve in each cylinder from opening at low revs, boosting torque by increasing mixture speed. Peak output is down by a few bhp, which doesn't sound so bad until you realise that the figure of 104 bhp at 10,250 RPM means this bike is less powerful than the original, 105-bhp VFR750F of 28 years ago! Perhaps, the strangest thing is that despite all that it still felt fast enough, at least on those mostly narrow and twisty Spanish roads. The strong low-rev performance is part of the reason for that, making the bike very easy to ride quickly. There's only one engine mode, but that was enough because it worked very well. Fuelling was flawless, response through the mid-range crisp and strong, and the bike's long-legged V4 feel made it effortless yet engaging.
And there's enough power to make you grin. The V4 lump stayed smooth enough up near its 11,750-RPM red-line to encourage plenty of revs, for one thing. Most of the time the VFR also shifted very sweetly, with the help of Honda's first accessory quick-shifter, with which all the launch bikes were equipped. But, occasionally, the box found a false neutral that sent the revs soaring with potentially expensive result. For that reason alone I wouldn't pay extra for the shifter without being sure that wasn't an issue, although other riders didn't complain. Most of the time the engine's noise was a big asset. There was a restrained V4 rumble at low revs, then as the VTEC kicked in at about 7,000 RPM, the bike came alive with a harsh, almost metallic note that never failed to dump adrenaline into my bloodstream. I don't doubt the variable-valve system's benefit in broadening the torque delivery, but, for me, it was invaluable in making the VFR more exciting than a bike with this power-to-weight ratio had any right to be.
There's enough performance for a top speed of about 225 km/h and relaxed cruising far above the legal limit. If you're riding up an Alpine pass loaded with a pillion and luggage, the VFR is likely to feel sluggish. On a day spent ripping round Spanish back-roads, however, I didn't once find myself cursing it for being slow. I was also glad of the new traction control system, which can't be adjusted (apart from switching it off) and didn't intrude, though its effectiveness was hard to judge.