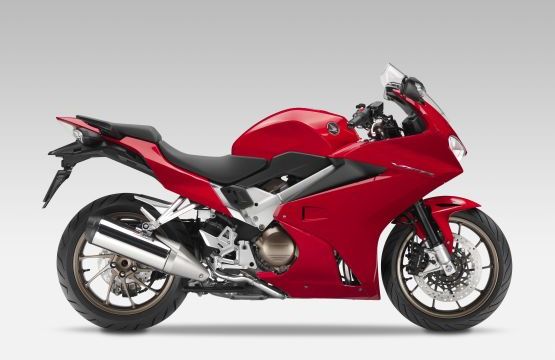 The launch ride had been so good that reaching a conclusion about the VFR800F should have been easy.
Story: Roland Brown
The updated V4 had been fast and fun on spectacularly twisty and traffic-free roads near Alicante. It had handled, stopped and been comfortable, and with its sharp red suit gleaming in the Spanish sunshine it had looked fabulous in the process. But as I killed its V4 engine for the last time, I was unsure what to make of the VFR. Yes, it had been good, but I couldn't help wondering how much better it would have been if Honda had developed an all-new engine and chassis, then added a top-quality electronics package to make this model as advanced as the VFR750F that began the line in 1986.
That was Honda's first problem in developing the VFR: its ancestors set the bar very high. That original V4 was one of Honda's most important ever models, because with its performance and flawless reliability it almost single-handedly restored the firm's reputation following a string of unreliable bikes, including the VF750F. Honda's other problem was justifying a major update. The VFR's popularity fell in the late 1990s, and although the 2002-model VFR800F with its far from universally popular VTEC system sold well, it couldn't halt the decline. These days, with many riders having abandoned traditional sports-tourers for adventure bikes, it's even harder to make the sums add up. So Honda's development the budget didn't run to changing the 782-cc engine's basic layout or the frame's aluminium main spars.
But there's still plenty that's new. The changes begin with the look: still unmistakably VFR, with that classy single-colour paintwork (in white or black as well as red), but now subtly slimmer and sharper, and with an X-shaped LED headlight that echoes the VFR1200F. It's leaner, helped by swapping twin side-mounted radiators for one up front. And it's 10 kilos lighter at 239 kg wet, thanks mainly to a rear sub-frame in aluminium instead of steel, and a new exhaust with single silencer instead of two under the seat. The feel is more sports than tourer, partly because the riding position means you lean forward to clip-on bars, albeit ones that are slightly higher and further back than the previous model's. The screen is sports-bike low too and there's no adjustment. At least the seat is now height adjustable, and an accessible 789 mm at its lower level. It's also generously sized, and equipped with a colour-matched pillion seat cover plus retractable grab-handles.