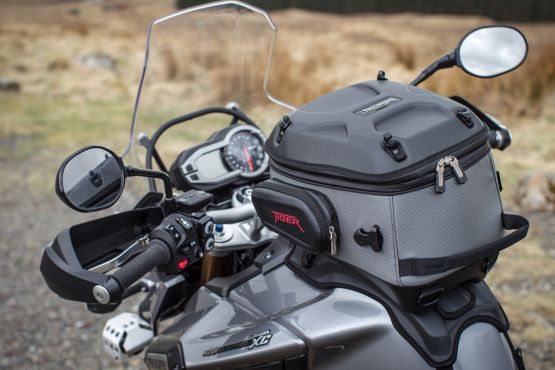 Next day we started on the main road, cruising south-west down the A82 towards Fort William and a coffee stop at the Ben Nevis Distillery that uses water running off Britain's highest mountain to make Scotch whisky. Then came some of the best roads of the trip, as the A82 carved eastwards through the awe-inspiring valley of Glen Coe. For a big bike with lots of suspension travel the Triumph really does handle well, its wide bars giving enough leverage to make the steering improbably light yet accurate.
With spectacular views continuing as we plunged down towards the Bridge of Orchy it was difficult to decide whether to slow down and admire the freshly snow-covered Grampians up ahead or ride faster and enjoy the XC's stability when slicing through the smoothly surfaced curves. The XC was happy either way: flexible, long-legged and comfortable at a lazy tourist-coach pace, yet equally at home revving towards the red-line and using the full force of its excellent four-piston Nissin front callipers.
After that memorable stretch of road the last section was almost an anti-climax, as we rolled into damp Dumblane to end a trip that had shown the XC to be impressively fast, comfortable, tough and versatile. Whether it's good value, compared to upgrading the standard Explorer, is another matter. The standard triple is now available with wire wheels in most markets, so you could create a bike to identical spec (apart from the unique-to-XC green paintwork; grey and white/grey are alternatives) by adding the relevant accessories.
Choosing the XC would be a more logical and slightly cheaper option, at least by the time you'd paid the dealer for a few hours' labour to fit the accessories. More to the point, the XC's arrival shows that Triumph have answered the demand for a big adventure bike with more off-road ability and confirms that the triple is more than capable of getting its boots muddy. The XC is not a true dirt-friendly bike to match the latest GS or KTM Adventure R, but that 44 per cent figure of off-road Explorers is likely to increase in years to come.