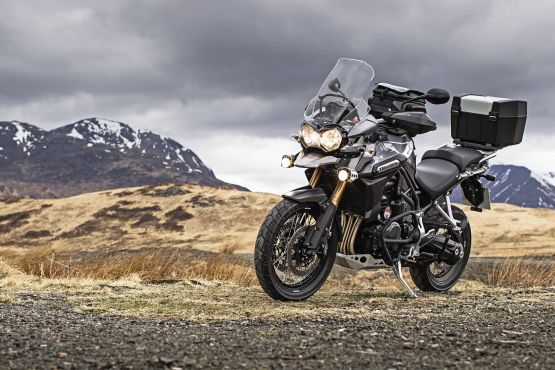 The XC's arrival shows that Triumph have answered the demand for a big adventure bike with more off-road ability and confirms that the triple is more than capable of getting its boots muddy. That's exactly what we did in the Scottish Highlands.
Story: Roland Brown
You can't accuse Triumph of failing to take note of what people say. When the British firm launched the Tiger Explorer last March, the reaction was mostly very positive. But some riders wanted more off-road ability from a big adventure bike. And although the big triple's launch in southern Spain was fun, the route was criticised for being short and almost all on the road.
Fast-forward to just over a year later and I'm admiring the view of heather-covered hills and distant snow-capped mountains from the footrests of a Tiger Explorer XC that has spun and slid its way up a muddy dirt track in the Scottish Highlands. We've ridden roughly 250 km with a good section of off-road and have more to cover today plus a similar distance tomorrow. The XC answers that request for more off-road ability and its launch is proving an ideal opportunity to put it to the test.
It's not surprising that Triumph have acted quickly to add a second model to their large capacity adventure bike range. The Explorer has been a success, its 4,500 sales putting the big triple fourth in Triumph's best-seller list ahead of established favourites, including the Speed Triple, and ahead of rivals, including Yamaha's Super Ténéré and Honda's new Crosstourer.
Triumph's research showed that 44 per cent of the existing Explorer owners took their bikes off-road at times. So with the adventure bike market hotting up still further with this year's BMW GS and KTM Adventure, a more dirt-friendly update made sense. Not that the XC — whose initials stand for Cross Country – is an all-new creation like those two twins. On the contrary, it's essentially the familiar Explorer fitted with wire-spoked instead of cast wheels, plus a handful of dirt-friendly parts from Triumph's accessory list.
That means that the 1,215-cc, DOHC, 12-valve triple engine remains untouched, along with its shaft final drive system and its peak output of 137 PS at 9,300 revolutions per minute. The tubular steel frame and single-side aluminium swing-arm are also retained. So are the USD forks and remotely adjustable monoshock, both from KYB of Japan, which give a generous 190mm and 194mm of travel respectively.
The wire-spoked wheels, which have the same 19-inch front, 17-inch rear diameters as the standard model's cast ones, are arguably the most important part of the XC package. Wire wheels are tougher than cast; the spokes' flexibility means you're more likely to be able to keep riding if a rim is damaged by a rock or pothole. As you'd expect, the Triumph's rims can take tubeless tyres, allowing puncture repair with a plug rather than having to remove the tyre.
Two other XC features are intended to make the bike less prone to damage off-road. The tubular steel crash-bars were designed at the same time as the bike, so locate on strengthened parts of the engine. The bash-plate, made from heavy-duty marine grade aluminium, provides protection from rocks thrown up by the front wheel and when bottoming the suspension.