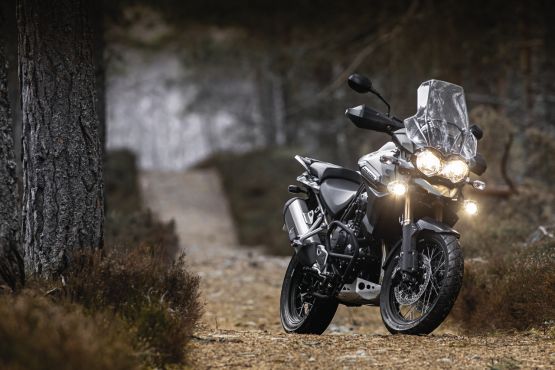 The XC follows BMW's GS Adventure by mounting a pair of spotlights for some extra illumination. It also gets the accessory hand-guards, which provide useful wind protection during normal road use as well as keeping off stones and branches off-road. The launch bikes were also fitted with heated grips, which aren't standard with the XC. I was glad of them after we'd set off from the launch base at Glengoulandie, near Pitlochry on the southern side of the Grampian mountains. By Scottish spring standards it wasn't particularly cold, but the swirling wind and spits of light rain meant the hand-guards also quickly showed their worth.
I hadn't ridden an Explorer since that launch last year, but felt immediately at home on the XC. It's a tall bike, especially with the easily height-adjustable seat in its higher position. At 267 kg wet (eight kilos up on the standard model) it's pretty heavy, too. But the combination of ultra-flexible engine, crisp power delivery and improbably light handling made it very easy to ride.
Throttle response is less sharp than on the original Explorer (an update introduced with the Trophy last autumn) and it's a distinct improvement. The big triple pulled superbly strongly, accelerating without complaint from below 2,000 RPM. That meant it was possible to stay in top even when trickling through villages at 50 km/h, then accelerate almost as though riding an automatic when back on the open road.
Slowing down was rarely necessary, because Scotland is delightfully big and thinly populated. The route took us on the spectacular A93, Britain's highest public road, a winding ribbon of tarmac that snakes towards the Glenshee ski resort. With snow at the roadside I was glad of the protection of the Explorer's unchanged screen, which can be adjusted through five positions after undoing a couple of wing-nuts. It's not as quick a system as that of the latest GS or Ducati Multistrada, which can be adjusted on the move, but took less than a minute without getting off the bike.
From Glenshee it was a short run to a coffee stop at Balmoral Castle, famous as the summer residence of the Royal Family (and rumoured to be the Queen's favourite home). We weren't invited in by Her Majesty, who wasn't there, but did get to go inside another 100 km down the road at the lunch stop, the almost as grand Alvie House. The lovely old mansion — on the short list to be blown up by James Bond's baddie in Skyfall — sits at the centre of a large estate, renowned for field sports under the control of an unmistakably Scottish gamekeeper named Graham. More to the point, the estate is crossed by dirt tracks that were perfect for putting the XC through its paces off-road.