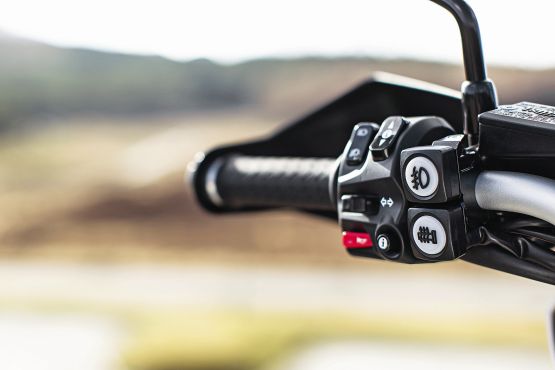 The tall triple impressed, too, on the sort of challenging terrain where the standard Explorer would probably have been fine, but a tougher version was definitely preferable. The XC is a big, heavy bike, especially when you're trying to turn it round in a narrow, deeply rutted track. But the long-travel suspension did a good job of soaking up the bumps while still giving some feedback.
The XC's bash-plate came in handy a couple of times when I went over a jump with enough force to ground the engine with a loud clonk. I was glad of the wire wheels when hitting a couple of potholes hard, too. Ironically one French rider had already been forced to stop when his radiator was holed by a flying stone. Perhaps, the radiator guard from Triumph's accessory list should also be standard fitment on the XC.
For off-road riding I turned off the ABS, as although it works well enough on tarmac, it can't match the latest systems on dirt. I also went through the menu to put the traction control on its off-road setting, which allows more slip. The Metzeler Tourance tyres, excellent on the road, were also very good on dirt given that they're far from knobblies. Even so, with the TC in the road setting the Triumph often felt as though it had lost all power, as the rear Tourance struggled for grip and the system cut in to kill the drive. The Explorer could do with joining the GS etc in having an Off-road riding mode that adjusts both ABS and traction control at the press of a button.
Back on solid ground after lunch, we headed north-west to Inverness, then cut back south-west along the bank of Loch Ness to the overnight stop. The Loch's famous Monster was predictably elusive, but the hotel's dour proprietress added some local flavour. Rain had returned by the time we arrived, but the Triumph had swallowed the day's ride, averaging almost 6.0 l/100 km at a decent pace and covering over 300 km on a 20-litre tankful, without a hint of discomfort thanks to the roomy riding position and broad, comfortable two-piece seat. Some riders would doubtless prefer a giant fuel tank like that of the GS Adventure, but the XC's range should be adequate for most.