Out goes the old oil and in goes the new high-tech lube from Castrol. Here is how it has fared thus
far in two Yamaha sport motorcycles.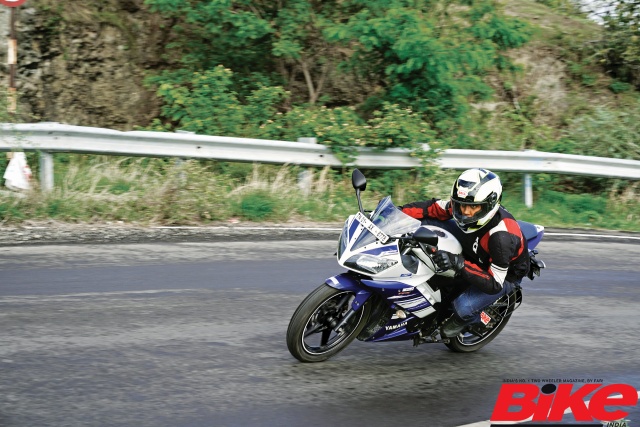 It was noticeably in need of attention because it did not sound right and every time it started up, it felt like it wanted to be shut off again. I am talking about my beloved 2015 Yamaha YZF-R15 Version 2.0 that was going through a difficult time owing to its long overdue periodic service. The lockdown and some carelessness on my part had contributed significantly to this predicament but, finally, I found time to rectify it.
As things stood, the engine was noticeably unrefined and somewhat noisy on start-up and once in motion, it certainly lacked that buttery smoothness that had made me fall in love with it in the first place. Engine oil change is undoubtedly one of the most important parts of motorcycle maintenance. This slippery stuff is the lifeblood of our machinery. In addition to keeping things spinning smoothly with a generous film between moving parts, the engine oil is also responsible for maintaining combustion pressure and making sure that the piston(s) and transmission are at optimal temperature. In some cases, it even performs cooling duties.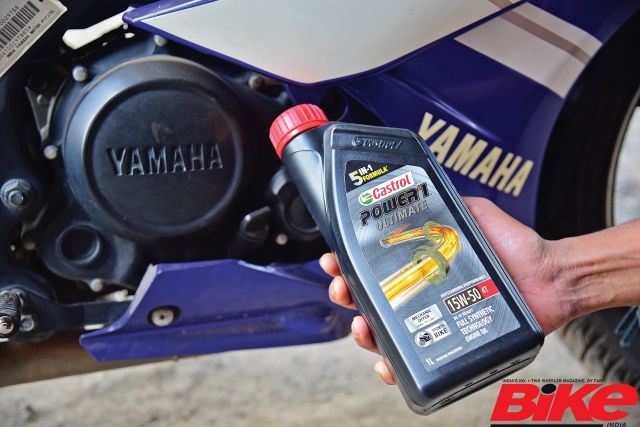 This time, I decided to give the Castrol Power1 Ultimate a shot because Castrol claim that the Ultimate was developed specifically for better performance while providing a smoother ride experience; just what I needed. After draining out the old engine oil, a litre of Castrol Power1 Ultimate 15W-50 fully synthetic oil was emptied into the R15. Since then, the motorcycle has been ridden for nearly 1,500 kilometres and the results have been delightful. While gains in the performance region have been marginal (by feel, that is), the oil did a splendid job of eliminating the harshness and rampant vibrations that the motorcycle had become prone to. Gear-shifts have become smoother and the tacho needle chases the red-line with renewed vigour. These results have been consistent throughout my use within the city as well as weekend rides.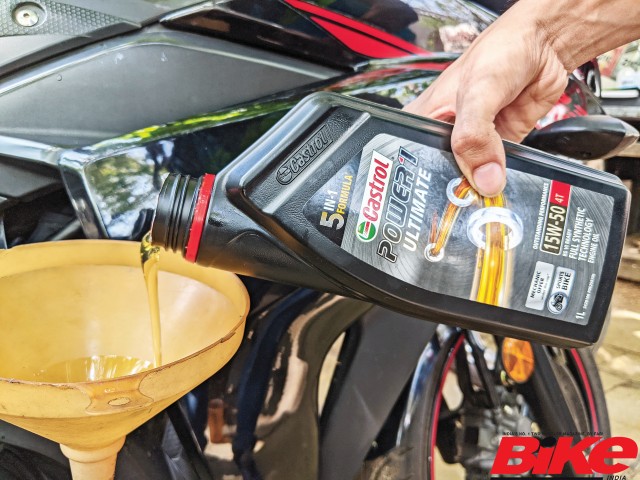 Fairly impressed by the Ultimate's results on my R15, I used it in my Yamaha YZF-R3 as well and the results have been satisfactory thus far. In the R3, the changes have not been as pronounced as they were in the smaller motorcycle but the performance has remained consistent and I have not had any cause for complaint yet.
The Castrol Power1 Ultimate is available in a number of grades, including 10W-40, 10W-50, 15W-50, and 20W-50. In both motorcycles, we have used 15W-50 and it costs Rs 744 per litre. Given the hassle-free ride I have enjoyed thus far, that does not seem like a steep asking price.
Also Read: Motul MC Care M2 Helmet Sanitizer Review