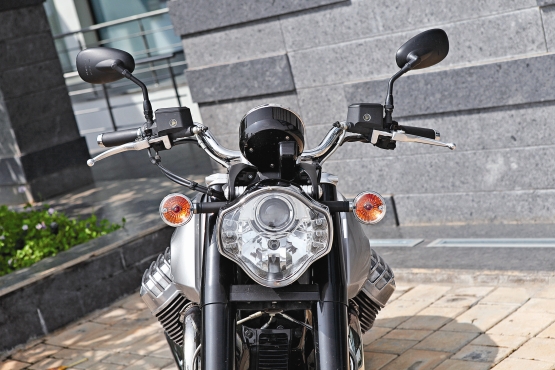 I was quickly handed the keys to the big one, this California 1400, which is a brute, albeit a rather sophisticated one. The long, low and wide body, the very unique headlamp set-up and the longitudinal layout of the big V-twin, with the actual V sticking out like a pair of thumbs are things which are hard to miss.
The styling is great, actually, smooth and refined and very contemporary. The shapely headlamp has a projector low-beam placed above the halogen high-beam, while the twin strips that form the LED tail-lamp are absolutely unlike anything on the road (apart from the old Valkyrie Rune, maybe). The information console lights up as I turn the key and displays an array of gauges and LCD formats all ready to give me information like I was a member of the Italian Mafia pointing a gun at the ECU. That's not the highlight, though.
Pull on the clutch lever and thumb the starter and the whole thing thunders to life with a shudder massive enough to correct Rubik's Cube in your backpack and give the best massage you've ever had a run for its money. The double-cradle frame houses a 1,380-cc big-bore 90º V-twin. With 104-mm pistons, it's a monster all right. Even so, the peak torque of 120 Nm comes in at just 2,750 RPM, while the considerable 96 PS of peak power comes in later at 6,500 revs. The California uses a six-speed gearbox and features Cardan shaft drive. That's not the end of it. It's probably just the beginning. The California features a ride-by-wire throttle with three engine management maps. There's electronic cruise control too. You also get the MGCT three-level traction control and standard motorcycle ABS. There is a pair of massive 320-mm discs up front with floating four-piston callipers with a 282-mm rotor and twin-piston unit at the rear. That assures you of its stability and braking, then? Sure, let's say it does.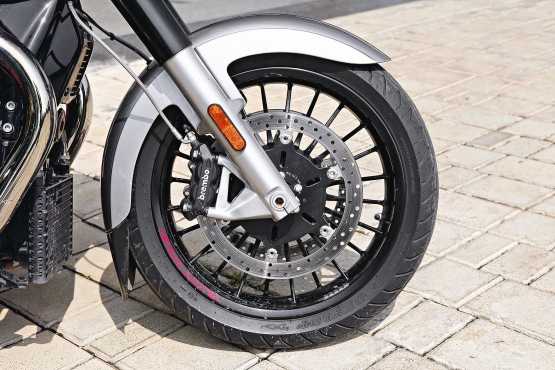 Pull on the clutch lever again and shift into first. The clunk is sure and unquestionable, much like the starting gun of an Olympic sprint. Gingerly, I let go of the lever and wait for the wave of torque to take over. A long second passes and I realise this isn't going to be difficult. Apart from the weight, which the torque looks after as I got moving, the California is not so much of a handful as I thought it would be. With a reload of confidence, I headed out of the confines of the resort and to the open road.