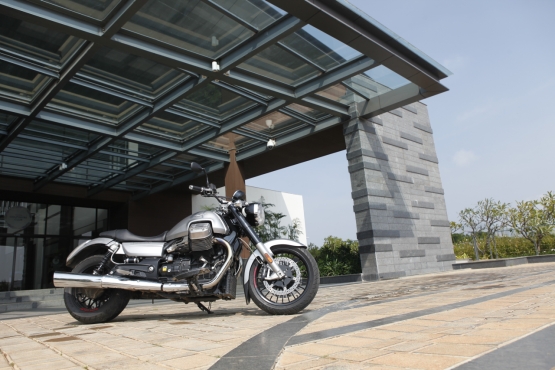 After pinching myself to make sure it wasn't a dream, I sized up the latest iteration of Moto Guzzi's iconic cruiser, the California, which is available for sale in India. A spin on the highway and in the hills will help see what it's made of.
Story: Jim Gorde
Photography: Sanjay Raikar
On a warm deserted highway, cool wind in my hair. Warm smell of some idlis was rising up through the air. Up ahead in the distance I saw a pair of hills. The ride was steady and my eyes grew wide, would it take them in its stride?
This was not some hotel or popular resort. I'd left the luxury of Golfshire behind and was astride the Moto Guzzi California. The new one, the big 1400, and, boy, was it a piece of work!
It all started when our friendly, not really neighbourhood dealership said they had some bikes for us. We arrived in Bengaluru early on a weekday morning and were taken to the place where we would meet the machines. The distinct V-twin rumble we heard soon after our arrival created wide grins very quickly on our faces. One of them was this, the California 1400 Custom, a V-twin power cruiser with loads of bottom-end and generous proportions.
Moto Guzzi first introduced the California back in 1971. It was actually created by the company for the Los Angeles Police Department's traffic division; yes, the LAPD. In fact, the original California had everything from a bullet-proof windscreen to a motor which had to allow a 16-second quarter-mile sprint. It isn't a classic cruiser, not by a long shot. What it is, however, is a modern, more sculpted and detailed iteration of what the Italians think the cruiser should be. The California, in fact, has been designed by Miguel Galuzzi, the same brain responsible for the Ducati Monster from the early 1990s.