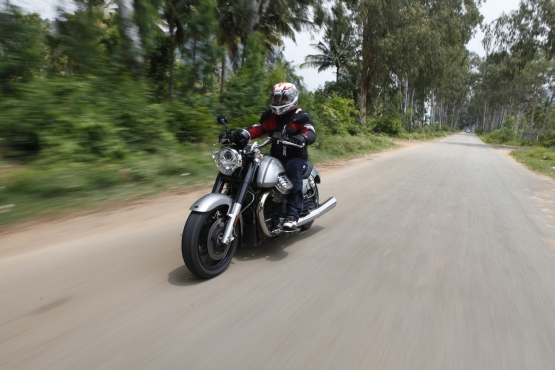 I soon found myself riding towards a pair of massive twin hills, not unlike the mounds of engine protruding on either side of the tank. Nandi Hills those were, and they got a lot bigger as I shifted up to third and opened the throttle. In a couple of seconds I was doing triple-digit speeds. I glanced at the rev-counter and saw 2,500 RPM. I was doing high speeds, but to the California, that was the equivalent of lumbering forward. I knew there was so much more on offer. I wasn't even at peak torque! Peak power was 4,000 revs away. Smile wider, and grip firmer, I twisted my right fist further; a move accompanied by a heavier burble and even greater speed.
The saddle on the California is extremely comfortable and the large foot-boards let you relax and enjoy the straight, open road. The wide handlebars and controls within easy reach are appreciated. The massive 200-section rear tyre grips the road very well and helps put down the nearly 100 PS made by that big motor. Before I knew it, the hills had arrived.
This was an interesting prospect, because shaft-driven motorcycles have a typical behaviour around corners. Tip them into a tight left-hander and the tail wants to run away. Tip them into a long right, and it's still tight! Would the California be any different? Well, yes, actually. It's longer, so when it does behave that way, it's even more pronounced. The 320-odd kilogram mass becomes very evident, but, at the same time, it goes about its business. It's merely a matter of getting used to. As I headed further up the winding roads, I was almost beginning to feel like I had actually got it all, understood it all. Slightly leaning in by tipping my weight was rewarded and it held on to the intended line quite well. Even with the tacho showing numbers as low as 1,200 RPM, there was grunt, and it pulled through effortlessly. Open the throttle, and you get a push which catapults you to the next hairpin and you go through the whole experience again, lefts and rights, getting better ever so slightly with each attempt.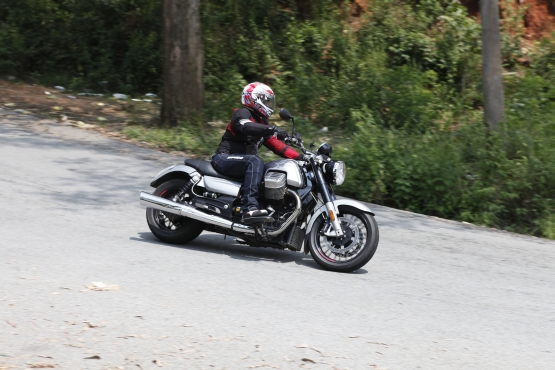 The California grows on you, but at the same time, the kind of traffic sense we have in India makes you think twice before buying a large, expensive motorcycle such as this one. Yes, there are great places to ride and that should be your priority. It's a mile-muncher. It can take the bends and leave them far behind in a hurry, if shown even a hint of a straight. The big 20.5-litre fuel tank gives you adequate range between fill-ups and lets you go the distance. Get used to it, and, well, let's just say you can check out any time you like, but you can never leave.
Specs: Moto Guzzi California 1400 Custom
Engine: Air and oil-cooled, four-valve, V-twin
Displacement: 1,380 cc
Transmission: Six-speed; one down, five up
Max Power: 96 PS at 6,500 RPM
Max Torque: 120 Nm at 2,750 RPM
Wheels: Front: 18", 130/70 R18; Rear: 16", 200/70 R16
Tank Capacity: 20.5 litres
Kerb Weight: 318 kg