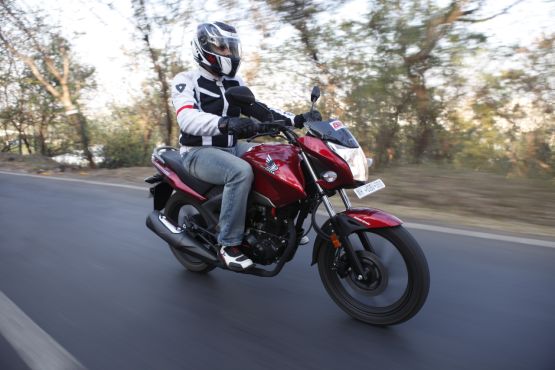 Honda have added a second Unicorn to their line-up. We find out if it lives up to the name
Story: Piyush Sonsale
Photography: Sanjay Raikar
First impression is important and it can become difficult to change it if you make a bad one. However, if you do succeed to impress at the first opportunity, it sets you on the right course for the future. Much like the Honda Unicorn, which laid the foundation of the company's motorcycle business in India a decade ago. Not only did it give the company a successful start but also earned it a reputation for quality, reliability and advanced technology. There have been many additions to the 150-cc segment since then, including three bikes from Honda themselves, but the Unicorn's sales continue to be strong even today. Leveraging the popularity of this brand, Honda have now introduced a bigger sibling of the bike, the CB Unicorn 160. As the suffix indicates, it has a 160-cc engine and gets a different styling and added features, making it an all-new motorcycle.
The design of the Unicorn 160 is based on its smaller sibling to create a visual association between the two motorcycles. Styling is fresh and contemporary and its crisp lines and superior finish give the bike a premium look. Highlights include the digital information panel with orange back-light, muscular tank shrouds bearing the wing logo in chrome, LED tail-lamp and six-spoke alloys. The bike comes in four monotone colours and everything except the body panels, front forks and the rear grab-rail is painted in black.
The 162.71-cc single-cylinder engine powering the bike is based on the 150-cc motor of its sibling and is mated to a slick five-speed gearbox with a one-down-four-up shift pattern. The slight increase in displacement is due to a different bore and stroke and it also gets a boost in performance. The Unicorn 160 has a power output of 14.7 PS at 8,000 RPM and generates a maximum torque of 14.61 Nm at 6,000 RPM. The engine is refined, has a strong grunt and performs well overall. It takes 5.64 seconds to accelerate to 60 km/h from standstill, and it reaches the 100 km/h mark in 16.88 seconds and has a top speed of 116.3 km/h. It gathers speed gradually till 5,500 RPM and pulls strongly thereafter till the 9,300-RPM red-line. Honda have made the engine fuel-conscious by incorporating their HET (Honda Eco Technology), which reduces frictional losses and improves combustion. As a result, the bike has a fuel efficiency of 52 km/l within city, which goes up to 66 km/l on the highway, thus making for an impressive real world average of 55.5 km/l. Given the 12-litre tank capacity, the bike has a range of nearly 670 km on a full tank.