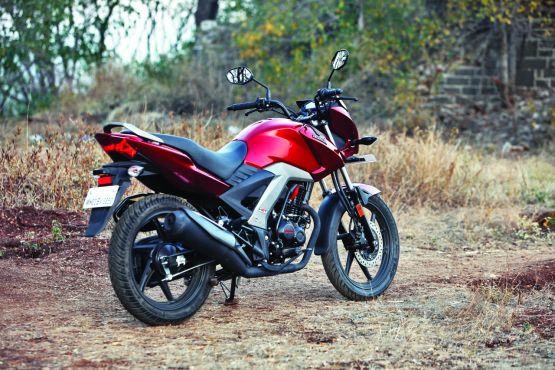 Our test bike had the optional CBS (combined braking system) wherein the 240-mm front hydraulic disc brake and the 130-mm rear drum brake are applied together in a fixed ratio via the foot lever. According to Honda, it optimises the braking potential of the bike and reduces the braking distance. CBS or not, the brakes are powerful and have a progressive feel.
Let's talk about the riding experience. The Unicorn 160 is essentially a high-profile commuter bike. So the seating is upright, the handlebar is flat, the foot-pegs are not rear-set and the gear-shifter has a heel-toe lever. Now that's not such a bad thing. In fact, I found it to be one of the most comfortable motorcycles to ride about in city traffic. The wide and firm seat, well-carved tank recess and the reach to the handlebar lend a natural and relaxed riding posture. The bike has a mono-shock rear suspension and the tubeless MRF tyres provide good traction. At 135 kg, it is a light motorcycle and feels agile when manoeuvring through traffic. When thrown into a corner, it dives in and gives you the confidence to lean. But what really sets it apart is the smooth ride it offers. The bike feels composed at all speeds as the suspension does a great job of soaking the bumps and potholes on the road.
To sum it up, the Honda CB Unicorn 160 is a gem of a motorcycle. And it's also priced like one. The standard variant with independent brakes has a tag of Rs 84,500 while the one with CBS costs Rs 90,290 (both prices on-road, Pune). The CB Unicorn 160 is a practical motorcycle for everyday use and with its price and specifications, it sits above the CB Trigger and adds more fire-power to Honda's sub-200-cc motorcycle line-up.