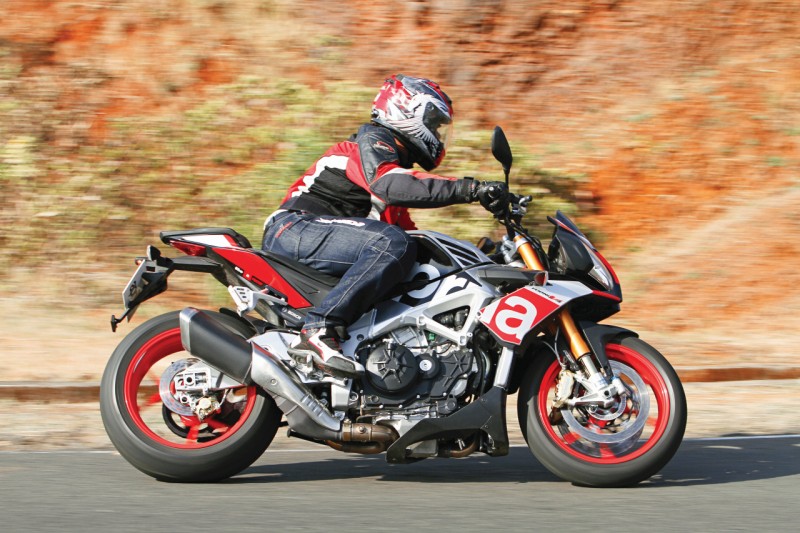 By raising the bore of their V4 naked muscle-bike, the Tuono, Aprilia have raised the game as well, making it even more potent and aggressive. We take a ride on the wild side.
Story: Jim Gorde
Photography: Sanjay Raikar
Italians. They just do things so right. And when it's a naked model in question, everything is jaw-droppingly gorgeous. Every line, every curve is in perfect place to make for one utterly desirable form that by no means gets priority over function. They both work together, hand in hand, to deliver an experience that matches those looks.
Their latest naked street-fighter is a larger-hearted, more powerful and even wilder Tuono V4 1100. The Tuono story began 14 years ago when Aprilia stripped their dressed-up flagship and added a handlebar. There was still the amazing chassis and it could handle road and track with aplomb, and be fun in either application. That's important, isn't it?
Styling is simple. Take the RSV4 factory superbike and strip the fairing. Well, almost. It still has the three-eyed headlamp cluster and the air intakes staring you in the face. The exposed bit reveals the gem of a barking mad V4 engine and bits of the cooling system. Most of the four-into-two-into-one exhaust plumbing is also visible and it culminates into a shapely and rather vocal Euro 3-compliant end-can. The red wheel rims wrapped in Pirelli Diablo Corsa rubber (200-sec at the rear), golden Öhlins front fork and exposed welds on the aluminium beam frame with 'aprilia' racing livery round off the stand-out elements.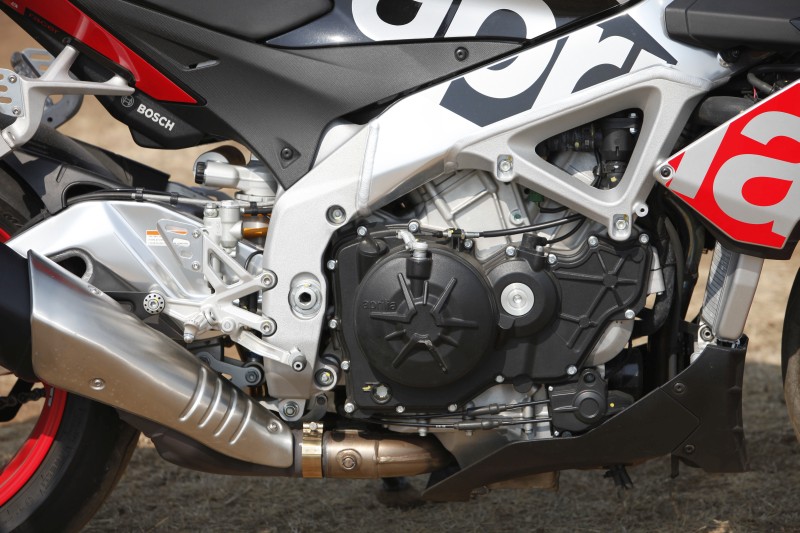 So the old Tuono V4 R had 999.6 cc. This new 1100 gets 81 millimetres of bore diameter for each pot in the V4 motor — three more than earlier, paired to the same 52.3-mm stroke — taking displacement up to 1,077 cc. That also releases eight more horses with a peak 175 PS coming in at 11,000 RPM. Torque also sees a bump of almost 10 Nm, with a peak 121 Nm now available at 9,000 RPM. Peak output figures arrive 500 revs earlier than its predecessor too. There's more. Aprilia say that they've changed the headstock angle to 24.7° from 25.1° with trail going down to 99.7 mm from 107.4. That, together with the six-mm longer aluminium swing-arm, makes it just as solid but even more agile. The Factory also gets an Öhlins 43-mm USD front fork instead of the Sachs unit on the 1100 RR. All good news, then.
Fighting the early morning slumber-pangs, I was handed the keys, having to keep my eyes open and focused on what Aprilia man had to tell me about the eight-level traction control, three-level ABS, and launch control — I listened intently, eyes and ears wide open now. This bike was wired! I was also 'informed' that the Tuono 1100 was best-suited to riders moving up from a 600 or an 800. Right, then, my 390 experience should come in somewhat handy.