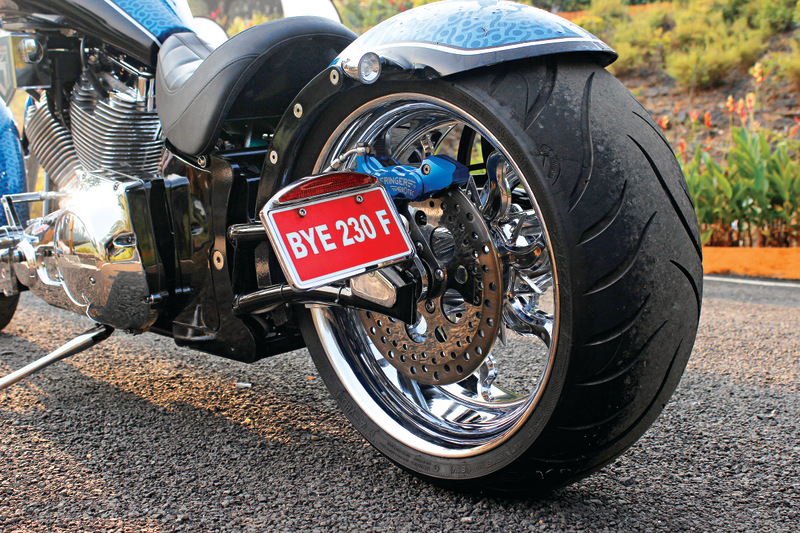 So pretty similar, the Rudra and Pravega in all those respects. However, where the two bikes differ are in their riding positions and handling. The Rudra, as I mentioned earlier, is a little low slung, and almost as long as a small hatchback. This means you're sitting low in the saddle and while your back is still fairly upright, your arms are a little below shoulder level so you're leaning ever so slightly forward. The Pravega's handlebars, on the other hand, are positioned a little higher up, which means you sit back straight, shoulders back, feeling like a king.
Because of the latter's lower rake angle and fractionally slimmer tyres, it is the more agile of the two around corners as well. Neither bike is a corner-carver, to be honest, and both require a bit of effort at the handlebars to make turns, especially at low speeds. Carry a bit of velocity into a corner, though, and the bikes are a lot more manageable, particularly the Pravega which is almost the cruiser equivalent of nimble around the twisties.
These bikes bring everything to the table, chopper-wise and more. They're big, loud, command everyone's attention, and can be tailor-made to suit your individual needs. For those who rank pose value high on their list of priorities, the Avantura Choppers have so much to offer. Low saddle heights will also mean every size of Indian rider will plant both feet on the ground, and the close to 350 kilos of kerb weight, while substantial, will only be keenly felt when using manpower to back the bikes up.
All in all, the two specimens currently in the Avantura Choppers stable are quite unique, to say the least, and carry a price tag to match. You have to shell out Rs 23.90 lakh for the Rudra and Rs 21.40 lakh for the Pravega (both ex-showroom, Mumbai). But if you do dig that deep into your pockets, you can rest assured that you'll own a machine that, for all its little niggles, is nothing like anything anyone has ever seen on Indian roads. You will also be giving your patronage to a chopper company that is made in India (straight outta Vasai), and just how cool is that?