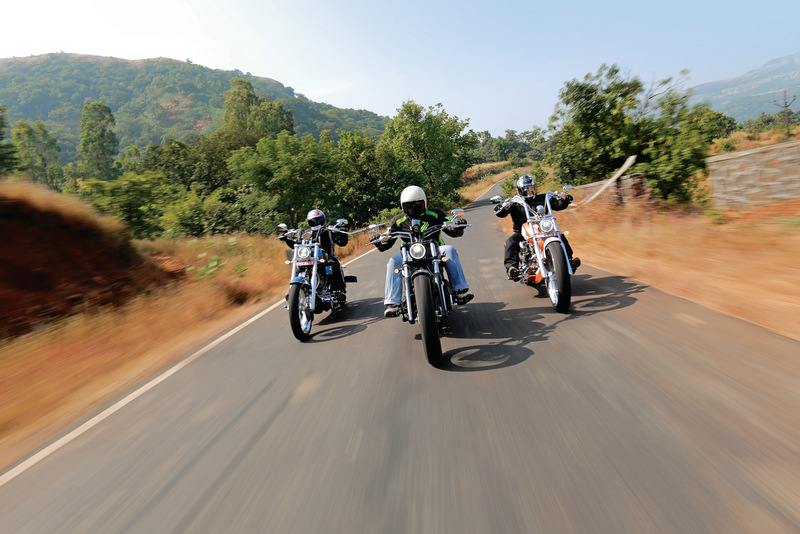 India's newest and, so far, only luxury motorcycle brand is here, and they specialise in making big, bad choppers. We just had to get our hands on their bikes and see what they were made of
Story: Harket Suchde
Photography: Saurabh Botre
The chopper culture is one aspect of motorcycling that hasn't permeated the Indian scene so far. No surprise either, because choppers are traditionally heavily individualised and customised versions of stock bikes, and any customisation means your bike loses its road-legal status here. Choppers have been a pillar of motorcycling culture ever since the 1950s, though; the movement started out on the sunny streets of California, USA. Choppers became a pop-culture icon through late-'60s cult classic, Easy Rider, starring Peter Fonda, and has been given even more of a boost since shows like Orange County Choppers began being aired worldwide.
An expression of the rider's identity, choppers are typically big, loud and, being an American invention, also typically powered by a high-displacement, air-cooled V-twin. All the ingredients then for a mile-munching and attention-grabbing two-wheeled piece of art.
Avantura are now bringing that very culture here to India, and the two models they've launched to begin with certainly look the part. The Pravega is built like an old-school chopper, with a tall handlebar encroaching on ape-hanger territory, and a tighter rake angle as compared to its sibling. It also has a tapering body which is slightly more minimal and, overall, looks more like an easy rider (the style of motorcycles prevalent in the aforementioned film) than a modern, extreme chopper. It still sports a 20" 120-section width tyre up front and a chunky 250-section rear.
Built on the same platform and running the same engine, the Rudra has a few striking differences from its sibling. First, the handlebars are placed a lot lower when taken into conjunction with the seat height, the design is more extreme and in your face, and the rake angle is wider, and wheelbase and length extended when viewed side by side with the Pravega. The Rudra also comes with even chunkier tyres: 130/60 R23s up front and 280/40 R20s at the back. The overall stance of the Rudra is one that is more akin to a modern chopper, with exaggerated proportions, and a larger-than-life street presence.
Aesthetically, both bikes are nothing like anything else we've seen in the Indian market until now, and the credit for making these singular specimens must go to Kevin Alsop, the founder of Big Bear Choppers, USA, and the man Avantura roped in as Chief Design Engineer for the project.