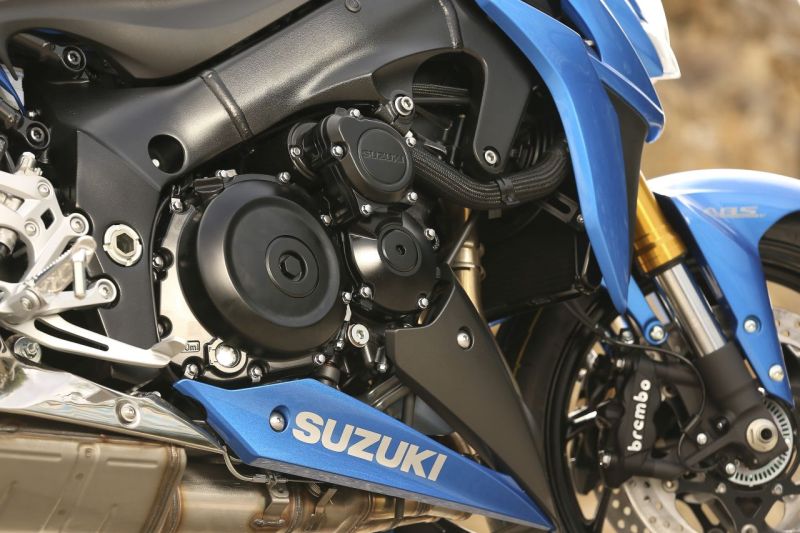 They also gave the GSX-S a revamped injection system with dual throttle valves, plus a redesigned airbox and a new four-into-two-into-one exhaust system with a stubby silencer. The result is a claimed maximum of 144bhp at 10,000rpm, which is almost 40bhp down on the GSX-R (and well down on BMW's 160bhp naked S1000R) but slightly more than the 140bhp of Kawasaki's Z1000, the Suzuki's closest rival.
The chassis is based on a new twin-spar aluminium frame that is apparently lighter than that of the latest GSX-R1000, which donated its swing-arm to the project. Geometry is slightly more relaxed than the super-sports bike's, with 25 degrees of rake and 100mm of trail (compared to the current GSX-R's 23.5º and 98mm), and a wheelbase that is 55mm longer at 1460mm. Suspension at both ends is from KYB (Kayaba), with fully-adjustable 43mm forks and a shock that's adjustable for preload and rebound damping only.
The GSX-S looks aggressive with its flashes of coloured bodywork (in blue, red or grey) around the radiator. And it feels sharp and eager from the moment you throw a leg over its seat, which at 815mm is fairly low and thinly padded, and lean forward to the slightly raised, black-finished Renthal Fatbar. It's a compact bike but provides a bit more legroom than the GSX-R1000. At a standstill if felt very manageable. At 209kg wet it's 4kg heavier than the GSX-Rbut more than 10kg lighter than the Z1000, at least on paper.
That makes for a useful power-to-weight ratio and the GSX-S lived up to it on the road, by feeling quick, agile and entertaining. In fact to start with it was slightly more aggressive than I'd hoped, because throttle response in the lower gears was slightly snatchy. Not really annoying so,but just enough to make precise control a bit less easier than it might have been after we'd headed down the coast road and turned onto the twisty roads inland from Alicante.
It's a surprising glitch, because Suzuki's fuelling is generally very good. To put this in perspective the Suzuki's response is nowhere near as snatchy as that of Yamaha's original MT-09 on its sharpest engine mode. (Unusually for a Suzuki, the GSX-S has only one mode, which is fine by me.)The abruptness wasn't noticeable in the higher gears; and after a while I'd got used to it enough that I was hardly aware of it even when accelerating out of slow turns. But that initial take-up could be a little smoother.
At least the rest of the GSX-S's engine performance was immaculate. There was heaps of smooth low-down power, enough to follow traffic at 75km/h or less in top, below 3000rpm, then simply twist back the throttle to shoot past when a gap appeared. Then at just over 7000rpm the Suzuki kicked harder, its pleasantly burbly low-rev exhaust note turning to a scream as the revs headed towards an 11,500rpm redline that is 2000rpm lower than the GSX-R's.
High-speed blasts were fun but hard work, not least because the Suzuki's small instrument panel did virtually nothing to keep off the wind. On a cold day in southern Spain I'd have been glad of the accessory flyscreen and heated grips. And I had to hold on tight, later in the day, when on one traffic-free main-road straight the Suzuki scorched smoothly forward towards atop speed of240km/h or more, staying impressively stable in the process as I made a futile attempt to dodge the breeze.