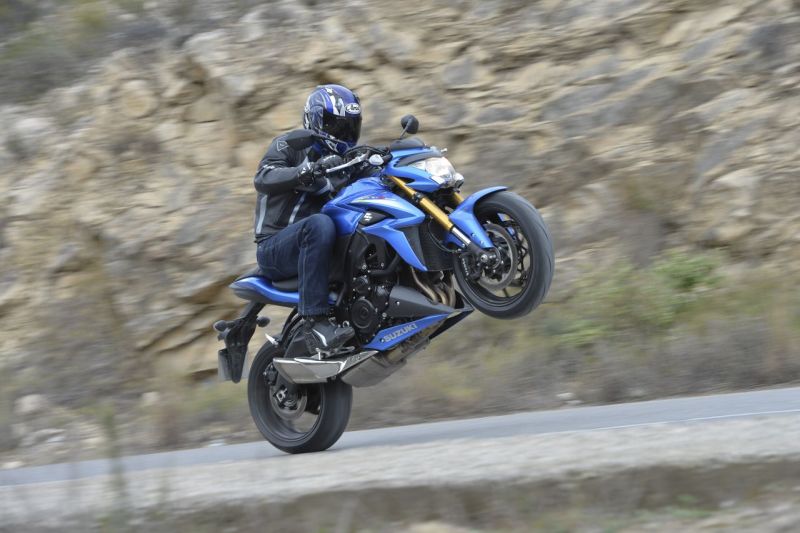 Although late by almost a decade vis-a-vis its competitors, Suzuki's latest naked bike, the GSX-S 1000, has made an impact upon its arrival. We rode it on varying terrain (and in equally varying weather conditions) in Spain recently
Story: Roland Brown
Photography : Alberto Cervetti & Markus Jahn
Riding reluctantly back through the launch hotel gates after a memorable day aboard the GSX-S1000 on some wonderfully twisty and empty roads in southern Spain, I'm in no doubt that Suzuki's new naked bike has made an impact. After over 300 mostly hard-ridden kilometres my mind is buzzing, my neck is aching and my arms are probably slightly longer than they were this morning.
Most importantly I've got a big, contented grin behind my visor because the GSX-S has basically performed as you'd hope it would: like a stripped-down GSX-R1000, complete with heaps of speed,a light, well-equipped chassis and plenty of in-your-face attitude. On a cold day it has been a blast to ride in every sense, and has pretty much lived up to its promise.
All of which makes Suzuki's delay in building such a machine even more difficult to understand. After all, the GSX-R1000 was launched in 2001 and reached its peak in 2005, the year that Troy Corser rode the seminal K5 model to the firm's only World Superbike title. Yet while the likes of Honda's CB1000R, Kawasaki's Z1000 and Yamaha's FZ1 brought the stripped-down litre sports bike concept to the street with varying degrees of success, the fourth member of the club refused to join in… until now.
Still, better late than never. At least when Suzuki gave the project the green light they chose to do the job properly, rather than cut costs as they did a few years ago to create the stodgy, steel-framed GSR750. The GSX-S, along with the GSX-S1000F that is essentially the same bike with the addition of a full fairing (and is due in showrooms in June, about a month after the naked bike), represents the start of a new "street sport" family that sits between the GSX-R range and GSX models such as the Bandit, and could play a big part in a Suzuki revival.
The delay also gave the firm plenty of time to survey owners and work out what was required of a litre-class unfaired streetbike. The answer turned out to be acceleration, light weight and agility most of all, with styling and quality of finish rated as important, and power and top speed much less so. Not that a naked model based on the GSX-R would have any reason to lack any of those attributes.
Suzuki insist that the GSX-S is based on the engine from the ten-year-old GSX-R1000 K5, rather than the current model's powerplant, for reasons of marketing and engineering, rather than because the project was originally started years ago, then put on hold during the credit crunch. The decision makes plenty of sense. The GSX-S gains a little reflected glory from the K5, whose legend seems to grow stronger as the current Gixxer falls ever further off the super-sports pace.
More importantly, the 999cc K5-K8 unit was ideal because it has longer-stroke dimensions than the more recent powerplants (73.4 x 59mm against 74.5 x 57mm), making it better suited to developing the low-rev and midrange torque that is most useful for a naked bike.Even so, Suzuki's development team tweaked the K5 lump with softer cams, new pistons with lower, 12.2:1 compression ratio and reduced weight, pluslow-friction plating on its cylinders.