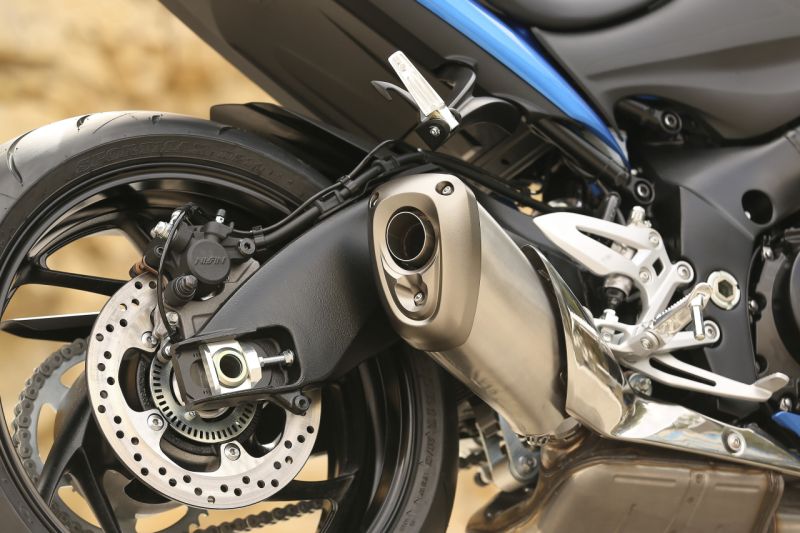 Naturally there was more than enough instant torque for effortless wheelies on the throttle, though first you have to turn off the traction control which, on its least intrusive setting,allows the front wheel to lift slightly but sooncuts in to keep itclose to the ground. The TCis a fairly sophisticated system with five sensors (front and rear wheel speeds, plus throttle, crankshaft and gear position) and three levels, which are easily adjusted via a button on the left bar. I left it on the least intrusive setting for most of the day and was glad to have the system for peace of mind on some occasionally damp roads, though I was never conscious of it cutting in except over crests or when deliberately provoked on a slippery patch.
Chassis performance was very impressive, firstly in the bike's pleasingly light and agile feel. The twisty roads just inland from Alicante are mostly well-surfaced but have a few cracks and bumps to add to the interest. The GSX-S carved through with impressive composure, its fairly firm suspension doing a good job without requiring a tweak from showroom settings. There's none of the semi-active sophistication of the BMW S1000R here, and even a top-quality conventional shock would doubtless have given a more supple feel, but the Suzuki's simple system was effective enough.
Its stoppers were good, too: Brembo radial monobloc calipers biting 310mm discs up front, with an ABS system that impressed without approaching the high-tech wizardry of the latest cornering systems. (In some markets the GSX-S is also available more cheaply in non-ABS form, but when the anti-lock works this well it's surely worth having.) Dunlop's D214sfound traction even when spits of rain on my visor suggested the surface might be getting a bit treacherous, and there was adequate ground clearance despite footrests that are lower than the GSX-R's.
Practicality is never the key issue for a naked sports bike but the GSX-S should prove reasonably easy to live with. Its mirrors are slightly narrow but at least clear; the seat looked quite thin but gave no discomfort during a fairly long day. The 17-litre tank required topping up after only about 220km at mynear 8l/100km launch average, but that involved plenty of thrashing so plenty of owners will do better. Fuel consumption and range are shown by the instrument panel, whose digital speedo sits below a bar tacho that can be customised to display its info in several different ways.
That's a neat touch, and there are others, from the simple but effective switchgear (no self-cancelling indicators though) to the way the bike fires up with a brief press of the starter button, and no need to pull in the clutch. Along with the flyscreen, accessories include coloured Renthal bars, carbon-fibre mudguards and a classy looking Yoshimura EVO4 exhaust. Bolt on a few of those, plus ideally fine-tune the fuelling and add a premium shock, and you really would have a horny naked superbike with the pace to back up its considerable presence.