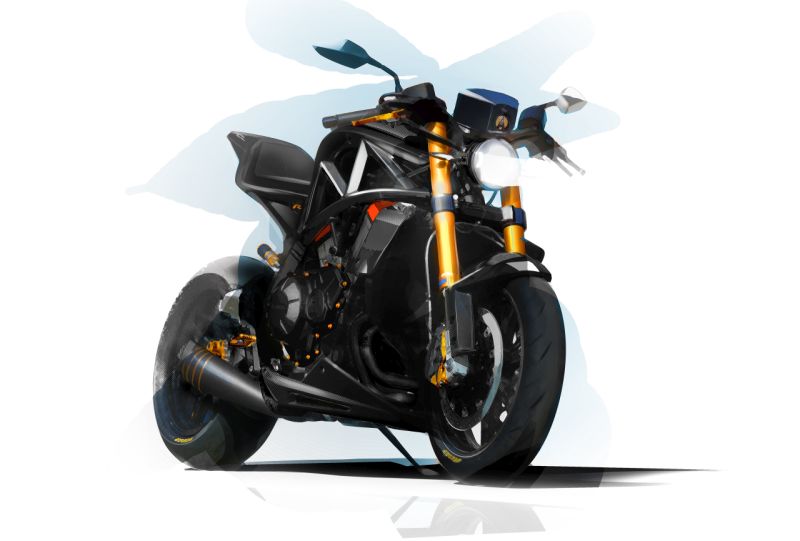 Ariel launches the big bad brother of the Ace, the Ace R.
Ariel are one of the smallest automobile manufacturers in Britain and they have been around for quite some time now, subtly shattering records and turning heads wherever they go. The Ariel Atom car and the Ariel Ace motorcycle created a lot of ripples when they were first launched. Why aren't they as well known as a big brand like Jaguar, then?
Ariel have a workforce of less than 50 staff members and they produce around 100 vehicles per year for an elite clientele. How could such an exclusive company take something good and make it better? Take something rare and make it exotic? All will be revealed at the NEC Motorcycle Live show this month, where Ariel will disclose the full specs of the upcoming Ace R. Only ten units of this limited edition motorcycle are slated for production, which means that your best chance of getting a glimpse of this beautiful bike is at the motor show before all 10 pieces are sold out to lucky customers around the planet. In terms of the powerhouse under the tank, there is no change. It is still being powered by the same V4 1,237-cc Honda engine that runs the Ace. However, this engine has been tuned to dole out a significant amount of power by replacing components and tweaking the setup. Other major changes include the suspension system. The Showa system on the Ace has been replaced by Öhlins on the R version. Aesthetic improvements include an updated colour scheme and lights. The braking department is efficiently handled by top-of-the-line Nissin systems. The R will have more carbon, more aluminium and definitely ground-breaking power, that might unsettle the 175 PS that the current Ace churns out.
For those who may miss out on the 10 bikes, most of the upgrades are available as an add on for the current Ace model. So, for all you Ariel lovers out there, Birmingham is definitely the place to be at this time of the year.