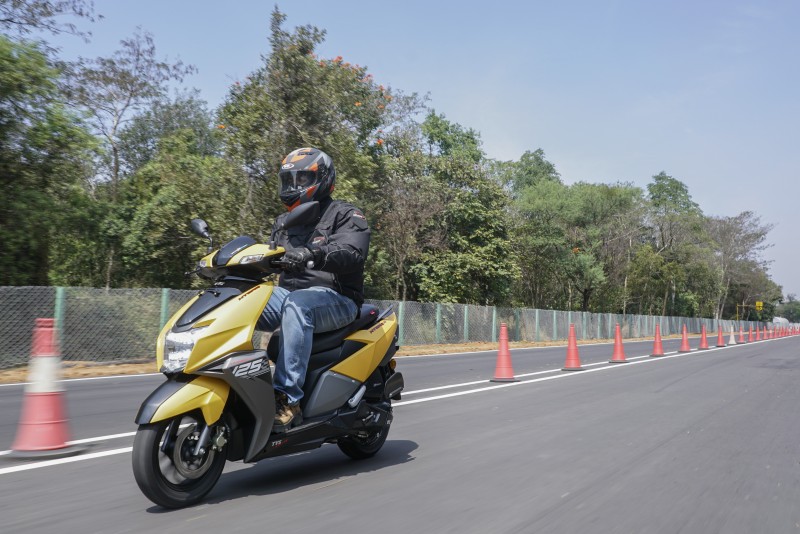 The first 125-cc scooter from TVS Motor has arrived in style, loaded with not just several firsts in the scooter segment India but also a good helping of thrill and fun. We rode it at TVS' test track in Hosur.
It's not often I find something exceptional out-of-the-box. Most of the time, it's a layered cake with bread, rich cream, fruit, and even fondant, that satisfies the senses with its comfort, surprises with its decadence, and provides some sharpness in flavour with some tangy fruit bits. This time, it was an all-new moto-scooter that dazzled with its style, impressed with its comfort, features and performance, and made me smile as wide as any great cake would. The new TVS Ntorq 125 is something, I believe, that has been a long time coming.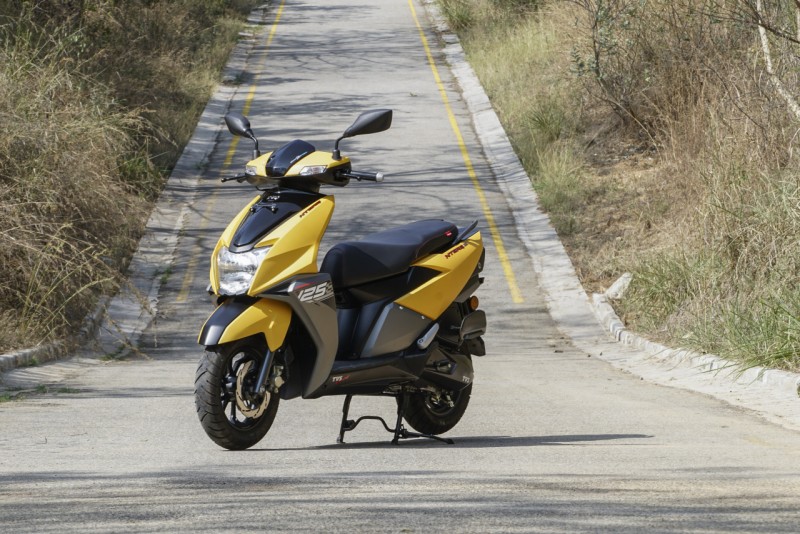 There is a certain novel touch with its sharp yet simplistic lines. The body panels clearly define an edgy form, and the three-tone colour scheme looks smashing. Black and yellow form the most part, with matte-grey tone panel details adding to its appeal. The sporty design is complemented by black alloy wheels, a petal disc brake, unique rear design elements, and an equally unique stubby exhaust. Look further and you notice the front turn indicators integrated into the handlebar panel, with the headlamp joined by wide-angle-V LED daytime light strip. Split grab-rails mounted on carbon-fibre finished black plastic are joined by a seat upholstered in what seems like layers of raw carbon-fibre, contrast-stitched to the usual black seat material. The fuel-filler cap is aircraft-style. In fact, TVS say the rear design is inspired by stealth aircraft, and I can see why. The visually-striking LED tail-lamp cluster has a fluid 'T' signature and sits between afterburner-styled air-vents on either side.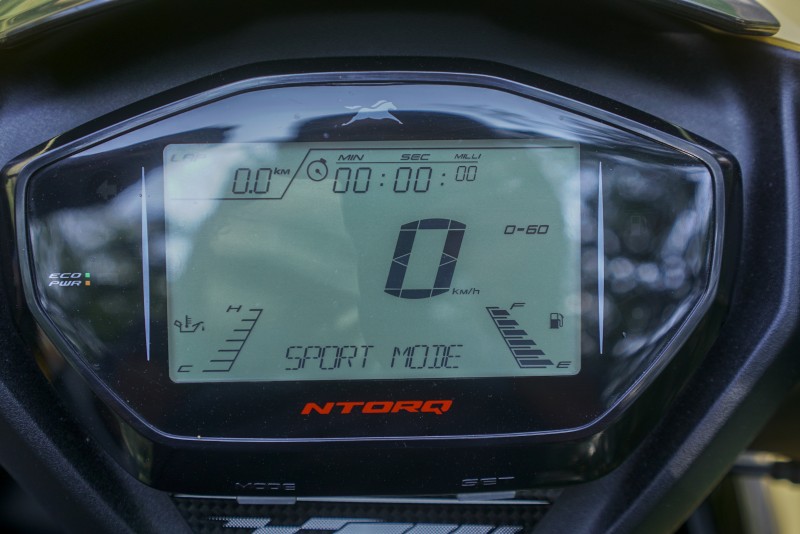 Get on and you notice several new elements: bar-end weights, a pass-light option on the headlamp button, an engine kill switch, and, dead-centre, a blank screen where a huge speedometer would otherwise be. And this is an interesting bit, because it's more than just a digital display. It features 'SmartXonnect' ― an interface designed to provide for a connected ride. Using Bluetooth connectivity, it allows the rider to pair their phone to the Ntorq. The app, TVS NTORQ, available on Google Play Store, enables a suite of features including navigation assist, incoming call and text message (SMS) notifications with caller ID, and a phone battery and signal-strength display. The App also offers a last-parked-location assist and provides more information about riding statistics.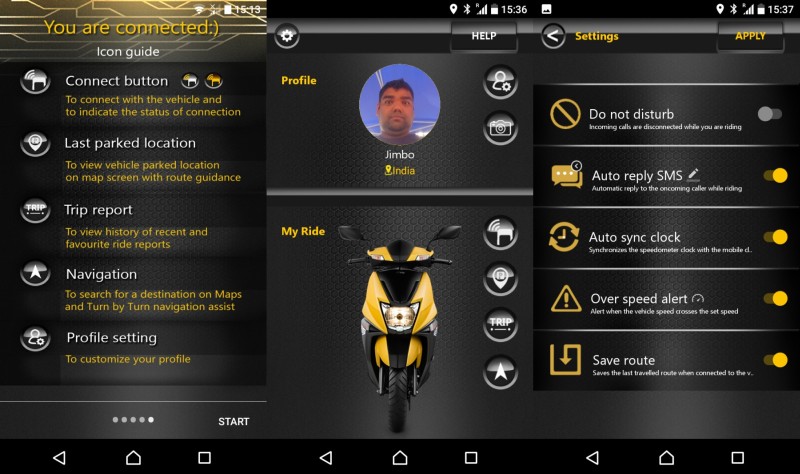 The Ntorq also has two modes: Street and Sport. While the latter doesn't enhance performance dynamics, it does allow a number of exciting details to be extracted. Sport mode is enabled by tapping the 'Mode' button until the display switches to 'Sport Mode' and a digital timer appears on the screen. That's my cue to head out on track.
Cross two km/h and it begins recording time and distance. It has a built-in lap-timer, and the 0-60 km/h sprint time is recorded and instantly displayed on the screen. I managed 9.1 seconds; TVS claim 9.0. Giving it a new generation of go, is an all-new 'CVTi-Revv' 125-cc three-valve single-cylinder engine. It puts out a healthy peak power of 9.4 PS at 7,500 rpm and an even healthier peak torque of 10.5 Nm at 5,500 rpm. The variomatic transmission makes good use of this twist and delivers a chunk of it low down for a strong bottom-end performance. The mid-range was toned down with a view to improve efficiency, I was told, because most people would ride at speeds averaging between 35 and 45 km/h in the city. However, it's far from slow.
The track I first rode on was the test loop comprising a 600-metre straight, a long right-hander, a quick left-hander and another 600-metre straight. The specs claimed a top speed of 95 km/h. I got an indicated 93 km/h before I had to slow down to make the turn. Some lighter riders got as much as 98 km/h. A true speed over 90 km/h is a given, then. But, that's not the highlight. The Ntorq is an extremely nimble scoot. Its 116-kg weight doesn't make itself felt at all. What does, though, is its dynamic nature. The exhaust note is deeper and a bit gruffer low down. It gets off the line pretty quickly. The chassis feels taut. The brakes impress with feel, stopping time and distance. The grip from the tyres is confidence-inspiring and allows the Ntorq to be flicked into bends easily, with its almost telepathic handling. Changes of direction are dealt with effortlessly and at no point did it feel like a handful, or the least bit heavy.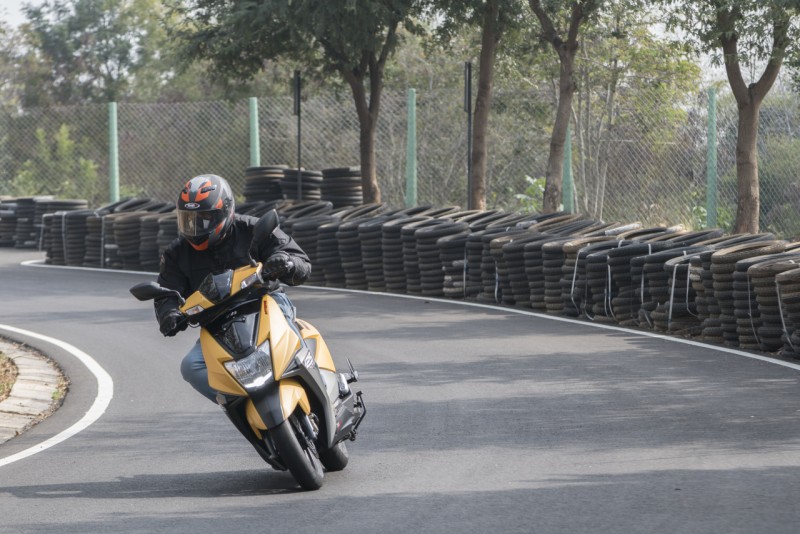 Having screamed around the loop for over an hour at average speed close to 70 km/h, I decided to take it easy for a bit and see how it would feel as a commuter. The seat is plush, and ergonomics are good. Controls are easy to use. I flick the button to re-enable Street mode. The digital display drops the time bit. It's easy to read even with the sun almost overhead. I notice I've used up a third of the five-litre tank, thanks to a digital gauge for the fuel level. There's also one for engine temperature, which was up to two bars in the heat nearing noon. There are three trip meters: A, B, and an 'F' which automatically starts clocking when the fuel level is low. There's also an LED warning lamp to go with it.
Off the test loop are a trio of gradients: four, seven, and 10 degrees. A rough-road, and a hump trail were also accessible, as was a narrow agility test track. The Ntorq shone in all areas. Its build is commendable. The level of fit-and-finish is appreciable and makes you feel at ease pushing it around. The chassis is an underbone-type unit made from rectangular tubes and its rigidity is evident. The front suspension is a telescopic fork, and the rear gets a damped coil-spring finished in red. While it did feel a bit stiff, the ride was extremely comfortable. The petal-design 220-mm disc is standard kit for now, and it's joined at the rear by a 130-mm drum brake. The 12-inch wheels are shod with 100/80 front and 110/80 rear TVS Remora tubeless rubber. A good amount of kit for its asking price of about Rs 60,000 (ex-showroom).
Under one of the many trees, I parked the Ntorq. The attention to detail is good indeed. It's a neat package. The floor-board mat is detailed, too, and provides good anti-slip grip for your feet. The edges of the design limit foot-room to some extent, but I was wearing rather large size-12 shoes. Shouldn't be a problem. The ignition slot is a simple on-off-lock combination, with another slot at the rear operating the seat lock and the fuel-filler cap. The under-seat storage is 22 litres. That's enough for a number of things, but a full-face helmet doesn't fit. It also has a USB port and an LED light. All things considered, the Ntorq's got all the goods you need. Real-world performance figures, including fuel efficiency, will only come after a road test.
With the Ntorq 125, TVS have finally played their hand in the 125-cc scooter arena. There is competition, yes, and it's a good bunch, too. But the Ntorq surely feels up to the challenge. TVS were always capable of delivering something like this. They may have come late to the party, but they've stormed in guns blazing.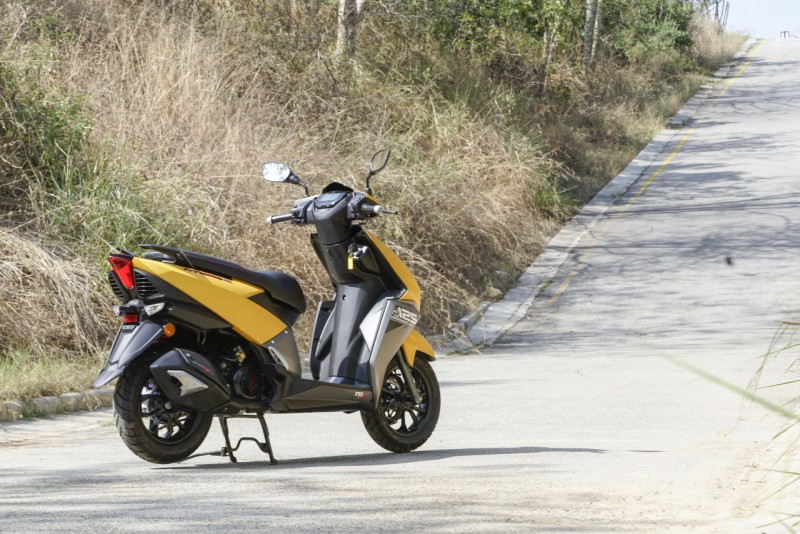 ---
Need To Know: TVS NTORQ 125
Price: Rs 60,850 (ex-showroom, without 'mandatory accessories')
Engine: 124.8 cc, air-cooled, three-valve SOHC, single-cylinder
Max Power: 9.4 PS @ 7,500 rpm
Max Torque: 10.5 Nm @ 5,500 rpm
Wheels/Tyres: 12-inch, 100/80-12 (F), 110/80-12 (R), tubeless
Brakes: 220-mm disc (F), 130-mm drum (R)
Tank Capacity: 5.0 litres
Weight: 116.1 kg