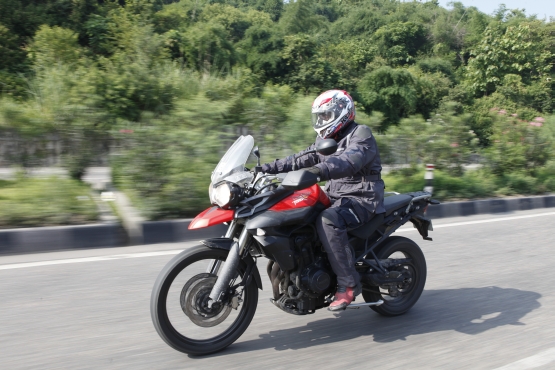 With the sun peaking, we decided it was better to get a move on and hit the highway. The roads out of Delhi are a mix of merges and long straights so you have to keep your eyes open, especially if you're not from around there. Wide six-lane highways are always a welcome sight, and once you exit the city, it becomes a breeze, and the Tiger finally got a chance to stretch its legs. This was easier now. The road manners of the Tiger had become familiar by now and pushing on was easier. The grippy Battlewing rubber and ABS-equipped brakes make sudden slowdowns and direction changes much easier. They began sounding like even more good news as grey clouds began lining the sky.
Barely a few kilometres on, the rain clouds had turned an ominous shade of grey and, soon enough, the drops began falling. Kurukshetra was about 200 kilometres from Delhi and half the distance was already covered. The rain only stayed for a few minutes and we were out of the wet and back under the sweltering late-afternoon sun before we knew it. As we entered Haryana, I felt a buzz from my phone, no doubt welcoming me into another new State of India.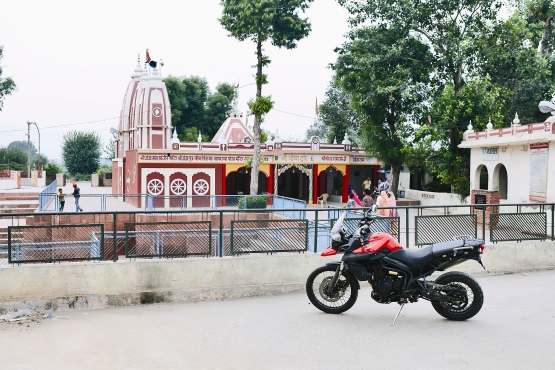 Kurukshetra is a region significant both historically and religiously in Hindu mythology. It is where the Mahabharata battle was fought and is believed to be named after the ancestor of the Kauravas and the Pandavas, King Kuru. The entrance to Kurukshetra is unmistakable, marked by a huge gate-like arch with a bronze chariot at the top. There are several places of interest, some recent and some dating back many centuries. Supposedly the largest man-made lake in the world, Brahma Sarovar, sees hundreds of thousands of visitors arrive for a holy bath when a solar eclipse occurs.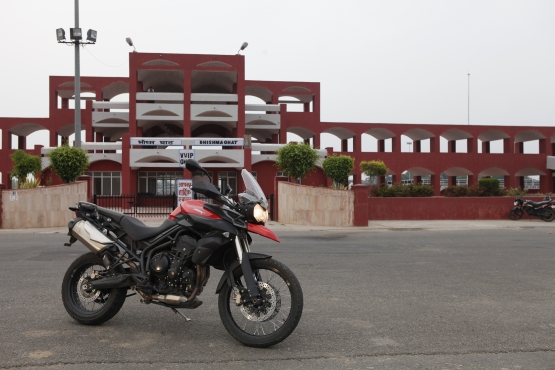 A short drive from Brahma Sarovar takes you to Jyotisar, where the Bhagavad Gita was delivered to Arjuna. The Kalpana Chawla Planetarium is also located here, as are the Shrikrishna Museum and the Kurukshetra Panorama and Science Centre which hold a wealth of exhibits that explain the Mahabharata. Further within the city is Bhishma Kund, where it is believed that, to quench the thirst of Bhishma, Arjuna shot an arrow into the earth which led to the formation of a water body. Since 2012, there has been a ban on non-vegetarian food owing to the religious significance of the region.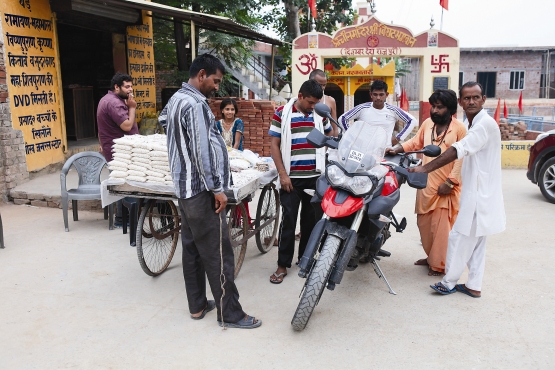 As we exited Kurukshetra, it was already late evening and the best place to stop was Pathankot. We would enter Punjab and call it a day. Pathankot is a bustling little city located on the highway and has a number of good yet affordable hotels: an obvious choice for an overnight halt then. It was too dark to explore any further and it was best to leave the lush greenery for when the sun was up again.