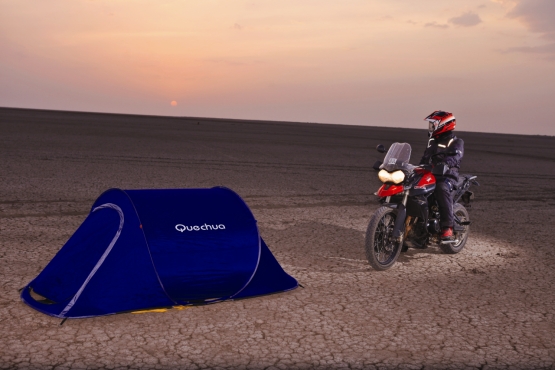 The Triumph Tiger 800XC leaves the Rann of Kutch behind and heads into a land rich in heritage, architecture and, yes, more deserts.
Story: Jim Gorde
Photography: Sanjay Raikar
It may be recalled that our journey began in Kanyakumari, the southernmost tip of India, with one of the most versatile bikes we have had the pleasure of riding: the Triumph Tiger 800XC. It's been through hot and cold, rain and sand and been through all sorts of terrain, with and without roads. The next step of our journey begins from Rann Riders in Dasada, Gujarat, and the Little Rann of Kutch, an expansive desert of salt where we left off the last time. Now we would make our way into Rajasthan, first heading into the golden city of Jaisalmer, then Jodhpur, the blue city, and Jaipur, the pink city, before heading to the national capital.
It was dark when we awoke, all set to leave. I thought about the Rann Riders Resort, and, heat apart, I would have loved to stay for at least a couple of days more, explore the place, and, maybe, even go on one of their Little Rann safaris in one of those big 4x4s. But we had to push on. The night had been warm, but somehow the morning had an eerie quiet and a mild breeze was blowing. The sheer expanse humbled me in a way I had only experienced the first time I saw the ocean from the edge of the shore. The Tiger was but a silhouette, as this part of the world was still in the process of seeing the light. It was ready to begin another adventure and travel further north in its quest to reach the highest point yet. The 19-litre tank had enough to take me out of nowhere to somewhere with a petrol pump. The sound of the fuel-pump priming resounded with utmost clarity with only my breathing adding a background score. Thumbing the starter, every crank of the motor was loud and clear and when the triple kicked into life, I felt the ground tremble.
We hit the highway well before sunrise and carried on under the purple hues of dawn. Not an animal was astir as we made our way through the empty stretch of highway. As the sun began climbing into view, we realised just how beautiful the surroundings really were, and stopped for what would be a lovely sunrise shot. In the distance we heard the sound of a two-stroke motor with all of roughly four horsepower running at its limit. About a minute later, a local came into view on a step-through which looked two decades old at least, and passed us by at a speed of about 40 km/h by my estimate. We waved him on as we got shots of the Tiger and the freshly-baked sun.