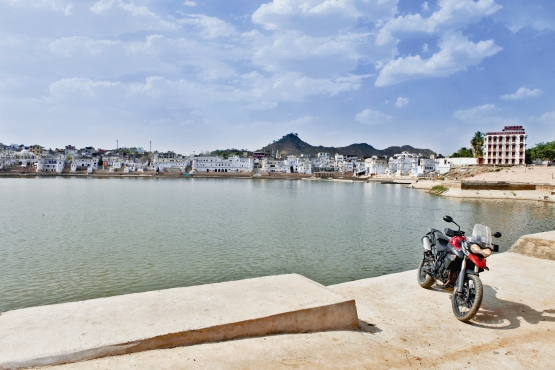 Pushkar is a famous place of pilgrimage, what with the temple by the lake shore dedicated to the Lord Brahma. It is even referred to as the king of pilgrimage sites, or 'tirth raj'. Known to have a history dating back to 400 BC, the city is tourist-friendly and has a number of stores with all kinds of wares. The population of foreign nationals is also quite high and it was good to see so much diversity in a town as small and cosy as this one. We had lunch at a rooftop restaurant overlooking the lake, and though the heat was quite a bother, it was a very beautiful site. A bridge on the other side of the lake made it perfectly clear where we would be headed next. Lunch over, we set off to the other side. Luckily for us, we managed to find a path leading right up to the lake. The Tiger made its way across the grass and up the incline leading to the edge of the lake without any fuss. It was an amazing view, the Tiger in the sun with the lake and a colourful array of buildings forming the backdrop.
The sun was beginning to head further west so we made headway for Jaipur. The winding roads out of Pushkar are rather narrow and it was quite unnerving to see ancient people carriers wallowing all over the place, even having the audacity to overtake from the opposite side with absolutely no regard for safety. I had no choice but to weave through every gap I got the chance to go through and get clear away from the madness. There was a good 140 kilometres to go and it seemed that the sun was taking particular interest in shining brightest at that point! Once we got to the highway, however, things began looking on the up, just like the average speed. The Tiger showed no signs of slowing down and felt absolutely effortless at highway speeds.
We entered Jaipur in the evening and set about locating our hotel. We had already booked our stay in advance, so we had time to stop by the side and have a quick fresh lime soda from a busy vendor. That was just what I needed. With the sun's effect washed away, we headed into the Pink City. There was much to do the next day so we decided after a very long and hot day, this was our best chance to turn in early.