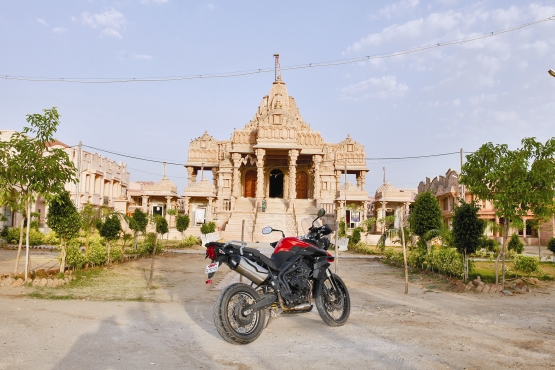 The air wasn't too warm then, and I wanted to get a move on before that changed for the worse. The road was still quite empty and I let the Tiger stretch its legs a bit. A few seconds later, the two-stroke local was a dot in my mirrors and I pushed on towards Rajasthan. As we approached a little village, we spotted a camel-drawn cart waiting at the gates of a rather beautiful temple and that meant more pictures. We were quickly back on the road and heading towards Sanchore, just across the State border, and what a road it was! Trees lined the tarmac on either side and the traffic was sparse: a perfect recipe for mile-munching.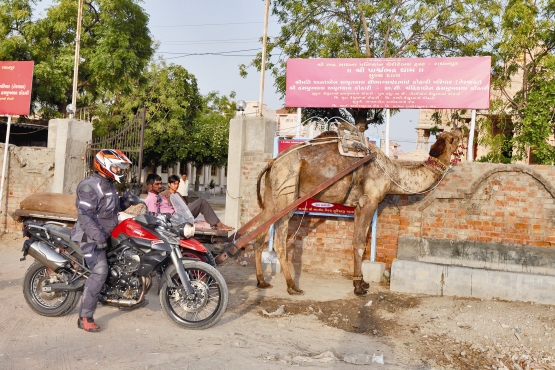 Throttle wide open and the triple on song, the Tiger charged forward with a ferocity I hadn't had the chance to experience before. One thing you appreciate at times like these and with a bike like this is how straight the roads are out there. The Tiger rockets off relentlessly and doesn't give until you breach the very top of the rev range. I could literally feel the fury of 95 stampeding stallions being funnelled to the 150-section rear Battlewing, stomping their authority. Of course, this was all done within a matter of seconds and I had to line up behind some heavy trucks and settle there till their slipstream and overtake attempt was done with. Just when I thought I was going to fall asleep, the fuel light came on. The reserve in the Tiger 800XC is a good three litres, so I knew I had a good bit of range left before I would start perspiring even more in anticipation.
We stopped for a quick breakfast and to cool off. The sun had barely risen, but began baking at a high heat almost immediately, like a workaholic boss who enters the office barking orders, and the break was welcome. Somehow, we had managed to stop at a restaurant which served south Indian food and sandwiches. Soon after we were back on the road, a petrol pump came into view, and would you believe it, right next to it, going across the road was the sign welcoming us to Rajasthan.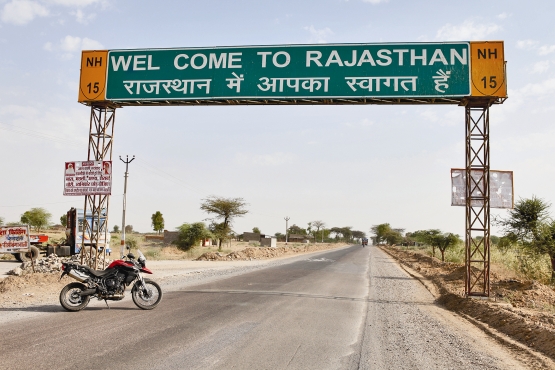 It was almost instantaneous, the temperature shot up and there was sand on either side of the road; signs that we were now officially in Rajasthan. There wasn't much around apart from some hills and a lot of sand with typical desert shrubbery. Looking closer revealed some hutments made of straw, before we were distracted by some camels on the side of the road. Of even more interest was a little black buck which sprinted across the road suddenly, putting my skills of evasion to the test. The last place anyone would want a mishap involving one of them is Rajasthan. Soon enough, all we could see around us were sand and shrubs. The road was arrow-straight and not a soul was in sight. The sun was at its peak and it was getting really hot and the road ahead shimmered with heat haze.
The scenery, ironically, helped us keep our cool, more so when we saw a whole crop of windmills coming up. This was the first time since Kanyakumari that I had spotted so many windmills in one place. And why not? It may have been hot, but the desert wind was blowing strong. In fact, there was quite a bit of crosswind to deal with but the Tiger went on steadily, completely unperturbed by the heat or the wind. I must say for a 200-kg bike, it is unexpectedly and appreciably agile, but just as planted as expected. The little fairing does a good job of keeping the wind-blast at bay, letting you focus completely on the road ahead.